Why pitch a tent when you can sleep under the stars in a floating hut or a luxurious bubble dome? Escape the city and reconnect with the great outdoors this summer at these unique glamping destinations: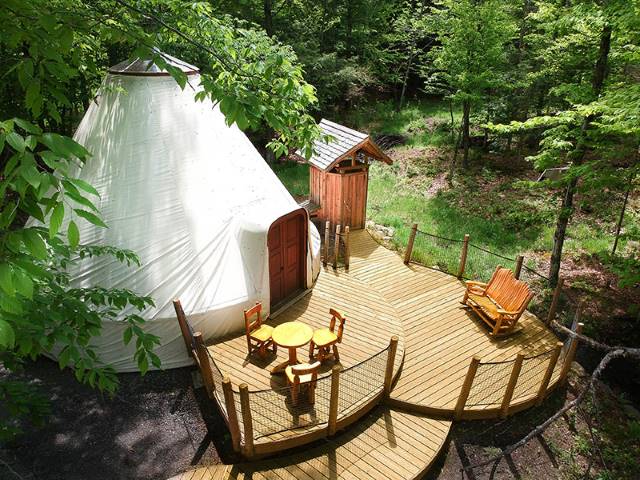 CAMPagne au Clos Sainte-Thècle: Opened in February 2021, these all-season domes are nestled in the forest overlooking the Clos Sainte-Thècle vineyard. Weather-proof domes are equipped with en-suite bathrooms and wood-burning stoves while the campsite wows with luxurious outdoor amenities. Guests can relax in a Finish-style sauna and outdoor hot tub or enjoy an active afternoon of biking and SUPing.
Hôtel UNIQ: A nomadic glamping experience unlike any other, the ephemeral outdoor accommodations of Hôtel UNIQ will be popping up at three enchanting destinations across the province this summer. The roaming eco-tourism village begins it's tour at Parc des Chutes d'Armagh (May 6 to June 29), then moves on to Seigneurie du Lac Matapédia (July 2 to August 30), before heading to its final outpost at Domaine Saint-Bernard. Private two-person tents include basic comforts — a double bed, table and chairs, fan and lighting — while the shared campsite offers guests a communal kitchen, rest area, parking, toilets and showers, and a fire pit.
Imago Village: Nestled in the heart of Monts-Valin National Park, these five eco-conscious yurts are situated in an alpine forest overlooking the beautiful valley of Mount Victor-Tremblay. Designed for up to four visitors, the outdoor yurts marry rustic charm with modern comforts and are well-appointed with Wi-Fi, electricity, a pellet stove, dry toilet, microwave and small fridge.
Domaine Pourki: Accessible from a long quay, the picturesque over-water Bora Bora huts at Domaine Pourki are built atop the Richelieu River for a Polynesian-inspired floating experience. The family friendly resort offers paddle boards, pontoon boats, kayaks and a wide variety of water-sporting equipment and also hosts out-of-the-ordinary activities throughout the summer months like bubble soccer and archery.