Let's start with the cafe culture – it's vibrant, contemporary and sometimes quirky. For a front row lakeside view, head to Cafe Baku where the coffee is outstanding, the salad bar is always fresh and the baked goods are dreamy. Baked With Love Eatery is famous for its incredible doughnuts and cakes, but there's also delicious savoury brioche and hearty sandwiches.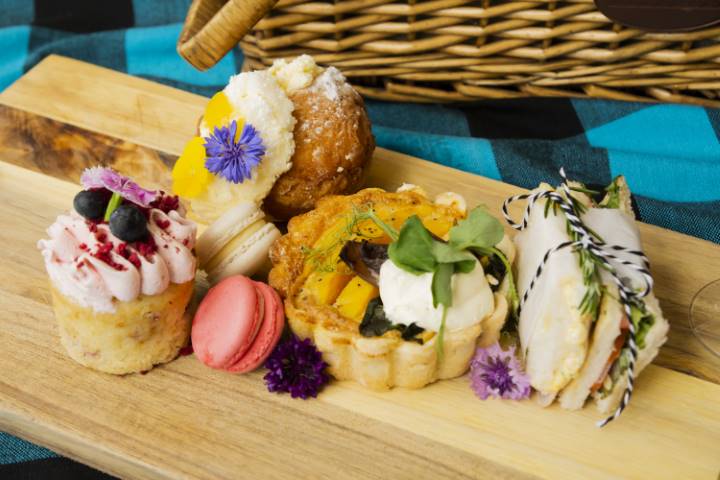 The Storehouse food is seasonal and soulful and ranges from delicious menu items such as Ranchers Eggs, sliders and waffles to fresh baking that's better than grandma's. Their Kokako coffee is pretty good too. Victoria's Cafe Kitchen Bar consistently serves up delicious food and excellent coffee in a friendly, relaxed surroundings. Their fluffies come highly recommended even for the not-so-little kids.
Industrie French Kitchen is an absolute must-visit for exquisite French pastry, baguettes and a delicious blackboard menu.
Creel Cafe in Turangi really is a hidden gem – blink and you could miss this tiny eatery tucked away behind a tackle shop. Serving the best pastries this side of France, scrumptious home-cooked food and a great range of drinks.
For something a little different, turn your cafe visit into an arty experience at Lava Glass Cafe. The cafe has an extensive menu, comfortable couches to relax on and a glassblowing gallery full of beautiful, colourful masterpieces. Venture outside to the glass sculpture garden and, if your timing's right, you might also get to view the glass blowing process with artists at work in the studio.
If you're a coffee connoisseur, don't miss the Manuka Brothers coffee at The Tipsy Trout in Kinloch – it really does taste like the manuka that the beans are roasted with. This is a great stop-off if you've been mountain biking or walking on the Great Lake Trails.
There are two local roasts in town to sample Volcanic Coffee and Sacred Grounds Coffee Roasting Company. These can be found at various cafes throughout the Central Plateau, at specialty food merchants or ordered online.


Restaurants
For killer views of the lake and mountain peaks and a fine dining experience, Kinloch Manor & Villas with its 'Estate to Plate' organic philosophy is the ultimate indulgence.
Back in Taupō town, Vine Eatery & Bar is the place to be seen on a Friday night, Plateau Bar & Eatery love innovative food that highlights the best of the season, and The Bistro has won numerous awards for its fresh, local produce focused cuisine. Cosy and charming, The Brantry Restaurant is the perfect place to enjoy a night out whether with friends or for that romantic evening you have been planning.
Lakeland House Restaurant situated next to Braxmere Lodge in Tokaanu, is very much a destination restaurant. It is as much about the food as it is about the glorious location, which is right on the southern shore of Lake Taupō, affording stunning views.
If you're in Taupō town with a group of mates, check out SMK Southern Meat Kitchen for wood-smoked barbecue-style meals, craft beer in the form of their own Escape Brewery ales and a unique selection of ryes and bourbons. The Two Mile Bay Sailing Club is extremely popular with locals for delicious wood-fired pizzas, beer on tap and it's unbeatable location right on the lake. Expect live music on weekends and throughout the summer holidays.
The Lakehouse is another popular haunt for groups looking for hearty pub meals and a good range of craft beers. Try the local Lakeman Brewing Co Dirty Hairy Double IPA here.


Specialty foods
For artisan food stalls, handmade breads and the freshest organic produce in the region head to Taupō's community Farmers' and craft market – Market Central Taupo. The market operates on Sunday mornings at Northcroft Reserve in Taupō town. Don't miss the empanadas, lemon curd doughnuts and local Volcanic Coffee.
Other local specialty foods include Marty's microgreens, locally grown saffron and truffles and grass-fed Taupō beef and lamb.


Local wine
The volcanic pumice soil and higher altitude of the central plateau region make for unique growing conditions and distinctive flavours. Local wines are served in many of Taupō's restaurants and bars or visit The Merchant of Taupo for the biggest retail selection. Local favourites include Rive Gauche Pinot Gris and Karapiti Pinot Noir.
There are some great local vineyard experiences to be had during summer. Head to Floating Rock Vineyard and Cafe in Kuratau for delicious woodfired pizzas and wines produced from handpicked grapes harvested from their single block vineyard. Streamblock is a winery and olive grove in Omori specialising in unique accommodation, weddings, events and spa weekends.