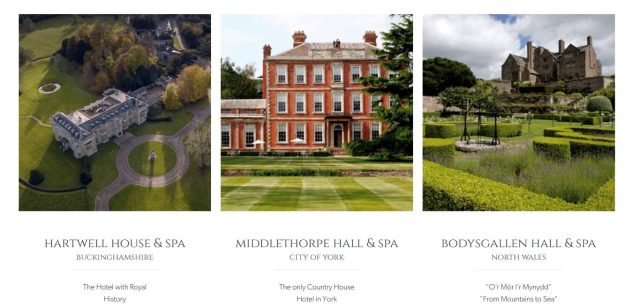 How many times have you wandered round a National Trust country house and wished that you could stay the night? Once everyone had left, it would be a chance to explore the secret stairwells and annexes of this beautiful historic house.

As a guest, you would stay for a glass of champagne and canapés and dinner in the classically panelled dining room, set with antique furniture and fine paintings. Then there would be a chance for a spot of stargazing, or maybe a moon-lit stroll along the wild flower walk.

Next day, after waking-up in the White Rose suite or four-poster bedroom, it would be time to enjoy a leisurely breakfast, followed by a restoring facial or body treatment, a swim in the mosaic-lined pool, or picnic in the grounds.

You could read in the library where a famous diarist entertained her guests. Or if you're feeling particularly invigorated, volunteer in the gardens, helping to tend the 17th-century parterre filled with sweet-smelling herbs.

For fans of Bridgerton and Downton Abbey, this sounds the perfect way to soak up centuries of British history. And thanks to the generosity of Richard Broyd OBE, this is not just a fantasy.

In September 2023, it will be 15 years since the donation of the three Historic House Hotels to the National Trust. All three country houses warmly welcome guests to stay, to dine in the restaurants and to enjoy afternoon tea, also to book health and beauty treatments in the Spas.

This philanthropic act was the largest donation the National Trust had received since WWII. Each stay, meal and spa experience at the three hotels – Hartwell House, Buckinghamshire; Middlethorpe Hall near York and Bodysgallen Hall in Llandudno – supports the National Trust.

Richard Broyd is the founder of recruitment consultancy Accountancy Personnel and is passionate about architecture and history. He purchased the properties, two of which are Grade-I listed, as he diversified into hotels in the early 1980s.
In 1974 he went to see the hugely influential "Destruction of the Country House" exhibition at the Victoria and Albert Museum, which revealed the devastating toll that had been taken of Britain's country houses during the 20th century.

Shocked and moved by what he saw, he formed the idea that one way of rescuing some of them would be by converting them into hotels.

Historic House Hotels was founded in 1979. His first acquisition in 1980 was the partly medieval Grade 1-listed Bodysgallen Hall, with spectacular views of Snowdonia. Bodysgallen is believed to have begun life as a watchtower during the building of Conwy Castle; later it became a residential house owned by Richard Mostyn, an influential man in the Creuddyn Peninsula, who was nominated Sheriff of Caernarfon in 1572 and served as Justice of the Peace until his death. Like the rest of the Mostyn family he was a fervent patron of the Welsh bardic order with the famous poet and herald Gruffudd Hiraethog (d.1564) dedicating his Lloegr Drigiant Ddifyrrwch Brytanaidd Gymro to him (in the Drawing Room you will find the 17th-century coats of arms of the Mostyn, Wynn and Vaughan families).

But sadly Bodysgallen Hall fell into repair and, by 1980, it had been run for 10 years as a struggling bed-and-breakfast establishment. Mr Broyd's ambitions were greater. He revived the 220-acre property as a very comfortable country house, with antique furniture, for guests to stay in.

Six weeks later he purchased Middlethorpe Hall, beside York racecourse: a Grade II listed house in the style of Christopher Wren, once the home of the famous diarist, Lady Mary Wortley Montagu (1689-1762), one of the most remarkable women of the 18th century, due to her campaigning for the introduction of smallpox inoculation, but also as a writer and poet. Later it was the family home of Fanny Rollo Wilkinson (1855-1951), the first woman Professional Landscape Gardener in England, who paved the way for women to enter the profession, until then a strictly male preserve.

But time had not been kind to such a wonderful building – it had languished as Brummels nightclub during the 1970s. Mr Broyd rescued it from the clubbers and stopped the house decaying further.

Nine years later he added Grade 1-listed Hartwell House to the portfolio, which served as the base for the court of the exiled King Louis XVIII of France between 1809 and 1814. In 1938 the house and estate, with its mile-long lime avenue, were acquired by Ernest Cook, an early hero of the conservation movement.

In 2008, Richard Broyd donated the three properties to the National Trust to ensure they are protected in perpetuity. It is a unique and mutually beneficial relationship valuable to both the National Trust and Historic House Hotels through raising funds to support ongoing work. Richard Broyd remains chairman of Historic House Hotels today.

Buildings have been faithfully restored. Each hotel is home to award-winning restaurants, spas and gym facilities. Gardens have gone from being unkept to welcoming Royal Horticultural Society tours on a regular basis. Bodysgallen Hall appeared on the BBC show Glorious Gardens from Above.

Today the hotels operate as a self-sufficient commercial operation under the existing management of Historic House Hotels. But all profits generated from the three hotel operations directly support the Trust's ongoing work.

Families with children over six years of age are welcome, and selected suites welcome dogs when arranged at the time of booking.

No funds from the National Trust support the ongoing operation and all profits go to the National Trust Charity. So, you can book a guilt-free stay and help fund one of our great British institutions.

Go on – spoil yourself. You deserve to venture beyond the velvet rope, and experience a remarkable historic building, close-up.

www.historichousehotels.com