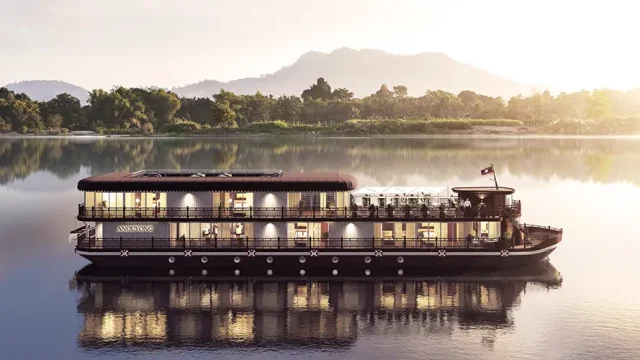 Laos remains a lesser-discovered Southeast Asian country, seeing only 12% of the number of tourists that Thailand did in pre-pandemic 2019 and less than a third (29%) of similarly-popular Indonesia in the same year.
But, this doesn't mean that Laos has less to offer than its more popular neighbors. In fact, the country is somewhat of an undiscovered gem whose beauty is only just beginning to be recognized.
Searches for 'Laos tours' have increased by 270% in the past two years alone according to Google, which suggests that travelers are now enticed by its mystery and are tempted to uncover the secrets within its delicate temples, ancient ruins, and along its vast waterways.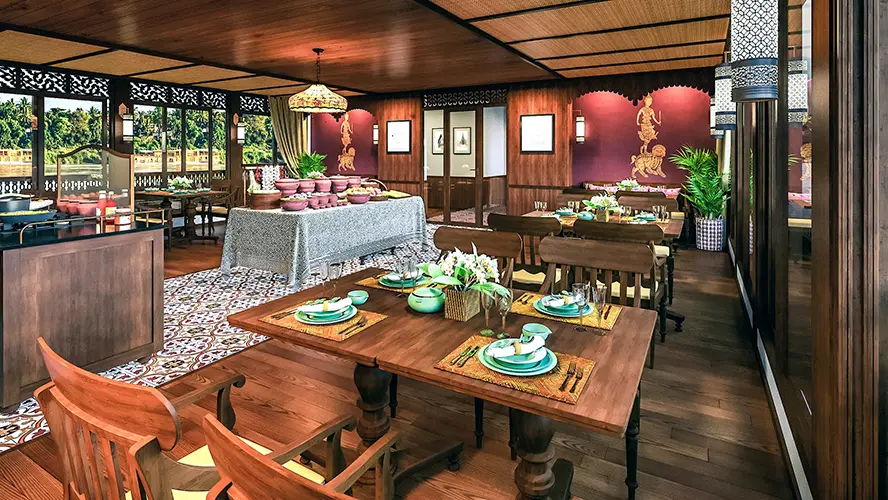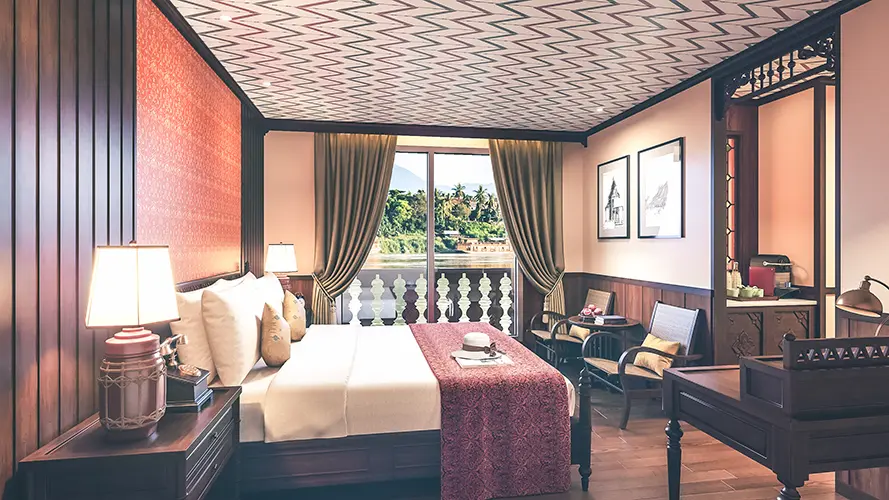 Now, luxury adventure travel company Rainforest Cruises is delighted to soon offer the opportunity to explore Laos from a completely new perspective – along the upper reaches of the mighty Mekong River aboard the first boutique ship to ever cruise this part of the world-renowned waterway. 
The specialist exotic riverboat and small ship cruise package provider is proud to present the launch of the Anouvong and its inaugural 4-day upstream departure between Luang Prabang and Huay Xai this August. 
Highlights of the luxury cruise will include sunrise Tai Chi classes in tranquil riverine settings, paying a visit to a local "Medicine Man", and coming face to face with the nearly extinct Laotian elephant.
Known for its myriad ethnic groups, tropical jungles, and bucolic scenery, Laos is perfect for those seeking culturally rich, slow-paced adventures amid untouched natural landscapes.
And as the Mekong—the longest river in Southeast Asia—weaves almost the entire length of the country, it offers a breathtaking vantage point to do this.
During the beginning of your journey on this magnificent waterway, adventure waits for no one as one of the first excursions you can do is a kayaking tour on the Nam Ou River.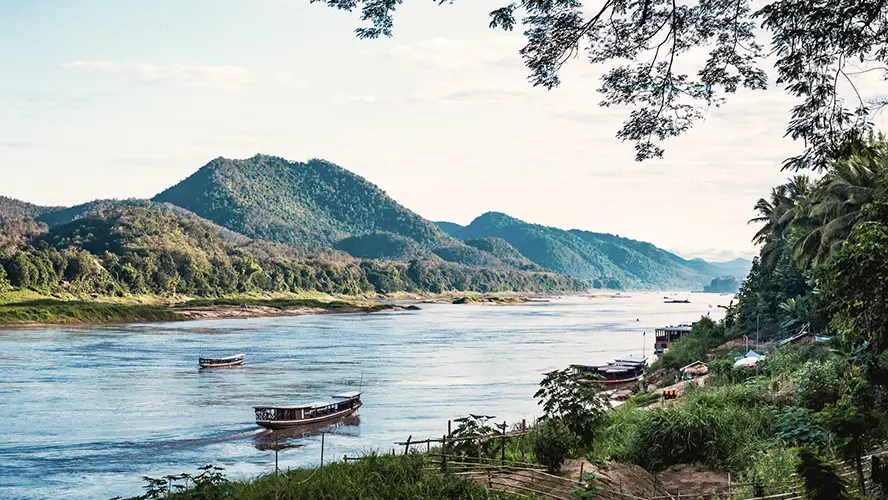 A major tributary of the Mekong and one of Laos' most important rivers in its own right, Nam Ou is home to exceptional biodiversity and the giant mountains bordering its banks are like something out of a fantasy film.
As you paddle along the river, floating peacefully downstream admiring the lush flora meeting its edges, you will likely catch a glimpse of some of the region's rare wildlife. The river is a habitat for healthy populations of otters, reptiles, and riverine birds, and a recognized biodiversity hotspot due to its many endemic fish species.
You will be led later to the famous Pak Ou Caves, also known as the 'Thousand Buddha Caves' due to the bevy of Buddha statues, both big and small, tucked carefully into every nook and cranny of these two awe-inspiring limestone grottoes hewn into the riverbank.
Here you'll meet a local "Medicine Man", native to the nearby village, and will learn of his life, skills, and role in caring for the community. Venture with him into the depths of the jungle to connect with the wildlife firsthand and come face to face with native flora and fauna, which he uses to create his natural medicines and treatments.
Arrive at a local village where you will cast your eyes on what rural living in Laos is really like. You'll spot households that practice the art of whisky distilling, with traditional whiskeys being crafted using snakes, scorpions, and even cockroaches, to add a unique flavor to this alcoholic beverage.
Your adventure will take you to see more local villages further upstream, equally steeped in rich cultural heritage. Here, Lao Loum and Lao Theun, the lowland and midland Laotian groups, live and practice the traditional art of basket weaving, a handicraft that's been alive for generations, which you will get to see for yourself.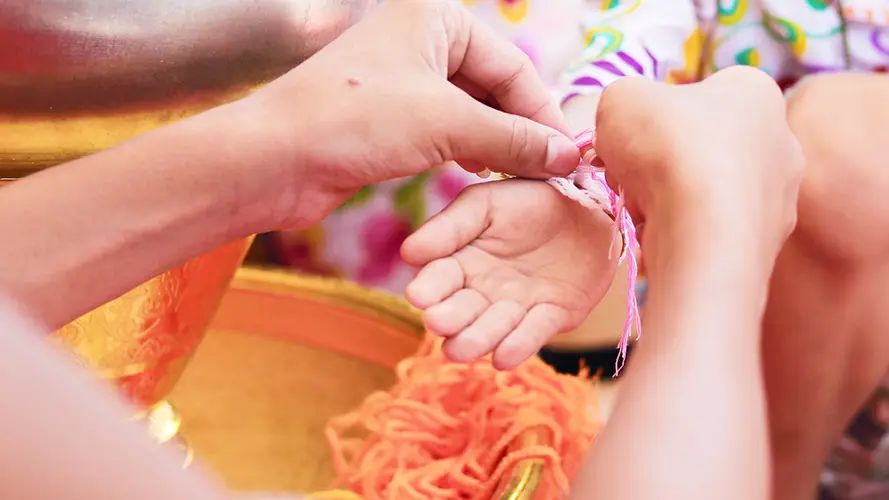 Commence your second day as the sun rises with a Tai Chi or yoga class on the ship's terrace deck. Admire the exceptional backdrop of the Mekong scenery, with its lush vegetation and towering mountaintops, and mirror its tranquility during these revitalizing morning exercises.
Then, you'll learn of the working practices of the locals by visiting the remote village of Kok Aek, home to simple bamboo huts on stilts scattered across rice fields where the organic growth of vegetables, fruits, and herbs is the way of life for these ethnic communities. Sample some of their local specialties, including freshwater "seaweed" topped with sesame and vegetables.
You'll spend the night in this charming, tiny village where you can even opt for a guided meditation session with local ethnic Lao, Khmnu, and Hmong people in their small temple for a truly authentic experience connecting with native practices.
Finish the night with a cinema experience beneath the stars on the open terrace deck with nothing but the sounds of insects chirruping and the gentle warmth of the riverside breeze to accompany you.
The penultimate day of your trip will be spent learning about one of the most important local species – the nearly extinct Laotian elephants, understanding their cultural significance, as well as having the opportunity to meet these fascinating creatures face to face.
Sail to Pakbang which neighbors one of the country's most sustainably managed elephant sanctuaries and watch in awe as they roam freely throughout the conservation area in peaceful and safe surroundings after a previous life of logging.
The creatures' former use as working animals means they are no longer able to survive in the wild, which is why the sanctuary is committed to caring for them, alongside being passionate about the tenets of ecotourism and sustainability.
And to end your trip on a high, you'll even have the chance to try your hand at Lao cooking onboard the Anouvong during a cookery class with its master chefs to prepare a selection of mouthwatering traditional dishes.
This means you can take the culinary skills and recipes learnt home with you and craft your own edible Laotian masterpieces, the flavors of which will undoubtedly lead you to reminisce fondly of your trip to Laos and make the memories last a lifetime.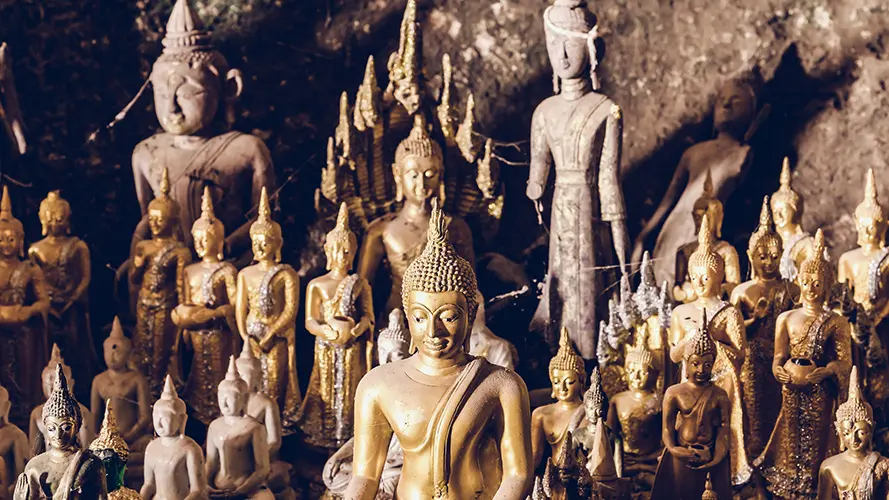 During your time onboard, be sure to make the most of the blissful Bodhi Spa when you have some downtime whilst the ship is navigating. This Laotian-themed wellness sanctuary offers treatments for all to indulge in to help travelers relax and reground themselves after a day of exploration.
And when you're seeking some excitement between excursions, you can experience cultural shows, including a traditional Baci ceremony for good blessings, onboard the ship's terrace deck. Here, you can also rest and recuperate with shaded sunbeds from which you can gain some of the best views of the surrounding scenery possible.
Other activities onboard include lectures conducted by local historians in the lounge to learn of the history, culture, and heritage you will encounter during your journey, as well as local dance and music performances.
To fuel you during your journey, there are alfresco breakfasts, sandbank barbeques, and 5* à la carte meals served in the elegant De-Lagrée dining hall—named after the leader of the French Mekong Expedition of 1866-1868—amongst other delectable dining options all
showcasing the beautifully rich and flavourful cuisine of Laos and Southeast Asia.
And as you leisurely meander through the vivid and varied landscapes of Laos, the French-colonial ambiance and handpicked Laotian artwork on the Anouvong means that, even onboard, you're immersed in the heritage and history of the country.
Up to 20 guests can be hosted in the vessel's deluxe staterooms and signature suites, each with their own private balcony to overlook the verdant shores of the Mekong in seclusion. The signature suites also feature their own terrace and their bathrooms come complete with Jacuzzi.