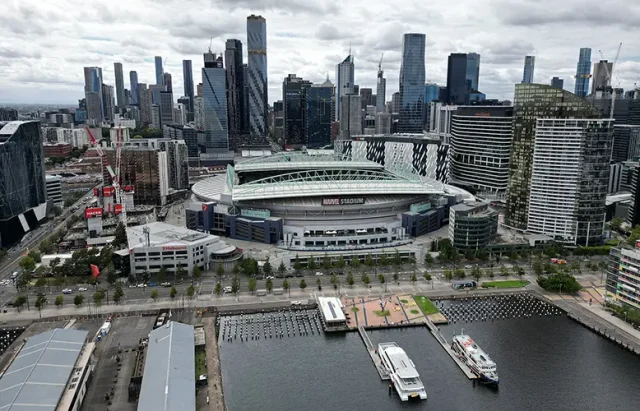 Melbourne will be launching a novel golfing concept in September in a move that is bound to delight residents – stadium golf.
For two weeks only, the Marvel Stadium, which has witnessed AFL, rugby, and cricket matches played in front of huge crowds in the past, will be transformed into a golf course between September 14 and 24, and players will be able to follow in the footsteps of their idols.
This will be a unique experience as players will be able to tee off from multiple parts of the stadium, and it will be an unmissable opportunity.
Discussing the idea behind it, AFL & Marvel Stadium's Head of Consumer Business, Scott Fitzgerald, described it as an "unforgettable experience".
He said: "We are pleased to launch Stadium Golf in Melbourne and offer an incredibly unique and an unforgettable experience for fans in the sporting and entertainment capital.
"Marvel Stadium is a true entertainment hub fans can enjoy all year round, and we are eager to welcome guests on site to interact with the stadium in a way we have never seen before."
What's even better, is that with stadium golf, you don't need to worry about packing your golf clubs as they will be supplied for you by leading manufacturer Taylor Made.
Not only that, but there are some great prizes on offer, including a cash prize of $10,000 for the first person to make a hole-in-one.
However, it isn't cheap by any stretch of the imagination to play. Prices start from $105.90, and this will only be available to players who are 18 or older.
Although stadium golf and Australia is arguably out of the box thinking, Australia's relationship with the sport is an intrinsic one. Indeed, Down Under is home to some of the finest golf courses in the world with Vines Resort in Western Australia and Moonah Links in Victoria just a couple of the stunning courses golfers can visit for a round.
At a professional level, the PGA Tour has seen many an Aussie grace the sport with distinction. Greg Norman, Adam Scott, and Cameron Smith, for example, are a few players that spring to mind as Major winners who have transcended the game. Although Smith defected to the LIV Tour, he remains popular for up and coming players in his homeland.
Golf has a huge following in Australia, and for bettors, there are plenty of reputable sportsbooks to place wagers on the biggest tournaments throughout the year. Indeed, industry experts at aussiebet.com recommend playing at the likes of Unibet and bet365 which are flooded with markets for the Majors as well as regular PGA Tour events. At bet365, for example, golf fans will be able to make the most of the live stream, so they won't miss a single tee shot or birdie made while on the move.
Melbourne may not be the first place in the world to unveil stadium golf, but it is still a concept that should be warmly embraced by fans.
If it proves to be a big hit, then perhaps stadium golf could come back rather than just be a one-off.