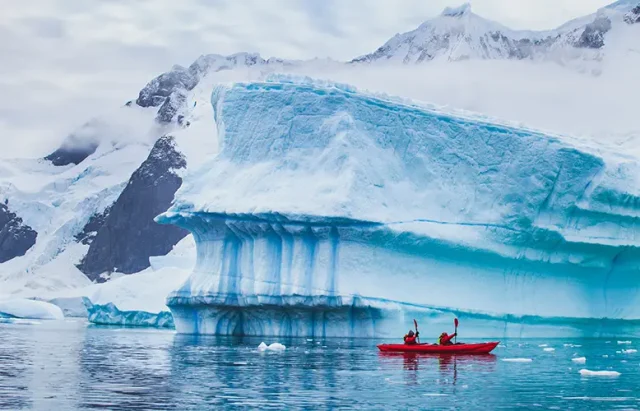 Yes, you can go kayaking in the White Continent. Kayaking is one of the thrilling expeditions to the pristine Antarctica. Kayaking in the ice-cold South Pole is more challenging than other waterways.
Therefore, you must know everything about kayaking in Antarctica before sitting on a kayak. For example, it includes costs, guides, safety precautions, clothes, wildlife conditions, and restrictions.
Of course, I will never discourage you from kayaking in Antarctica for an incredible exploring experience. But, I want to make your kayaking excursion more pleasant and profound by explaining all aspects.
So, read the whole article to go closer to whales, penguins, seals, and ice hills on your Antarctica cruise. An exciting experience is waiting ahead to make your Antarctica travel more meaningful and memorable.
Kayaking-What Does It Mean?
Over traditional boating, kayaking is a particular boating type using kayak, a distinguished boat used by water-nature hunters. It has a long history of invention by Eskimos thousands of years ago.
Inflatable kayaks with seats on top and closed decks are familiar for kayaking using a double-bladed paddle. Enjoying the beauty of water, nature, and wildlife is a relaxing and fun job.
However, people love kayaking for different purposes, including fishing, hunting, touring, and recreational activities. Furthermore, it involves certain health benefits like stress release, weight management, mood-boosting, and more.
Kayaking in Antarctica: Everything You Need to Know for a Better Experience!
Imagine that you are paddling up to icebergs, encountering penguins, whales & seals, and listening to your vessel's soothing symphony of ice cracking. Yes, you can enjoy all of them by kayaking.
Furthermore, your Antarctica excursion will be incomplete without having a thrilling kayaking experience. There are the following things to know before getting ready for kayaking on the white continent.
How to be geared up for Kayaking in Antarctica?
Kayaking in the ice-capped cold Antarctica requires gearing and clothing up with special clothes and kits. Your cruise operator will provide most of the kayaking equipment on the ship. If you are approaching kayaking in Antarctica for the first time, you should meet your guide to get equipped properly.
You need to gear up with the following clothes and kits for a safe and sound kayaking excursion in Antarctica.
Dry suit
Life vest
Gloves
Booties
Wool socks
Neck warmer
Head warmer
Spray skirt
Dry bag
Waterproof sunscreen
Sunglasses
Kayaking will keep you warm with physical movement while paddling. Therefore, you should consult your guide for comfortable wearing according to your physical fitness. Remember that you cannot take on or off clothes during clothing. So, be prepared with the proper clothing earlier.
What are the Costs of Kayaking in Antarctica?
Kayaking cost in Antarctica varies based on destination, duration, and luxury amenities. However, it may range between $500 and $1500 per person. However, the more often you go kayaking, the more money will get out of your pocket. So, manage a budget earlier for kayaking in Antarctica. Unfortunately, no ships will offer you free kayaking opportunities. You must bear the cost from your own budget.
Where Can You Go Kayaking in Antarctica?
There are many kayaking destinations across Antarctica, like Mikkelson Harbor, Wilhemina Bay, and Danco Island. It depends on particular expeditions operated by the ships and crew. However, the kayaking experience is similar based on the location. It will surely be an epic excursion everywhere.
How Safe Is Kayaking in Antarctica?
Antarctica cruise companies ensure all-essential safety measures and precautions to offer travelers a thrilling kayaking experience. They intensively take care of weather forecasts and sea conditions to avoid any safety issues during kayaking in the ice-cold seawater.
A professional guide will assist you in kayaking. Furthermore, safety personnel move around with zodiac boats to ensure the quickest response in case of any unexpected incidents.
What Happens if Anyone Falls in Antarctica while Kayaking?
Kayaking in Antarctica is a safe activity except for a few incidents of falling from the kayaks. It mostly happens with novice paddlers who have not gained previous kayaking experience anywhere. However, it is unwelcoming but not deadly for a traveler who falls in the ice-cool water.
The standby zodiacs reach the turned-over or troubled kayaks fast and rescue the fallen paddlers as soon as possible. And the professional guides make them warmer with the required clothes and kits.
Does Kayaking in Antarctica Require Training?
Beginners need prior paddling experience in kayaking in Antarctica. It involves the risk of getting down from the kayaks by losing balance and strength. Therefore, if you are a beginner, you should see kayaking videos and take a short course on kayaking before going to Antarctica.
How to Take Photos or Videos while Kayaking in Antarctica?
Though photography during kayaking in Antarctica is challenging, it is not impossible in the proper ways. You can use your phone or personal camera to capture Antarctica's captivating landscape and wildlife. It makes your moment more memorable to reminisce about when you are back home.
However, you must be aware of dropping the device in water to avoid losing it forever. Then, it can be a nightmare instead of a pleasant experience. Carry all of your camera gear in a waterproof, dry bag. And use a piece of microfiber cloth to clean the camera lens for all iconic captures.
Use a waterproof phone bag to protect your phone from unnecessary damage during kayaking. Attach the phone with your body properly to avoid dropping in deep water.
Kayaking in Antarctica: Additional Tips for a True Excursion!
Consider the following tips and tricks to experience a stunning kayaking excursion in Antarctica.
You must book your ticket for kayaking earlier to cut costs and avoid a booking dilemma. It should be 10-12 months in advance of your final departure. Take your time.
Consider your season of traveling to Antarctica. You must think about kayaking in Antarctica between November and March for a safer and better experience.
You can practice kayaking in your local lake, sea, and water surface before leaving for Antarctica. It will boost your confidence and balance for kayaking in the South Pole.
Equip yourself with adequate clothes and kits to go kayaking in Antarctica.
Carry drinkable water in a stainless steel bottle to keep you safe from dehydration.
Maintain constant communication with your guide and operator while kayaking in Antarctica.
Kayaking in Antarctica is a challenging but charming job that requires enough stamina and effort to paddle in the icy water. So, be confident at every paddle while kayaking in the tough terrain of the white continent.
Final Words:
Antarctica travelers are highly enthusiastic about kayaking in their voyage excursion. Furthermore, exploring the South Pole seems incomplete without going kayaking. Though it is a bit of a challenging expedition, you shouldn't miss it for discovering the unknown creatures of the ice-covered continent.
Kayaking is an intimate way of exploring the world's remotest ice-covered touring destination. So, you can go kayaking in Antarctica and immerse yourself in the beauty of the peaceful blue-white polar seas.