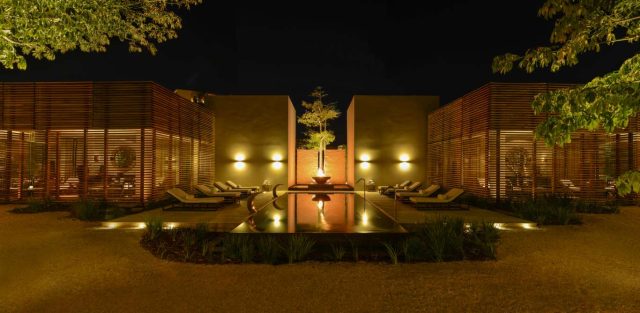 NIZUC Resort & Spa offers the ultimate luxury experience for travelers looking to soak up the sun on the beautiful white beaches and crystal-clear waters of Cancun, Mexico. NIZUC, named one of the best hotels to travel to in Mexico with a AAA Five Diamond Status, has the first ESPA-branded spa in the Mexican Caribbean, with an extensive menu of treatments designed to relax and rejuvenate mind, body and soul.
In partnership with MIA Beaute, NIZUC is thrilled to share the newest addition to its renowned spa: NIZUC MedSpa, the first of its kind in the Mexican Caribbean. These unique treatments blend the best of two worlds—a relaxing spa experience with the expertise typically reserved for medical clinics. NIZUC MedSpa allows guests to receive non-surgical and non-invasive esthetic procedures from a licensed professional while enjoying the luxurious atmosphere of the spa sanctuary.
Exclusive NIZUC MedSpa treatments include:
Tempsure Treatments

TempSure is an effective and non-invasive radiofrequency technique used for skin tightening. It applies temperature-controlled heat waves on the skin to stimulate the lymphatic system, build collagen, elastin, and reduction of cellulite. Known as the Aesthetic Hot Stone Massage.

Facial Tempsure Treatment

The TempSure Envi technology fades facial fine lines. This procedure will be effective for wrinkles and tightening on the forehead, between the eyebrows, around the eyes, as well as cheeks, lips, and jawline.

Tempsure Firm Application

The application of the TempSure Firm technique is ideal to soften the skin by stimulating lymphatic drainage to reduce localized cellulite and tighten the overall appearance of the skin.

FlexSure Application

The Newest Hands-Free FlexSure therapy has a form-fitting technology that effectively contours and tightens areas such as flanks, abdomen, hips, and thighs.

SculpSure

The only FDA-cleared laser that permanently destroys fat cells. This Hands-Free Diode laser technology makes it possible to reach therapeutic temperatures to eliminate stubborn fat cells in all areas of the body. The Sculpsure has a flexible fixation system that in 25 min. per zone benefits the contour of the body. A series of treatments is recommended for optimal results.

Cooltone Treatment

Firm the abdomen and legs through the FDA-approved technique that uses magnetic pulses that trigger muscle contraction, improving abdominal tone, and strengthening the muscles.