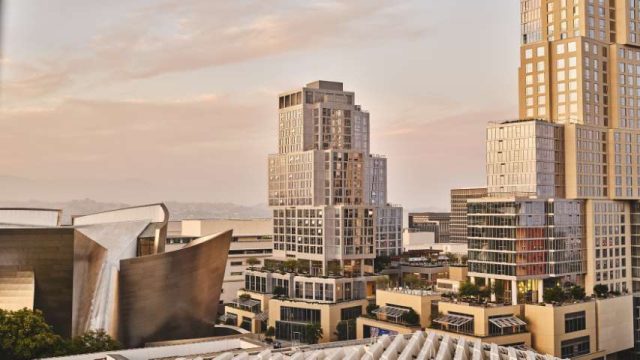 Hilton announces the highly anticipated opening of Conrad Los Angeles, marking the first California property for Conrad Hotels & Resorts, one of Hilton's three distinct luxury hotel brands. Anchored within The Grand LA, Related Companies' newest destination for shopping, dining, entertainment and a premiere place to live in downtown Los Angeles, the 305-room hotel will immerse guests in the dynamic energy that fuels the city's cultural corridor. Designed by legendary architect Frank Gehry with interior design from world-renowned Tara Bernerd & Partners, the contemporary Conrad Los Angeles is home to two original food and beverage concepts from Chef José Andrés and ThinkFoodGroup, the cutting-edge Conrad Spa Los Angeles and unparalleled views and proximity to some of the city's most prominent cultural venues including Walt Disney Concert Hall. 
"We are excited to expand Hilton's West Coast presence with the debut of the first Conrad Hotels & Resorts property in California, one of our largest growing markets in the U.S. This is a monumental occasion as we open the doors to this incredible property amid downtown Los Angeles' development boom and we are looking forward to offering guests an unrivaled, luxury hospitality experience in this sought-after destination," said Danny Hughes, executive vice president and president, Americas, Hilton.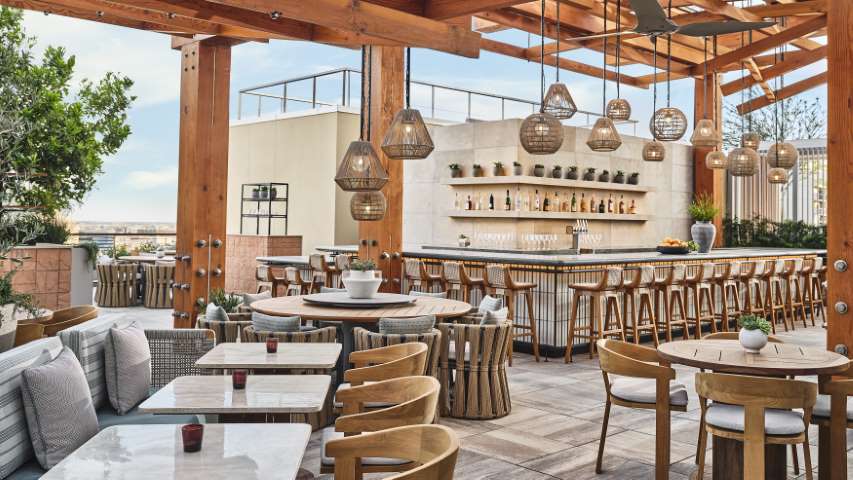 Creative Culinary
Conrad Los Angeles welcomes award-winning chef and humanitarian José Andrés back to Los Angeles with original dining concepts and an elevated cocktail bar making their debut from ThinkFoodGroup.
San Laurel, located on the 10th-floor with captivating views overlooking the iconic Disney concert hall, takes you on a tour of flavors that find their roots in Spain but take their cues from California by highlighting the fresh, local ingredients from the Golden State. Breakfast and dinner will be available at San Laurel and menu highlights include Bone-in Wagyu Ribeye; Grilled Romaine with Manchego Espuma; and Roasted Celeriac Carpaccio.
Just across from San Laurel on the outdoor terrace is Agua Viva, Conrad Los Angeles' chic rooftop restaurant where Andrés makes Latin and Asian flavors mingle on the menu just as easily as diners mingle over shared plates and refreshing cocktails in an open-air dining room with sweeping panoramic views of the city. Menu highlights include Txule Ribeye Burger; DIY Handrolls; and Piña Borracha.
On the property's roof deck, enjoy Airlight, a pool deck offering a vibrant menu of handheld bites, creative cocktails and stunning views of DTLA. Shareable menu items include Tiki Punch Bowls, Grilled Skewers and house-made Push Pops.
An intimate respite for culinary and cocktail aficionados, SED, designed to celebrate the spirit of the desert and the Pacific Ocean, showcases popular spirits and flavors in addition to seasonal fresh fruits and vegetables from the west coast, inspired by Jose's travels around the world. Menu highlights include Tomato Rosette and Japanese Whisky Milk Punch.
Conrad Los Angeles' culinary concepts will be open for reservations as of Friday, July 8, 2022.
"The opening of Conrad Los Angeles establishes a new category of luxury hospitality in downtown LA inviting travelers to immerse themselves in the neighborhood's world-class art and entertainment venues like never before," said Rick Vogel, executive vice president, Related Companies. "Whether you are coming from across town or around the world, Conrad has delivered a one-of-a-kind, culture and wellness-infused experience that offers guests an entirely new perspective on our great City."
Guest room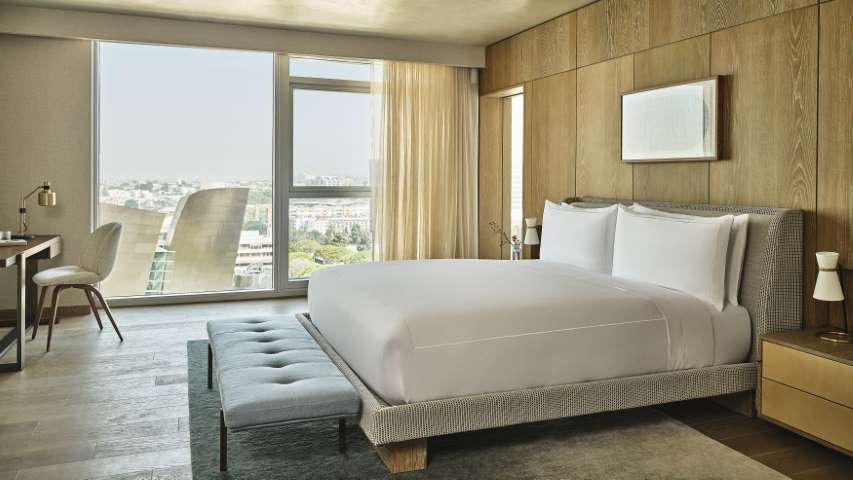 Wide-planked pale oak floors
Natural linen walls
In-suite dining
Open wardrobe with seat and mirror
L-shaped sofa
Personalized mini-bar
The Grand Avenue Suite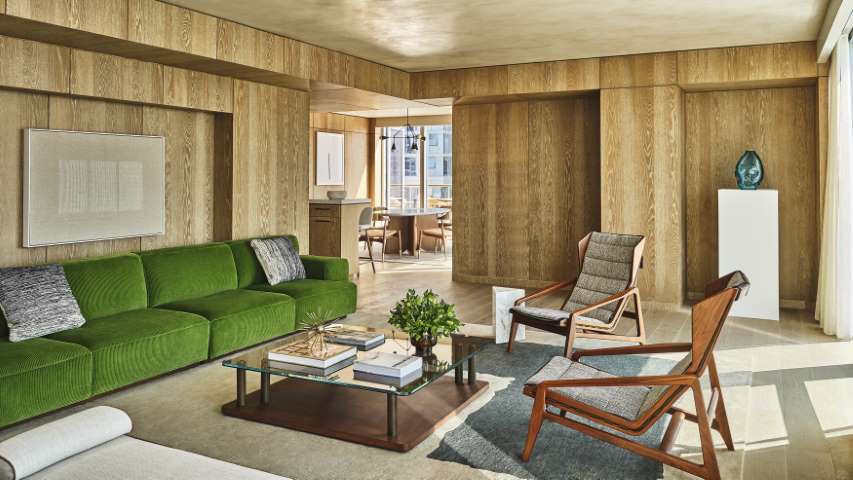 Private terrace with unrivaled views of the city
Dining room with six-seat dining table
Formal living room with built in bar
Spacious master bedroom with a five-piece bathroom
Walk-in wardrobe
Stunning guest rooms feature a calming mix of wide-planked pale oak floors and natural linen walls, in-suite dining, an open wardrobe with seat and mirror, an L-shaped sofa, and a personalized mini-bar. Accommodations range from standard guest rooms to presidential suites, which are designed to feel like the guest's own personal LA penthouse apartment. The Grand Avenue Suite is the ultimate expression of luxury, boasting a private terrace with unrivaled views of the city along with a dining room with six-seat dining table, a formal living room with built in bar, a spacious master bedroom with a five-piece bathroom and walk-in wardrobe, all designed by Tara Bernerd & Partners to showcase the elegance of a mid-20th century modernist home.
Serene Spa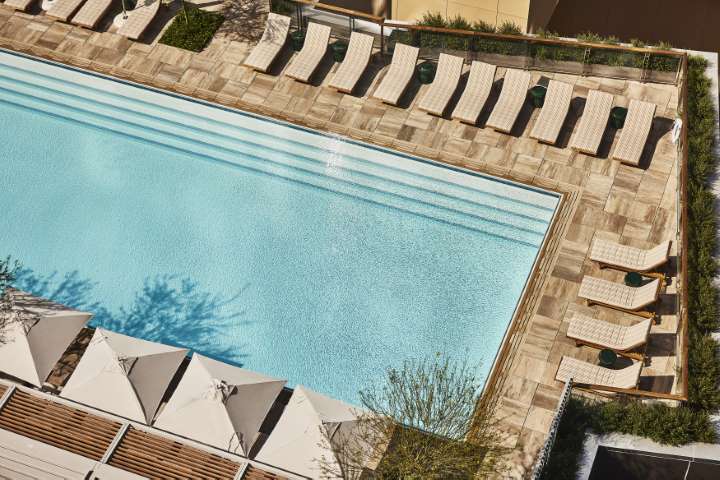 Conrad Spa Los Angeles, led by director of spa Alina Medyanikova, redefines the art of relaxation by transforming the traditional spa into a deeper and more meaningful guest experience with a new boundary-free wellness concept. This has been reflected in Tara Bernerd & Partners' calm, inviting interior design. Through a hyper-personalized ethos, the spa allows guests to explore wellness through a variety of highly-tailored, ayurvedic, and innovative treatments featuring cult-beauty lines.