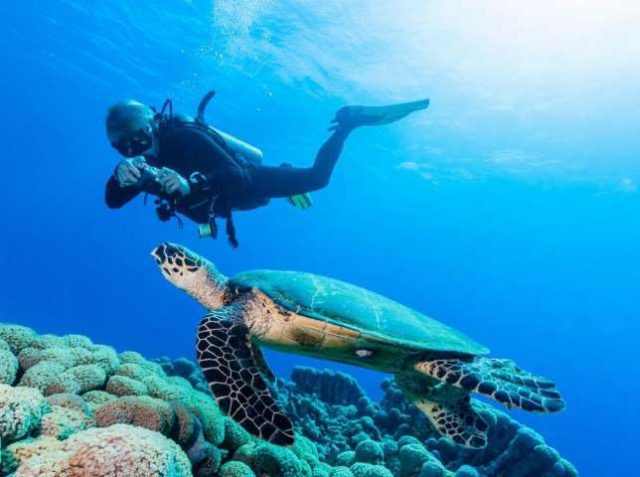 A cool Caribbean archipelago encompassing 700 dreamy islands, The Bahamas has quickly become a favored destination for warm weather lovers flying south for the winter. Beyond its offering of beach, sand and spas, The Bahamas is also a haven for wildlife lovers, its waters teeming with fascinating animals like gentle nurse sharks, stingrays and the Instagram-famous swimming pigs. The island of Andros is home to the world's third largest barrier reef, which hosts over 164 species of fish and coral, making it one of the most popular locations in the country for divers and snorkellers. The beauty of The Bahamas goes beyond (and below!) the surface of its beaches. Visitors to the region have the chance to experience and enjoy the thrill of close wildlife encounters and voyages on animal adventures unlike anywhere else.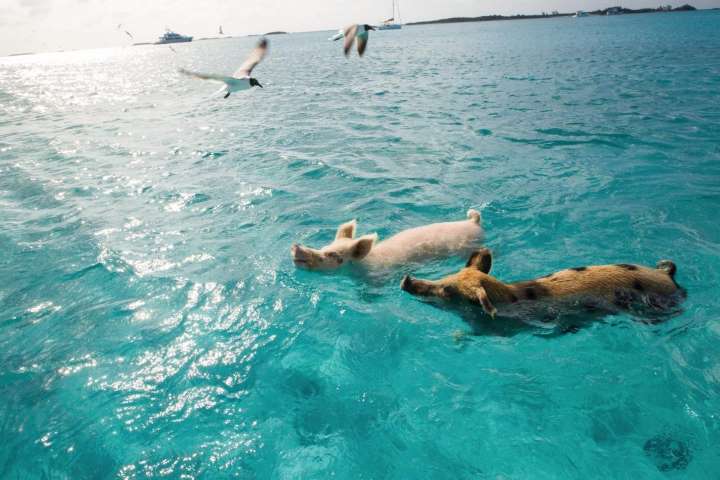 Most novel of these experiences has to be the renowned swimming pigs in The Exumas. A must-visit photo opportunity, popularly documented across social media, the Big Major Cay swimming pigs are equally adorable and mysterious. How did these intelligent creatures end up living the dream on their own private island, surrounded by crystal blue waters with cascading palm tree canopies? The story is still unclear. Some share enchanting tales of buccaneers and pirates, their captive porkers making a grand escape, while others speak of farmers seeking a place for their animals to be away from their homes and villages. Whatever the truth may be, be sure to speak to the locals whilst there and see which story rings the most true to you. The captivating swimming pigs have captured the hearts and attention of many and are an important and protected asset of the Bahamian ecosystem.
Adhering to a strict diet, it is important for visitors to abide and respect the rules and regulations and to remember that though appearing cute and cuddly, the swimming pigs are still wild animals that should be respected, treated gently and should only be fed fruits and vegetables. Guests are able to visit the pigs via chartered tours where they can spend time in the water with the animals, feeding them, petting them and observing how they swim and interact with each other and their tropical surroundings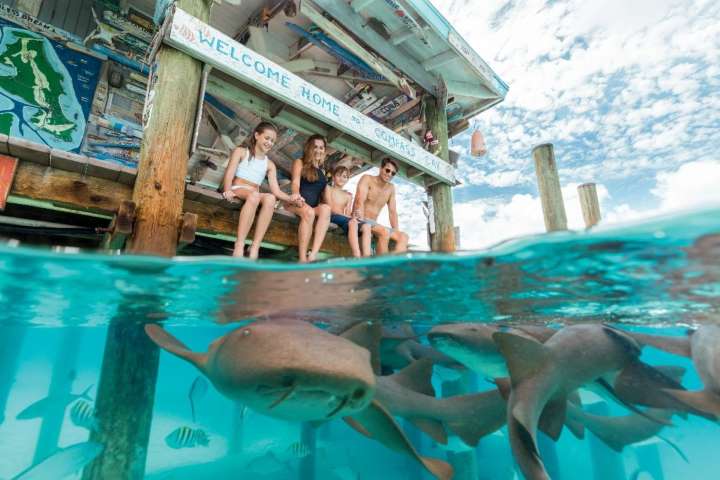 Over in Compass Cay, located 75 miles from Nassau, the gentle and docile Compass Cay sharks (also known as Nurse Sharks) await the attention and admiration of human visitors with eagerness not to be outdone by their porcine counterparts. Growing up to 10ft long and weighing anywhere between 200-300 pounds, these bottom dwelling sharks feed on a diet of shellfish and coral and can live for up to 25 years. Brown in appearance and smooth to touch, with hundreds of tiny serrated teeth, Compass Cay sharks are mostly harmless to humans, but should still be treated like all wild animals, with care and consideration guiding your interactions with them. A unique attribute of the nurse shark is their sucking: they vacuum up sediments with a distinctive high-pitched squeal, which makes them all the more endearing.
Similar in smoothness and the way in which they gracefully glide through the Bahamian waters are the beloved Stingrays of Grand Bahama Island. Swim, snorkel or simply stand and enjoy these stingrays and their shallow white sand home. A gentle hands-on experience, suitable for the entire family, including little ones who are certain to never forget the memorable experience of holding and feeding a friendly stingray.
The Islands of the Bahamas are rich and abundant in the natural resources and wildlife that they have to offer those who visit the region, with swimming pigs, sharks and stingrays as well as starfish, turtles and more. Whether in shallow waters or wading in the deep, you are guaranteed to make lasting memories and enjoy experiences that you'll reminisce long past the end of your holiday as you plan and anticipate your next visit.