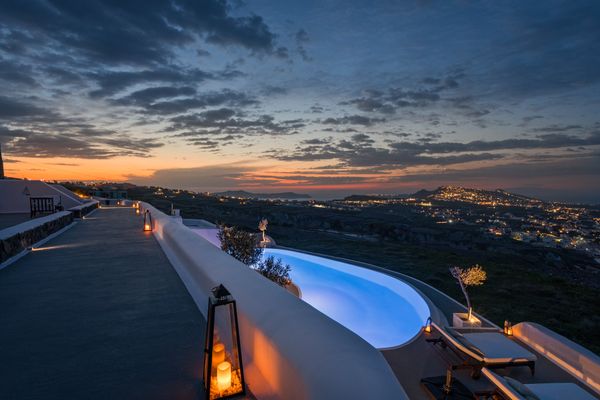 With a heavenly zen spa, ultra secluded suites and service that's second to none, it's no wonder Carpe Diem has been named both Europe's AND World's Best Relaxation Retreat at the World Boutique Hotel Awards.
A Harmonious Spa Sanctuary
A one-of-a-kind sanctuary that fills you with total relaxation and wellbeing awaits at Carpe Diem's Althea Spa. It has been specifically designed for couples seeking seclusion and romantic relaxation.
The private boutique spa is complete with sauna, steam room and beautiful jacuzzi emulating the Ying Yang. This design creates a powerful harmony allowing you to completely re-energise mind, body and soul.
Treatments have been inspired by nature and exclusively Hellenic herbs, plants and fruits are used. Experience all senses of Santorini with a Caldera Hot Stones Massage, from the native volcanic stones of the island.
Only completely natural Apivita products are used. Greece's leading cosmetics company utilises the country's rich flora in these cosmetics meaning each therapeutic massage, facial treatment, body scrub and face mask are of the highest local quality.
Secluded Relaxation Retreat
A sense of relaxation runs through all parts of the hotel. Carpe Diem has just 10 suites, the largest and most secluded on Santorini, guaranteeing an ultra private and peaceful stay. All suites are uniquely designed and come with private pools.
Carpe Diem's team takes service to the next level. The VIP butler service extends to each and every guest with a staff-to-guest ratio of 1-1. Sit back and let the team take the best care of you. You won't even have to lift a finger.
Even Carpe Diem's location has been strategically chosen for the ultimate zen stay. Nestled into the edge of Pyrgos Hill, in Santorini's highest village, Carpe Diem is perfectly located away from the island's hustle and bustle but close to all the renowned sights.
Visit carpediemsantorini.com for more information.