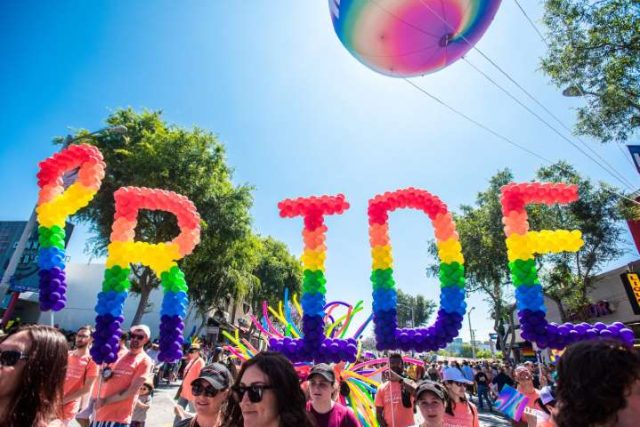 In a city that fully embraces its vibrant culture and diverse community, LA Pride is the second largest Pride celebration in the United States and one of the largest in the world. Kicking off this June, Los Angeles Tourism invites visitors to partake in a dynamic array of special events to celebrate and empower the LGBTQ+ community both in Los Angeles and around the globe, with a curated list of events and resources available at DiscoverLosAngeles.com/GayLA.
"LA Pride serves as a symbol of unity, inclusivity and equity, and it's so exciting to see how much the celebration has grown and evolved over the years," said Adam Burke, President & CEO of the Los Angeles Tourism & Convention Board. "We invite those near and far to join us in recognizing the resilience and spirit of the LGBTQ+ community that has helped shape Los Angeles into the dynamic city it is today, not just during LA Pride but year-round."
At the center of Pride Week celebrations, the iconic LA Pride Parade – which originally debuted in 1970 as the world's first permitted parade advocating for gay rights – will be bigger and better than ever with soon-to-be-announced performances and more exciting surprises. The celebratory procession down Hollywood Boulevard will culminate in Pride Village, a free street fair adjacent to the parade route featuring food, activities, and live performances. Pride festivities will also include the two-day Pride in the Park festival headlined by global superstars and GRAMMY Award-winning queens Megan Thee Stallion and Mariah Carey; LGBTQ+ Pride Night at Dodger Stadium, OUTLOUD @ WeHo Pride, the flagship music festival and concert experience of WeHo Pride Weekend; Pride is Universal at Universal Studios, including the recently opened Super Nintendo World and much more.
Los Angeles continues to be one of the nation's most popular and welcoming LGBTQ+ destinations. The city received a perfect score of 100 on the Human Rights Campaign Foundation's annual Municipal Equality Index, which rates cities based on how inclusive laws, policies, and services are of LGBTQ+ people who live and work there, evaluating factors including non-discrimination laws, law enforcement and leadership on LGBTQ+ equality.
Visitors coming to Los Angeles to celebrate Pride from June 9-11 can "Stay and Slay" with a collection of hotel offers specially curated by Los Angeles Tourism to welcome revelers from around the world. Travelers can book a Hollywood hotel, such as the new Godfrey Hotel Hollywood, Kimpton Everly Hollywood or Thompson Hollywood, and enjoy special rates, amenities, charitable contributions, complimentary drinks and more from the participating hotels. Event highlights and hotel offers are listed out below, and for more information about how to celebrate Pride in Los Angeles, visit DiscoverLosAngeles.com/GayLA.