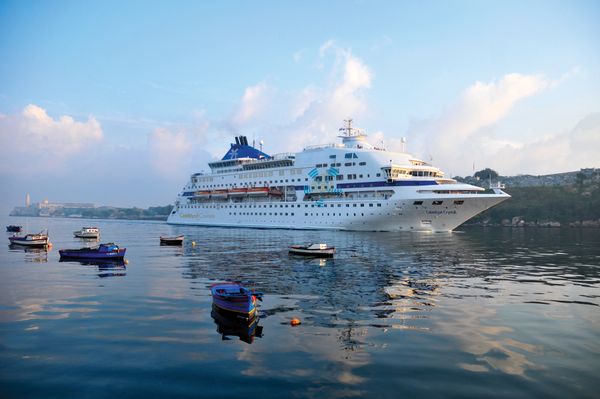 Celestyal Cruises is presenting exciting specials on its sailings to Cuba with validity dates into cruise Wave Season designed to continue boosting the positive momentum of bookings.  The award-winning, destination-focused cruise line that presents all-inclusive circumnavigation cruises to Cuba is offering 15 percent savings off its sailings to the island nation, plus an additional $50 air credit per person booked in each cabin.  Further, Celestyal Cruises is waiving its single supplement through the same period to meet the growing demand from solo travelers and they sail in their own cabin for the ultimate in solo traveler comfort.  These specials are valid for new bookings effective now through February 12, 2018.
"It's the best time ever to explore Cuba with Celestyal Cruises," said Leslie Peden, President, Celestyal Cruises – North America.  "We are celebrating the line's fifth winter season of cruise operation with these amazing savings on our all-inclusive cruises.  Cuba is open for business to U.S. travelers and we are thrilled to share that Celestyal Cruises is in full compliance with the Trump administration changes and updated U.S. Department of The Treasury Office of Foreign Assets Control (OFAC) guidelines/FAQ regarding travel to Cuba.  American travelers can travel legally to Cuba sailing with Celestyal Cruises."
U.S. passengers to Cuba, travel agents, and tour operators can book with peace of mind, knowing that they are traveling on a comprehensive People-to-People group itinerary that features culturally immersive shore excursions as well as interactive and educationally enriching on board activities in compliance with the OFAC (Office of Foreign Assets Control) requirements – all included as part of the Celestyal Inclusive Experience in the People-to-People group cruise package rate (no extra surprise costs). For added convenience, travelers can embark either in Montego Bay Jamaica or in Havana, Cuba.
Additionally, and in contrast with most cruise choices available to American citizens when traveling to Cuba, Celestyal Cruises provides certification attesting to the participation of American citizens in the approved People-to-People group program. The certification process is managed by a US representative stationed permanently on board the Celestyal Crystal that is employed by the US sponsoring corporation of the People-to-People program as required by OFAC.
With Sale pricing starting from $1584pp (inclusive of the additional $50 Air Credit) Celestyal Cruises Inclusive Cuba Circumnavigation Cruise Includes:
7-day Cuba Cruise featuring 2 full days in Havana, 1 day in Santiago de Cuba, and 1 day in Cienfuegos sailing on board the intimate and inviting 960-passenger Celestyal Crystal, ideal for providing the utmost in highly personalized service for which Celestyal Cruises is acclaimed
Comprehensive People-to-People Program for U.S. Travelers
Full board accommodations
Enriching and interactive shore excursions that provide travelers the authentic Cuban experience
All Meals on board – featuring distinctive menu of delicious Cuban and international specialties
Unlimited consumption beverage package (including non-alcoholic and alcoholic beverages)
Award-winning Onboard Entertainment
Gratuities
Port Charges
Celestyal Crystal cruise itineraries to Cuba include two full days in Havana, plus calls at Cienfuegos and Santiago de Cuba, providing thrilled passengers from across the globe the opportunity to experience UNESCO World Cultural Heritage sites, delicious Cuban cuisine, and welcoming Cuban hospitality on board and ashore. This unique circumnavigation of Cuba enables travelers to experience a mixture of iconic ports and hard-to-reach, hidden gems of the region with shore excursions at each port of call designed to provide meaningful personal interactions with the country's people and showcase the wonderful sights, sounds and tastes Cuba has to offer. Our people-to-people program includes all activities within the inclusive cruise package fare that meets current U.S. legal requirements for a full time group program of educational and cultural exchange activities.
Celestyal Cruises continue to provide the industry's best all-inclusive Cuba cruise experience to passengers from across the globe and are pleased to have recently been awarded five top 2017 Cruise Critic Cruisers' Choice Awards including Best for Value and Best for Shore Excursions – clear evidence that our guests recognize the great value that Celestyal Cruises offers by featuring fares that cover everything within one price including the P2P compliant cultural-exchange shore excursions.
About Celestyal Cruises
Celestyal Cruises is the only home-porting cruise operator in Greece and the preeminent cruise line serving Greek destinations and the island of Cuba. The company operates four mid-sized ships, each one cozy enough to provide a highly personal service. Every cruise focuses on true cultural immersion, offering an authentic experience of the regions in which the vessels sail. For more information, please visit www.celestyalcruises.com