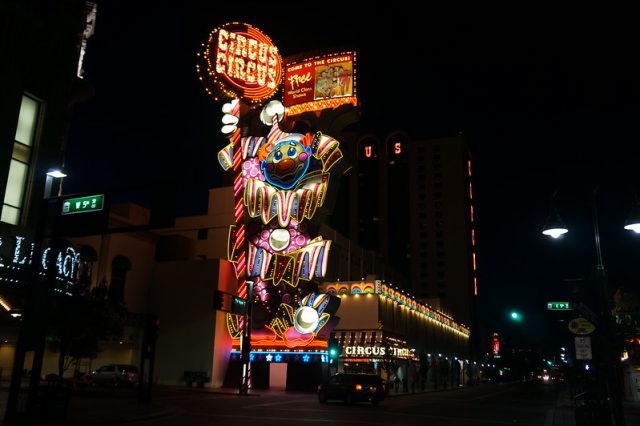 If you're looking for a premier gambling destination in Northern Nevada, Circus Circus in Reno is the place to be. But what exactly makes it worth visiting? Sit tight as we're about to go into specifics as they relate to its hospitality, games on offer, entertainment venue, accommodation, and even promotions you can expect to find.
Circus Circus in a Nutshell
To summarize the Circus Circus Reno review presented by Nevadagambling.info, this industry-revered gambling establishment operated by Eldorado Resorts boasts itself with the kind of hospitality and game selection that keeps getting its customers to come back for more. It's also home to a family-friendly entertainment venue where you can tune in to a real live circus show – hence the name Circus Circus in Reno.
Over 600 Slot Machines To Choose From
A massive selection of 600+ slot machines is what Circus Circus Reno games are known for. And we're talking about world-class machines here, hosting games developed by industry-leading software developers. As you can imagine, this includes a decent selection of progressive jackpot slots, the kind that can single-handedly change your life if your lucky stars align.
Game Selection
Circus Circus Reno games offer a live experience you'll be proud to tell your friends about. Roulette, blackjack, and poker are all pretty much staples. There are even competitive poker tournaments to partake in if you'd like to test your skills against other players. Other than that, its game selection also features variations of poker such as Omaha and Seven-card Stud. There's even the option to wager on the outcome of horse racing events and other popular sports.
Promotions
To increase customer loyalty and get new players through the door, there are plenty of Circus Circus Reno promotions you can count on. Since these may be subject to change without further notice, it's best to check the official website for promos that are currently in effect. To give you a general idea, it's not uncommon to find hotel room booking discounts, event tickets, and other goodies that enrich your stay in one way or another. Be advised you may be eligible for other discounts if you're a military serviceman or a retiree.
VIP Program
As part of Circus Circus Reno promotions, there is also a VIP program that gives out generous rewards. The more points you collect, the better the prizes, which also makes it easier to track your membership level and the perks associated with it. It all starts with basic things like a hotel room and restaurant discounts, but as you move up a tiered structure, you can get yourself an invitation to exclusive events and a complimentary airport shuttle. In fact, the highest reward tiers can even earn you a luxury vacation.
A Dedicated Sports Bar
Feel like sipping on your favorite drink or munching on your favorite meal while placing your bets at a dedicated sports bar? Circus Circus in Reno gives you that option. Featuring a wall of HD screens and plenty of space to make yourself comfortable, it's an experience you can enjoy on your own or with your friends.
Live Circus Entertainment
Circus Circus in Reno is more than a casino. As the name suggests, it's where quality live circus entertainment can be found akin to the glamour of the famous Cirque Éloize Show, and you can take your entire family with you on an unforgettable journey of extravaganza and showmanship. There's also an arcade and theme-park-style rides to enjoy. Oh, and did we mention it has its very own concert venue often visited by world-class entertainers?
Comfortable Accommodation
Due to its several accommodation options, you won't need to worry about booking a hotel room separately – it's all there, conveniently next to the main venue. This includes budget rooms as well as higher-end stay arrangements. In fact, there are almost 2000 rooms and suites available for booking, with prices starting at $49. The rooms come equipped with all the technology you'll ever need, including a flat-screen TV and Wi-Fi. Whenever you feel like breaking a sweat indoors and keep yourself fit, there's a whole fitness center inside with stunning views to boot.
Conclusion
As soon as you arrive at The Row, Circus Circus in Reno won't be too hard to find. Many times, people say it's almost like its own city within a city. Apart from the virtually endless family-friendly entertainment options you'll find inside, there are also more than 20 bars and restaurants to choose from, so take your pick – you won't be hungry! But whatever you do, don't miss the casino's slot machine section and the grand concert hall. May you have a pleasant stay!