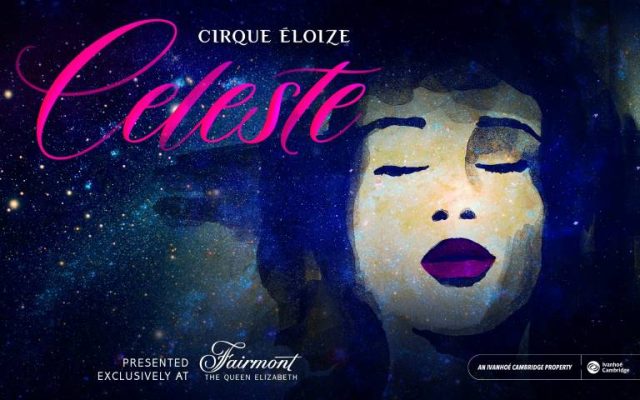 Cirque Éloize, Fairmont The Queen Elizabeth and Ivanhoé Cambridge have joined forces to present a unique experience in the heart of downtown Montreal. Today, they are proud to announce Celeste, a new cabaret show, conceived and produced by Cirque Éloize and presented in an exclusive residency at Fairmont The Queen Elizabeth starting December 16th.
Celeste thrusts audiences into an immersive experience that is equal parts mystery and glamour, where scenes of circus arts, illusion and live music play out before their eyes. Inspired by the poetic vastness of a starry sky, it will transport them into a dreamlike nocturnal world. This one-of-a-kind cabaret experience, presented in a transformed space with captivating stage design, is sure to enchant audiences aged 14 and up.
"Cirque Éloize is extremely proud to partner with the legendary and storied Fairmont The Queen Elizabeth. We have combined our strengths of creativity and hospitality to offer this unique experience that will contribute to the relaunch of downtown Montreal's arts and tourism scene. Let yourself be enchanted by Celeste as you renew with a night on the town. Get ready for a mystery-filled outing under the stars, "said Jeannot Painchaud, President and Chief Creative Officer, Cirque Éloize.
"We are excited to partner with Cirque Éloize to achieve our mission of becoming a comprehensive entertainment hub since our grand transformation in 2017. Celeste will perfectly complement Rosélys restaurant & Nacarat bar, two local hotspots for foodies and cocktail aficionados at Fairmont The Queen Elizabeth. This union was facilitated by our respective new realities and will offer an outstanding hospitality and performing arts experience that visitors and locals will love," said Philippe Champagne, Regional Director, Sales & Marketing, Eastern Canada, Accor.
"Fairmont The Queen Elizabeth is a flagship property of Ivanhoé Cambridge and a landmark of downtown Montreal. We are thrilled to welcome this show, which enhances the cultural and entertainment offerings in the downtown area. This project is in line with our commitment to revitalize the heart of the city, which is more than ever a great place to live, work and play," added Charles- Antoine Lussier, Senior Vice President, Investments, Residential and Hotels, Ivanhoé Cambridge.
Created with the invaluable contribution of Tourisme Montréal, under the creative direction of Richard Dagenais, the 90-minute Celeste experience was perfected by Artistic Director Anita Bombita and is directed by Benoit Landry (Serge Fiori, Seul Ensemble).
"Tourisme Montréal is proud to contribute to this innovative partnership between Fairmont The Queen Elizabeth, a renowned hospitality destination, and Cirque Éloize, which is helping establish Montreal as the world's circus arts capital. This project is a testament to the resilience of Montreal's tourism and arts communities and their ability to successfully reinvent themselves despite the adversity of the pandemic. I encourage all visitors and Montreal residents to experience this captivating and entertaining addition to our destination's winter and spring attractions, starting December 16th," said Yves Lalumière, President and Chief Executive Officer of Tourisme Montréal.
The first run of Cirque Éloize's Celeste will be presented from December 16, 2021, to May 7, 2022, in the 200-seat Agora and Centre-Ville rooms of Fairmont The Queen Elizabeth. Tickets go on sale today at www.cabaretceleste.com. A bar service will be offered, and custom corporate packages are available. Before or after the show, guests can also wine and dine at Rosélys restaurant, renowned for its local cuisine in a chic bistro setting or enjoy unique cocktails at the sensual and sophisticated Nacarat bar.