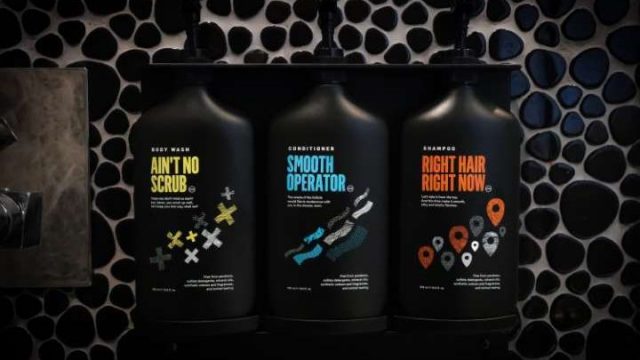 Ovolo Group are excited to announce the launch of their own range of OMG bathroom amenities throughout all hotels across Hong Kong and Australia, in collaboration with Vanity Group. With Ovolo Hotels' continued dedication to effortless living, the range is designed to make guests' lives even more effortless whilst also having a positive effect on the environment through the elimination of single use bathroom amenities among other initiatives.

A bold move away from single use bathroom amenity plastics, all OMG Amenities are designed in a sustainable manner, making use of re-fillable, tamper-free pump bottles. The bottles are HDPE recyclable, reducing the contribution to landfill and through this initiative, Ovolo Woolloomooloo alone has seen a 98% reduction in this form of plastic.

In keeping with Ovolo's 'effortless living' philosophy, guests can avoid the hassle of bringing their own bathroom amenities with them when they travel, knowing they will have access to high-quality products when they stay with Ovolo.

Gone are the days of spending precious time trying to squeeze the last drop out of the tiny, poorly designed bottle or calling housekeeping when you've run out of product after one shower – the new pump bottles are here to make life effortless. With names like 'Ain't No Scrub', 'Wash This Way' and 'Smooth Operator', the branding is inspired by Ovolo's love of music.

Girish Jhunjhnuwala, Founder and CEO of Ovolo Group, is proud to bring this initiative to market saying "We are committed to continuing our journey towards reducing our impact on the environment. Having already removed plastic straws from all properties, removing single-use plastic bathroom amenities was a natural next step in our journey towards sustainable living."

Additionally, the entire range of OMG Amenities is free from parabens, sulphates, mineral oil, synthetic colours and animal testing – in short, the products are good for the body, skin and planet. The hair blends are infused with calming and soothing properties of Lavender, Pink Grapefruit and Ginger to promote hair growth and balance oil production, while body blends contain an uplifting and energising selection of essential oils. Lemongrass, Rosemary & Geranium are rich in antioxidants to tone and detoxify the skin.

Commenting on Ovolo Group's initiative and partnership, Founder and CEO of Vanity Group, Paul Tsalikis said "We have a long-standing and reciprocal relationship with Ovolo, which has been active since 2015. We were honoured to create a bespoke brand for them. In combination with Ovolo, and Vanity Group's dedication to reducing pollution and landfill, we are both taking a stance on clean label products, harnessing the power of natural and sustainable ingredients – good for the body, skin, and planet."

This launch comes off the back of a number of eco-friendly initiatives already implemented by the hotel group including removing plastic straws, introducing reusable woven bags for slippers and the use of biodegradable materials in laundry bags and packaging. Ovolo Group are committed to continuing to find ways to further reduce their environmental footprint.