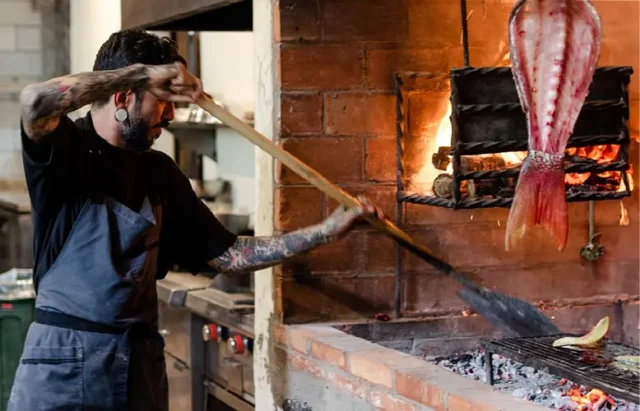 Culinary travel is again taking the world by storm, and open-fire culinary experiences are at the top of many travelers' bucket lists. From the rustic allure of flame-kissed dishes to the primal connection of gathering around a warm, crackling fire, open-fire cooking taps into something deeply instinctual within us. This ancient cooking method, which predates modern kitchens and stovetops, offers a multisensory experience— the mesmerizing dance of flames, the scent of wood smoke infusing the food, and the transformative power of fire that turns simple ingredients into gourmet delights. The communal nature of open-fire cooking, where stories and laughter are shared as dishes slowly roast and sizzle, only enhances its appeal. For travelers, it's not just about tasting; it's about diving deep into a rich, elemental tradition that evokes nostalgia, adventure, and an authentic connection to the land and its people. In a world increasingly dominated by technology and speed, the slow, deliberate, and natural process of open-fire culinary experiences offers a refreshing and deeply satisfying escape.
Here is a roundup of some properties lighting a fire to some great culinary experiences.
From 'Hijos del Fuego' to the Tulum Jungle | NÜ Restaurant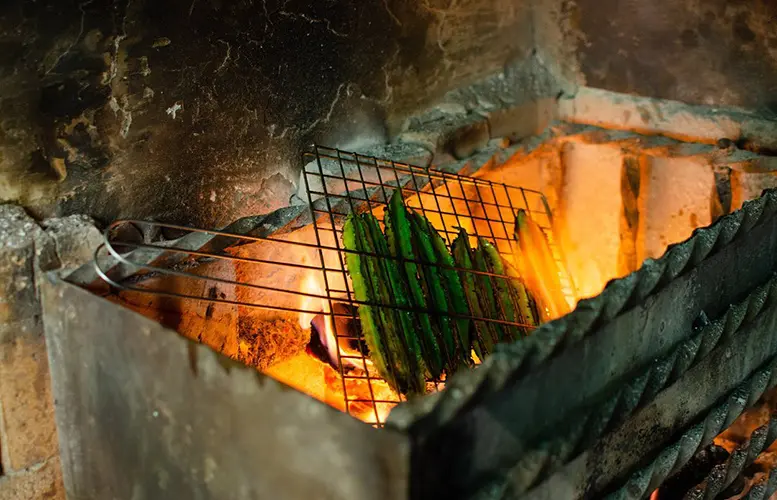 Executive Chef Luis Aguilar of Tulum's NÜ jungle restaurant has always had a penchant for playing with fire. Alongside his cousin in 2015, he created the "Hijos del Fuego" community, teaching fire cooking techniques to other chefs in Mexico's Baja region. From there, he moved to Austin, TX to master smoking, butchery and grilling. Inspired by Quintana Roo's rich biodiversity, he's shaped NÜ's culinary program around regional ingredients, partnering with a network of local farmers called Mestiza de Indias, and taking a zero-waste approach to cooking over open flame. As part of this technique, after each service, citrus peels are left in the wood-fire oven overnight to transform into citrus charcoal that's used to add aroma to his dishes. Placing a large emphasis on yakitori and grilling techniques learned from his travels, Chef Aguilar uses fire to dehydrate vegetables, shrimp and fish with ancestral products from the Yucatán (think: soursop, caimito, purple sweet potato, black sapote and zaramullo). Even desserts are cooked over open-fire with stand-out options like BBQ Pineapple that undergoes a two-day dehydration process and live-fire smoking accompanied by almond cake and caramelized white chocolate, as well as a Yeast Flan that is slow-cooked over wood embers and topped with a grilled and burnt mango with kombucha mango syrup. NÜ's innovative cocktail menu features drinks infused with smoke and citrus, enhanced with dehydrated garnishes, flowers and vegetables cooked directly over open-fire. The 'Not So Tamin' made with Mezcal, shrub of grilled pineapple, habanero and Xtabentún local anise liquor, is among diner's favorites.
Chef's Fire Kettle Cooking School | Barnsley Resort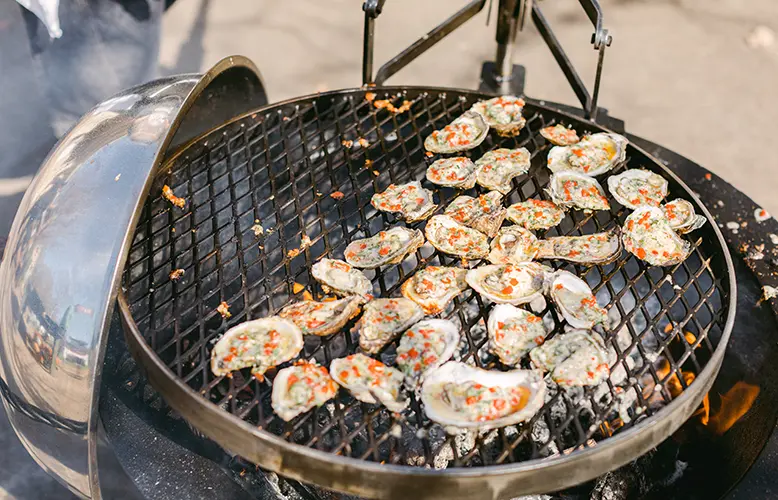 Located an hour northwest of Atlanta, Barnsley Resort offers foodies an up-close culinary experience with its seasonal Fire Kettle Cooking School. During the two-hour experience, attendees are able to get up-close-and-personal with Executive Chef Javier Cuesta as he hosts a private, open-air culinary exhibition where he prepares one of his favorite seasonal recipes over the open flame of a Sea Island Forge fire kettle. Groups will see how the chef builds the dish, step-by-step, in a relaxed, yet engaging setting. Each participant enjoys the featured dish with wine pairing, along with a recipe card to recreate the dish at home. Past sessions have featured Charred Oysters with Pimento Cheese Compound Butter; Grilled Tartine with Creamed Mustard Greens and Kalamata Olives; Roasted Broccoli Rabe with Bourbon-Smoked Pecans and Sumac Vinaigrette; and more.
Smoke on the Beach | Thompson Zihuatanejo, Mexico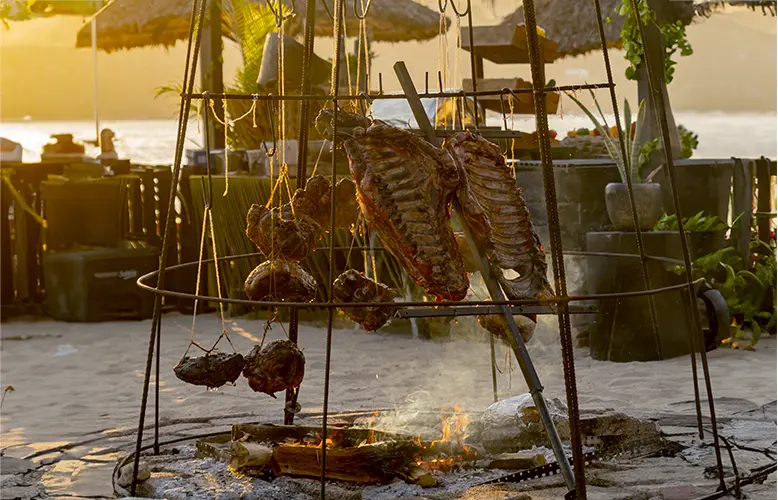 Hidden away along the swim-friendly waters of Mexico's Pacific Coast, is the mid-century modern, beachfront boutique hotel Thompson Zihuatanejo offering suites (no two the same) with private plunge pools framed with rustling palms and coconut trees. For those wanting an intimate night on the sand, the new 'Smoke on the Beach' experience can be arranged upon request. This picnic is set up on Playa La Ropa with an open-air tent structure, a comfortable lounge area with earth-toned blankets and pillows, seasonal decor and a cozy personal bonfire just for them. Under twinkle lights, guests will be provided with a DIY meal kit to prepare over the open fire, including a surf and turf skewer with chorpian sausage, veggies, fresh shrimp and octopus, as well as and everything needed to make the ever-so-tasty sweet treat – s'mores. Assorted salsas and drinks, including Smoked Pineapple Mezcalitas and Signature Hao Margaritas will also be served. Other open fire culinary offerings at Thompson Zihuatanejo includes the weekly "Humo" dinner, where the chef smokes a smorgasbord of meats, vegetables and more, as well as cooking classes right on the beach.
From DIY to Bold Argentina and Uruguay Flavors with Flare | Russian River Valley, CA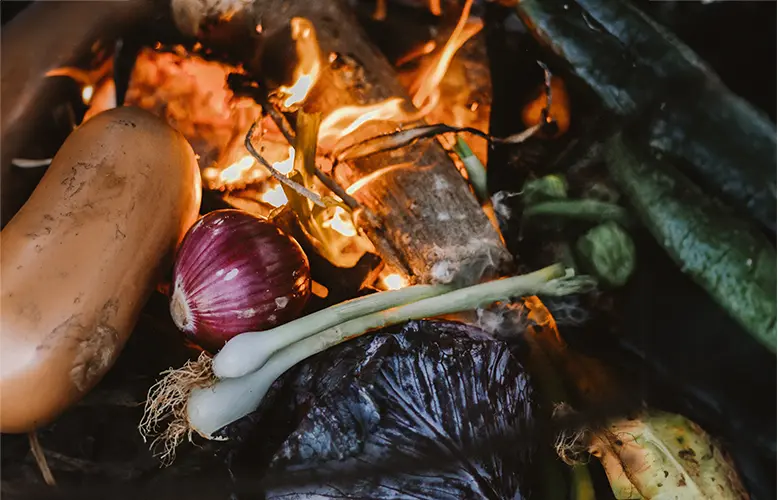 Opened in May 2023, Dawn Ranch was designed as a love letter to Northern California's native beauty, offering guests river access, a brand new on-site spa, and The Lodge—an incredible dining concept from famed restaurateur Chef Fernanda Trocca —all set on 22 sprawling acres of an ancient giant redwood forest. The Lodge's cuisine is vegetable-forward, showcasing seasonal local produce, including bounty from Dawn Ranch's own on-site Kitchen Garden, and leverages the unstudied qualities of open-fire cooking with a bold global flare from Argentina and Uruguay. For those looking to fire up their own meal, visitors to the region can opt for a glamping experience at AutoCamp Russian River. Guests staying in a vintage airstream or luxury tent are provided a skillet to cook their own fire-grilled eats seasoned with fresh herbs from the property's "Sweet and Savory" garden, as well as the opportunity to lounge in a wood-fired outdoor hot tub or enjoy s'mores under the towering trees and stars above.