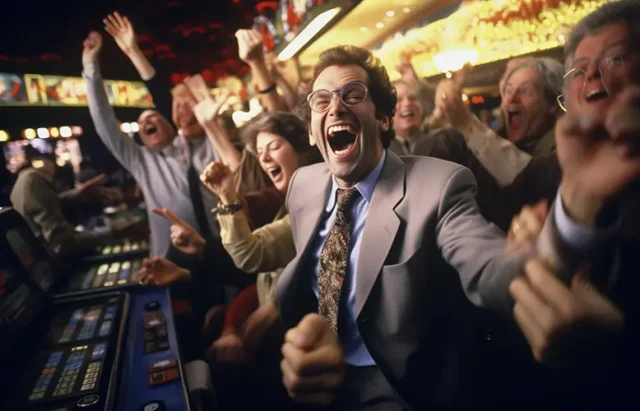 Howdy, dear readers! If you're searching for a whirlwind of adventure that marries the thrill of high-stakes gambling with the charm of diverse cultures, you've stumbled upon the right corner of the internet.
We're here to whisk you away on a journey exploring the nexus of cultural immersion and casino excitement; all wrapped up in the lavish world of high-roller experiences. So buckle up, and let's roll the dice!
Unveiling the Glitz and Glamour: Las Vegas Extravaganza
Howdy, dear readers! If you're ready to be whisked away on an adventure that's part thrilling gambling escapades and part cultural extravaganza, then the dazzling city of Las Vegas is calling your name. Imagine a place where the excitement of the casino floor meets the sparkle of world-class entertainment and the allure of diverse cultures. Strap in, because we're about to delve into the world of high-roller experiences that this neon-lit oasis in the Nevada desert has to offer.
Las Vegas, the Entertainment Capital of the World, is a realm where colossal casinos rise like monuments to opulence along the iconic Las Vegas Strip. From the mesmerizing water ballet of the Bellagio's dancing fountains to the pyramid-shaped marvel that is the Luxor, each casino is a testament to architectural creativity and lavish indulgence.
The Strip, a stretch of road synonymous with extravagance, becomes a playground for high rollers looking to experience excitement.
Now, let's talk about you, the high roller. As you step foot in Las Vegas, you're not just a guest but royalty.
You're greeted with a red carpet treatment that includes complimentary limousine rides from the airport, a subtle nod to the VIP experience that awaits. And speaking of VIP treatment, prepare to have your expectations exceeded when you enter your accommodations. Suites that redefine the concept of luxury are par for the course, complete with amenities that cater to your every desire.
But the real heart-pounding excitement lies within the casinos themselves. The stakes in Las Vegas are as sky-high as the neon signs that light up the night sky. Whether you're trying your luck at the blackjack table, spinning the roulette wheel, or strategizing at the poker room, the rush of anticipation is ever-present. As a high roller, you're not just participating; you're part of a grand tradition of gamblers who've left their mark on the city.
But let's not forget the entertainment. Las Vegas is renowned for its world-class shows, featuring A-list performers and jaw-dropping spectacles that cater to every taste. From Cirque du Soleil's acrobatics to headlining music acts, the city ensures that the fun never stops, even when you step away from the casino floor.
So there you have it, folks. Las Vegas isn't just a city; it's an experience that blends the thrill of high-stakes gambling with the glitz and glamour of the entertainment world. It's a cultural melting pot where every corner has a story to tell, and every casino offers a new adventure. So pack your bags, don your lucky charm, and get ready to immerse yourself in the whirlwind that is a Las Vegas extravaganza!
Rolling the Dice, Asian Style: Macau's Allure
Ni hao, intrepid travelers! If you're in the mood for a gaming adventure that's infused with rich cultural experiences, Macau beckons with its unique blend of Eastern traditions and high-stakes excitement. Prepare to be transported to a world where ancient heritage meets modern extravagance, all within the radiant embrace of the "Monte Carlo of the East."
Macau, nestled on the southeastern coast of China, is a captivating fusion of influences. The city's history is a tapestry woven from Chinese heritage and Portuguese colonization, resulting in a harmonious coexistence of traditions that sets it apart from other gambling destinations. And it's not just the allure of casinos that draws visitors; it's the rich cultural experiences waiting to be uncovered.
The Cotai Strip, a modern marvel of architecture, is where the magic happens. Imagine wandering through a landscape where colossal casino resorts rise like shimmering palaces. Venetian Macau, an embodiment of Venetian charm with its indoor canals and gondola rides, creates an ambiance that transports you to a different time and place. The blend of Eastern and Western architecture is a testament to Macau's commitment to preserving its diverse heritage.
Now, let's talk gambling. Macau's reputation as a high-roller haven is well-deserved. The casinos here aren't just venues; they're opulent realms with stakes as high as the architectural splendor. If you're a fan of baccarat, a game that's practically synonymous with Macau, you're in for a treat. The city's casinos offer a variety of games, from traditional favorites to modern variations, ensuring that every player finds their niche.
But Macau's charm goes beyond the casino floors. The city boasts a rich culinary scene that reflects its cultural diversity. From savory dim sum to Portuguese-inspired delicacies, your taste buds are in for a delightful journey. And if you're fortunate enough to visit during one of Macau's vibrant festivals, such as the A-Ma Festival or the Macau International Fireworks Display Contest, you'll witness the city come alive with color, music, and tradition.
In conclusion, Macau isn't just a gambling destination; it's a cultural crossroads where the thrill of high-stakes gambling converges with the richness of tradition. It's a place where you can roll the dice while immersing yourself in an old and new world, East and West. So pack your sense of adventure and lucky charm, and get ready to experience Macau's unique allure.
European Grandeur and High Stakes: Monte Carlo's Magic
Bonjour, fellow explorers! If you're seeking a high roller experience that's steeped in Old World charm and elegance, then the enchanting realm of Monte Carlo is poised to sweep you off your feet. Imagine a place where the sophistication of European grandeur accompanies the thrill of high-stakes gambling. From its storied history to its exquisite architecture, Monte Carlo is a destination that captures the imagination and leaves an indelible mark on your heart.
Nestled along the glistening shores of the Mediterranean, Monte Carlo exudes an air of sophistication that's second to none. At the heart of this principality lies the legendary Casino de Monte-Carlo, a sanctuary of opulence that has beckoned high rollers for generations. As you approach its grand entrance, you're greeted by an awe-inspiring façade that hints at the lavishness within.
Step inside, and you're transported to a realm where history and glamour intertwine. The casino's ornate architecture, adorned with intricate details and elegant chandeliers, harks back to a bygone era of sophistication. This isn't just a place to gamble; it's a time capsule that immerses you in the splendor of a different age. And as you navigate its hallowed halls, you're treading the same ground that once welcomed royalty, celebrities, and visionaries.
The allure of Monte Carlo doesn't end at the casino's entrance. The city itself is a masterpiece of luxury and refinement. The streets are lined with boutique shops, haute couture brands, and charming cafés that invite you to savor the moment. The harbor, with its impressive yachts bobbing in the azure waters, is a testament to the city's exclusivity and allure.
But let's get down to business—the gambling. In Monte Carlo, the stakes are as grand as the surroundings. Whether you're trying your hand at blackjack, roulette, or poker, the thrill is heightened by knowing you're part of a long legacy of gamblers seeking their fortunes within these walls.
In the End, the Dice Fall Where They May: Conclusion
And there you have it, dear adventurers! We've embarked on a whirlwind tour of high-roller experiences that blend cultural immersion and casino excitement. From the glitz of Las Vegas to the fusion of Macau and the European grandeur of Monte Carlo, each region offers its unique flavor of extravagance.
So, whether you're captivated by the vibrant energy of the Vegas Strip, drawn to Macau's cultural diversity, or enchanted by the elegance of Monte Carlo, the world is your oyster. May your dice always roll in your favor as you embrace the thrill of high stakes and the magic of cultural exploration. Safe travels and happy gambling, and check out TimesUnio, which covers the topic in more detail.