You can really live it up in Death Valley. Yes, it's perhaps the most misunderstood national park yet people who know it, and visit it, like it that way. It's 5,270 square miles – bigger than twice the size of Long Island, New York.
And as many of the more popular national parks (Zion, Glacier, Yellowstone, South Rim of Grand Canyon) sell out or at are capacity in 2021, more and more people are discovering Death Valley, situated smack between Las Vegas and Los Angeles.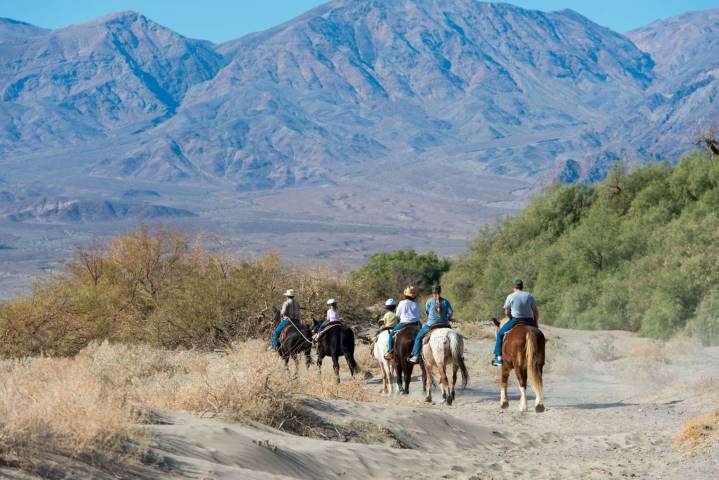 The first revelation is how amazing the drive is with wide open, beautifully maintained, and nearly empty roads through an unbelievably stunning, humbling landscape of mountains, valley floors, and ghost towns. And right there, in the middle of it all, is a true American oasis where thousands of gallons of pure spring-fed water bubble out of the ground to create a lush, thriving garden and date palm grove that is home to one of the most unique resorts and family hotels in all of America. It's also home to the lowest USGA golf course in the country.
The Oasis at Death Valley, located in Inyo County, California, is 61 miles from the nearest town (with nothing in between) and has an official population of 320.
There's lot of talk about social distancing these days, but this is a whole other world of distancing. As a matter of fact, some of the original Star Wars movie scenes were filmed around the resort. It's a vacation that may seem out of this world.
It's also one of the darkest places on earth, making stargazing a must. You can see the Milky Way with the naked eye, watch satellites zoom overhead, and enjoy the seemingly endless shooting stars.
It's at The Oasis at Death Valley that vacationers will find plenty of sightseeing, golf, hiking, tennis, cycling, horseback riding (seasonal), and Jeep tours (seasonal).
The Ranch at Death Valley, a 224-room hotel, was part of a $100 million renaissance at the end of 2018 and is the energetic center of activity in Death Valley. Set along Highway 190 next to the National Park Service Visitor Center, vacationers enjoy a classic town square with towering date palms and mission-style California architecture.
It's here those "in the know" will find restaurants, an ice cream shop and coffee bar, general store, groceries, and aged spirits, especially at the already famous Last Kind Words Saloon – straight out of a western movie. A lot of Western TV shows and movies were filmed in Death Valley, some with a young actor name Ronald Reagan.
Exceptionally family friendly, and an outdoor adventurer's ideal base camp, The Oasis at Death Valley also features two massive spring-fed swimming pools (naturally 84.5 degrees year-round). On the same grounds is, like everything in Death Valley, the truly unique Furnace Creek Golf Course. It's the lowest USGA course in the U.S and yes, the ball travels less due to the drop in elevation…that is if a coyote doesn't get it first.