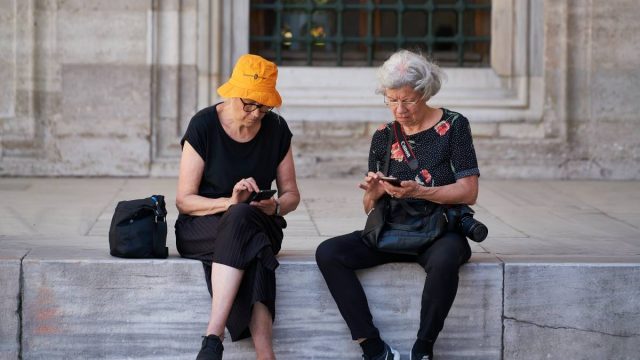 The past year has been a time full of anxiety for us all, but none more so than the elder citizens among us.
WIth COVID-19 proving markedly more dangerous the older you get, many people aged 70 and above have spent an extremely difficult 12 months separated from family, friends and their usual support network.
If you also happen to have a medical condition that put you in the 'extremely clinically vulnerable' category, you may also have spent much of the last year shielding at home, in effect cut off from the outside world completely.
With 90-plus per cent of the UK's pensioner population now vaccinated, there is at least some optimism, along with some understandable trepidation, about inching back towards more normal patterns of life again.
One thing many people want to kickstart again is travelling. For many, retirement is the perfect time to explore the world in earnest, and holidays have been sorely missed since the start of the pandemic.
Hoping for a trip abroad may be a bridge too far for 2021. But that still leaves plenty of opportunities to get to know the UK a little better, and perhaps remind ourselves of what we're lucky to have on our own doorstep.
Here are some useful tips for senior citizens for booking a staycation to remember this year.
Plan a holiday to suit your interests
One of the great things about holidaying in the UK is that there really is something for everyone – a fact that puts it in the top 10 most visited countries in the world, despite the weather!
To book a staycation you'll never forget, a great tip is simply to think of what you like doing most and take it from there. With a little bit of research, you're bound to find places and activities that will suit you to a tea.
If you like relaxing on the beach, the UK offers nearly 8,000 miles of coastline, much of it stunningly beautiful. If you like history and culture, then cities like London, York, Canterbury, Chester, Durham, Edinburgh, Bath, Winchester, Lincoln and many, many more are amongst the most steeped in heritage in the world, not to mention all the castles, abbeys, grand houses and assorted ruins dotted all over the countryside.
If you like keeping active, then the uplands of Wales, the Pennines, the Lakes District, the Scottish Highlands and Islands etc offer some of the best rambling routes going, for all levels of ability. The list goes on – if you can dream it up, you can find somewhere to do it in the UK, and there is probably a holiday or excursion company catering for it.
Don't let being alone put you off
One of the hardest things for older people who have lost a partner getting used to doing all the things you used to do together on your own again. This is especially true of going on holiday, which can feel isolating and daunting without your travel companion.
If you find yourself in this situation, you are not alone – there are thousands of people out there just like you, and they want to go on holiday, too. That's why there are plenty of travel companies offering solo travel packages and group tours for senior singles, all over the UK. Explore parts of the country you might not have seen before, take part in activities you love or discover new ones, and best of all, meet new people in the process.
Take out travel insurance
To many people, the idea of taking out travel insurance for a domestic holiday just never occurs to them. If there are no flights to lose your luggage on or no risk of having to pay for medical attention, why do you need it?
In the current climate, the biggest reason to take out travel insurance is to cover cancellations. If you fall ill or test positive for COVID-19 before you head off and have to self-isolate, you are very unlikely to get a refund from your travel provider. Choose the right travel policy, on the other hand, and your insurance will payout.
If you are over a certain age and have a medical condition, you have quite likely run into difficulties getting travel insurance in the past – insurers either refusing to cover you, or charging extortionate premiums for the privilege. That's why, as you get older, finding an insurance provider that understands your needs and can meet them fairly is crucial.
Click here to find out more about Over 70's UK Travel Insurance.