Füssen looks like it's been lifted from the pages of a bedtime story. Surrounded by lakes and the Alps, the town is famed for the fantastical castles of Ludwig II, the 'Fairy-Tale King'. In late 2019, over half (54%) of global travelers reported in a Booking.com study that they wanted to play a part in reducing over-tourism by visiting lesser known though just as cultural and captivating destinations. Füssen can show those travelers exactly that.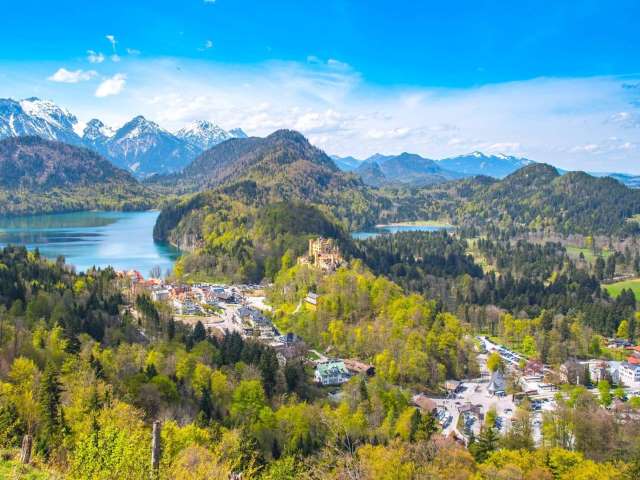 Crowned King of Bavaria as a teenager in 1864, Ludwig retained a playful outlook throughout his reign. Take a tour of Hohenschwangau Castle, the monarch's childhood home, to see the starry-sky ceilings, saga-inspired frescoes, and neo-Gothic turrets that fuelled his imagination.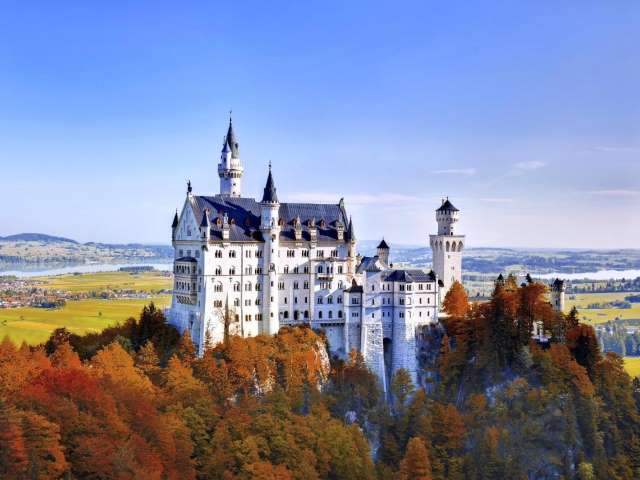 Grander still is Neuschwanstein Castle, Ludwig's passion project. Resembling a nesting swan, this spectacular Romanesque palace is a dream for the 37% of global travelers who want to book a stay in an alternative accomodation. It hardly gets more alternative than this breathtaking castle that sits atop a sheer cliff above Hohenschwangau, its tall and slender towers visible for miles around. Inside, visitors are dazzled by gilded halls, dreamlike paintings and medieval-style motifs.
For majestic views of both castles, head for Marienbrücke Bridge above Pöllat Gorge. Or, peer out the huge panoramic window at the Museum of Bavarian Kings, located by Alpsee Lake.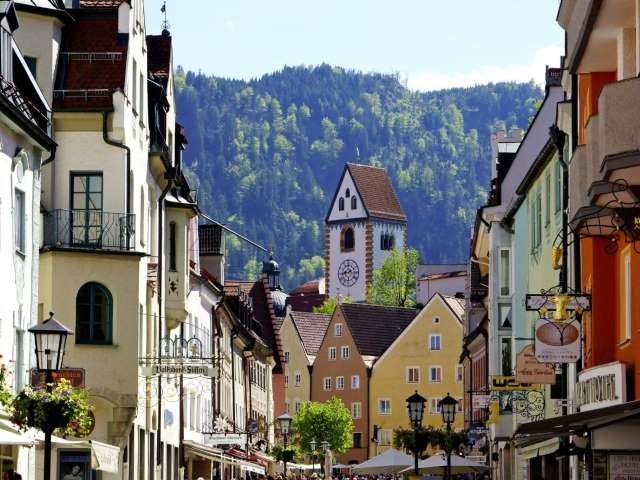 Füssen's peak season is July, when visitors hope to catch highs of 24℃ and clear views of the Alps. Autumn is less crowded and presents a whole other palette of pretty colours, while January offers lower prices along with the lowest temperatures – though it's worth braving winter to see Neuschwanstein Castle cloaked in snow.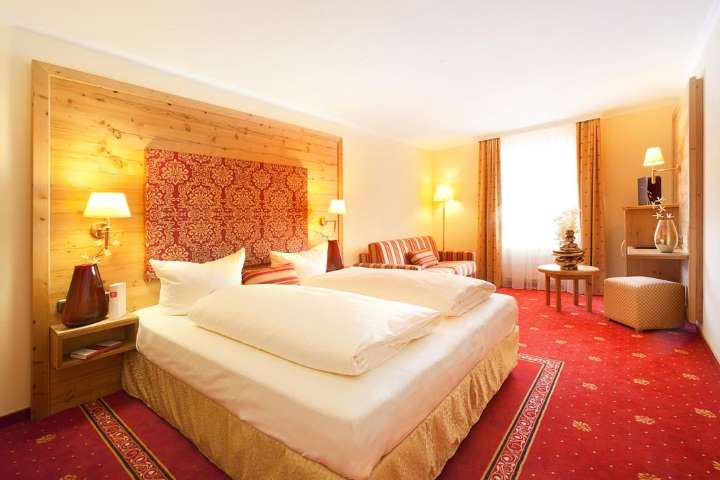 Hotel Schlosskrone available on Booking.com
This pretty yellow hotel sits right in Füssen's romantic Old Town. Inside, the Bavarian décor is all richly coloured rugs and fireplaces, with equally sumptuous rooms and a fitted out spa. Guests especially love the lavish breakfast offerings, with treats like smoked salmon, cheese, cold cuts and deviled eggs.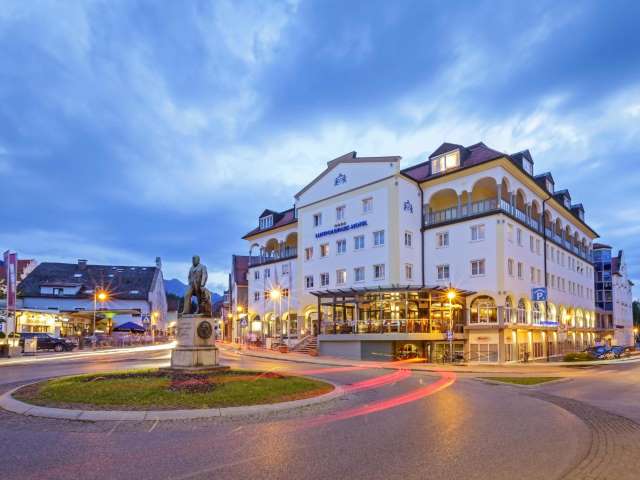 Luitpoldpark-Hotel available on Booking.com
Luitpoldpark-Hotel has rooms looking out towards the mountains and is conveniently close to the city's castles. The hotel offers a free transportation pass so you can easily visit Füssen's best sights. With large rooms, a hefty breakfast and on-site parking, it's an exceptional base for exploring Southern Bavaria.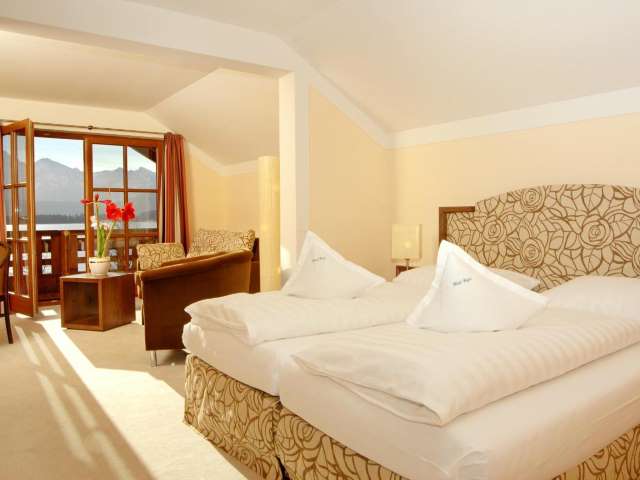 Hotel Geiger available on Booking.com
Hotel Geiger is made for peaceful countryside stays. This welcoming retreat is set on the shores of Hopfensee Lake, looking out over the Alps. You're only 15 minutes from the castles, and in the meantime you can hike, cycle and fish in the gorgeous surrounds – or just take in the views from your balcony.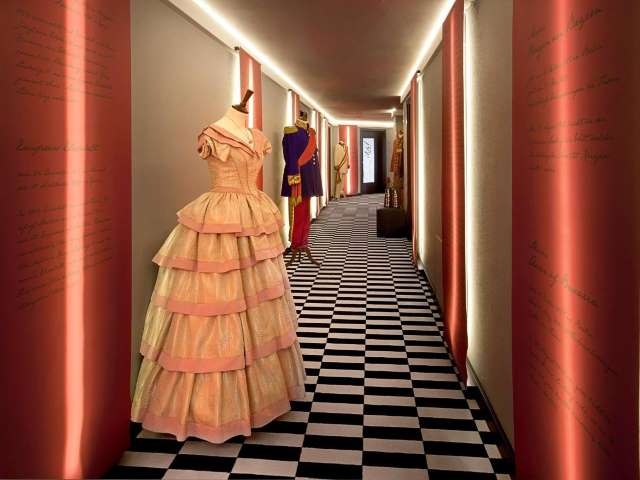 Hotel Sonne available on Booking.com
With alpine views, a central location, and designer rooms, Hotel Sonne offers a real romantic getaway. The Maximilia restaurant serves Mediterranean-style meals, and breakfast features Black Forest ham and Allgäu cheese. Guests adore luxurious touches like the deep bathtubs and the elaborate opera dresses on display in the halls.