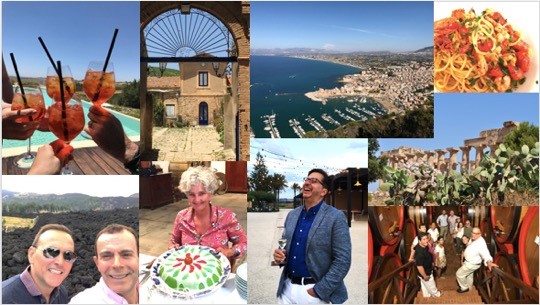 An enchanting journey across Sicily with Gary Portuesi, of Authentic Sicily, and Sal Rizzo, of De Gustibus Cooking School, team up with world-renowned wine expert, Anthony Giglio, for a wine-focused tour that highlights some of the best wineries in Sicily and Italy—Planeta, Regaleali, Benanti and Cottanera—whose exquisite wines we will sample throughout the program.
This intimate tour lasts seven days and nights in upscale wine resorts, and is designed to be at a relaxed-pace with plenty of time to savor the best of food, wine, art, culture, history, hospitality and beauty that Sicily offers.
DAY 1: SUN June 24
Welcome & Introduction to Sicily's Bounty You will be transferred from Palermo Airport to Foresteria Planeta. Owned by the winemaking Planeta Family, Foresteria Planeta is an oasis amidst vineyards and olive groves. The hotel's architecture strikes a compelling blend of modern design with the old-world style of Sicily.
Enjoy the afternoon at leisure. Join us for an aperitivo and an
orientation at sunset, and then join Chef Angelo Pumilia for a delicious introduction to Sicilian cuisine.
Overnight: Foresteria Planeta
DAY 2: MON June 25
Magical Medieval Towns, Decadent Sweets & Stunning Coastlines Morning free at Foresteria Planeta. Enjoy the pool or go for a hike in the countryside among vineyards and olive orchards. After lunch, we head to Erice, the mysterious medieval town that's perched atop Monte San Giuliano with sweeping views of Trapani, the Egadi Islands, and even Africa on a very clear day. The town is well known for pastries, thanks to Maria Grammatico, who we will visit in her world-famous shop, and we will sample a wide array of almond, fig, and ricotta based delights. On the way to Scopello, Gary and Sal will host the group at their home for an aperitivo and you will get to visit their modest garden to see what is ripe. The stacks of Scopello are rivaled only by Capri's, making for a dramatic coastal backdrop for our dinner tonight at La Terrazza restaurant.
Overnight: Foresteria Planeta
DAY 3: TUES June 26
Historical Perspectives & Gems of the Vine After breakfast, we will visit Selinunte, Europe's largest archaeological park with our private guide, who will give us a high-level overview of Sicily's fascinating history as revealed through this ancient city. We then head to Planeta winery in Sambuca di Sicilia, one of the most avant-garde wineries on one of the most beautiful vineyards in all of Sicily. We'll tour Planeta's production facility, visit the aging cellar and have a wine tasting with lunch in their cavernous yet stately tasting room. Return to the hotel and freshen up before heading to Portopalo beach for a seafood extravaganza at Da Vittorio.
Overnight: Foresteria Planeta
DAY 4: WED June 27
The Grandeur of Sicily's Past & Present After breakfast, we will head to Agrigento to visit The Valley of the Temples, Sicily's premier archaeological park. Along the Sacred Way, you will admire the Temple of Hera, the perfectly preserved Temple of Concord, and the Temple of Hercules. We will have a Sicilian picnic-style lunch at Fontes Episcopi, a working farm.  After lunch, we head to Tenuta Regaleali, the famous noble estate of the Tasca d'Almerita family. Eight generations of the Tasca family have been involved in the creation of some of Italy's best wines from 500 hectares of land in the heart of Sicily. Visiting Tenuta Regaleali is a walk through Sicilian history, with shades of The Leopard, Sicily's classic novel that captures the fading days of Sicily's 19th century aristocracy, at every turn. We will be the only guests at the estate, which makes for an extra special experience. Most of the ingredients for our meals today and tomorrow hail from the estate.
Overnight: Tenuta Regaleali
DAY 5: THURS June 28
The Down to Earth Noble Estate of Regaleali Today's program takes us to the world-renown Anna Tasca Lanza Cooking School at Case Vecchie, on the Regaleali estate, where Fabrizia Lanza continues her mother's legacy. As she leads us through her vegetable garden, Fabrizia will provide us with a perspective on Sicily's earth to table approach to cooking and we will prepare several traditional Sicilian dishes that are made from the pristine ingredients from her garden. After lunch, we will visit the Regaleali winery for a proper tasting of wines selected from their impressive portfolio of 40+ labels. Enjoy a sunset dinner on the estate, prepared by Regaleali's talented chefs.
Overnight: Tenuta Regaleali
DAY 6: FRI June 29
A Menacing Volcano that Produces Magnificent Wines Today, we head East to Mt. Etna, Sicily's famous volcano, where some of the most innovative winemaking in all of Italy is taking place. We will visit Benanti winery, where brothers Antonio and Salvino will host us. This trailblazing winery, which produces award-winning labels, put Etna wines on the map, reviving almost forgotten indigenous varietals such as Nerello Mascalese. Transfer to Hotel Villa Neri, one of Mt. Etna's exciting new luxury resorts set in paradise near the charming town of Linguaglossa.
Overnight: Hotel Villa Neri
DAY 7: SAT June 30
Etna's Craters, Lava Flows & More Wine! For our final day, guests will enjoy some time off, relaxing at the hotel's spa and pool. Join us for a magnificent farewell dinner at Cottanera winery after visiting the ancient lava flows and some of the craters of Europe's largest volcano.
Overnight: Hotel Villa Neri
For more information and pricing email to garyp@authenticsicily.com