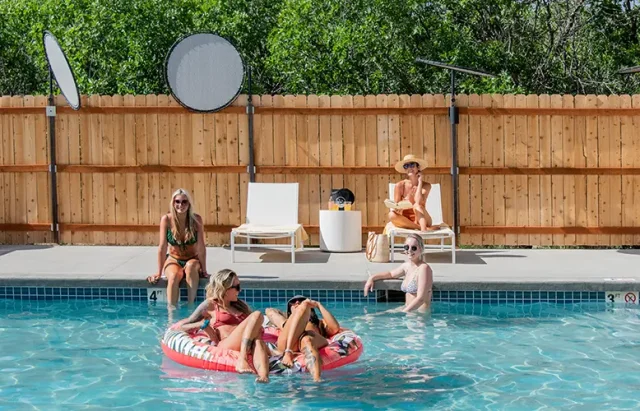 Whether you're celebrating a bachelorette, birthday, or simply spending time with friends and family, relish in relaxation and exploration amidst one of Utah's 'Big 5' at Southern Utah's hidden gem, Yonder Escalante—a stylish 20-acre desert resort concept. Yonder's newly launched deluxe cabins, spa-like amenities, on-site Food Truck, Drive-In Theater outfitted with retro-style cars, oversized lounge pool and hot tub, open-air lounge area, private firepits, and Instagram-worthy A-frame cabins make it the perfect destination for re-connecting with friends and creating lifelong memories.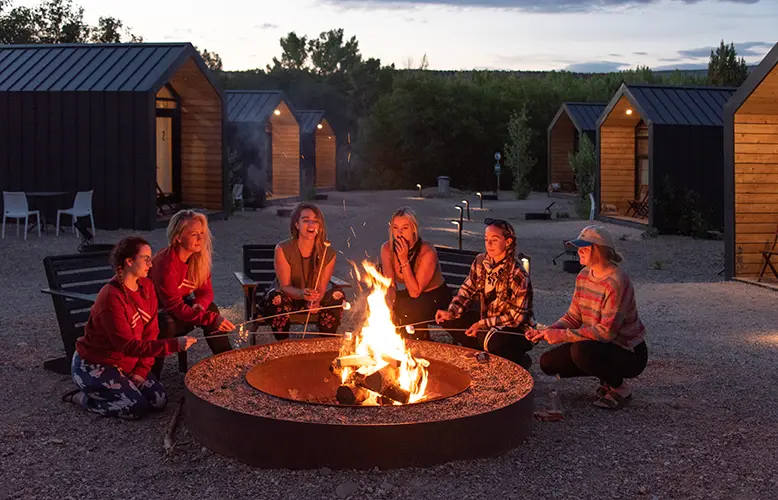 Whether you prefer lounging by the pool with a cocktail in hand or exploring the desert landscapes, Yonder offers an all-encompassing experience that accommodates every type of traveler in the group. Below are a few reasons why Yonder Escalante stands out as the ultimate girl's getaway destination: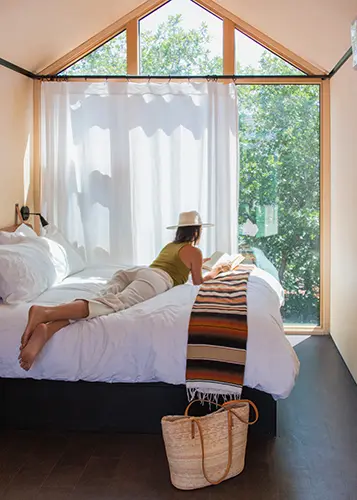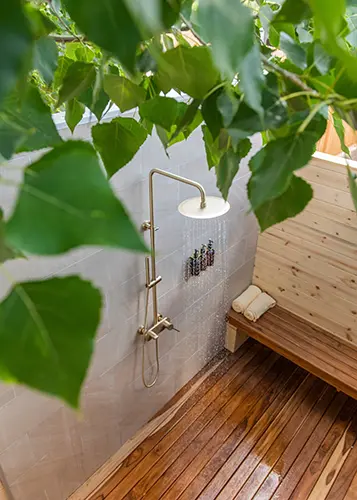 Deluxe Cabins – Featuring a queen bed and queen-sized sofa sleeper, private outdoor deck and firepit, picnic tables and vintage-inspired decor, Yonder's brand new deluxe cabins comfortably fit up to four people – better catering to families, friends, and couples. Most notably, the new cabins each feature luxurious private bathrooms and private outdoor showers, whereas other accommodations require the use of Yonder's communal bathhouses.
Spa-like Amenities – Get lost glamping under the stars while you unwind in the hot tub under the Escalante Dark-Sky Association-certified skies, rejuvenate in the open-air showers, or simply relax in the outdoor lounge equipped with cozy firepits and surrounded by tranquil nature.
Unmatched Adventure Opportunities – If you're seeking thrilling outdoor activities and ultimate exploration, Yonder Escalante is a central spot for a variety of adventure opportunities. From slot canyon and waterfall hikes to horseback riding and off-roading, there's something to satisfy every adventurous spirit.
Instagrammable Moments – Snap a photo in one of nine classic vintage cars, each fully equipped with heat and sound, at the onsite Drive-in Movie Theater where the Grand Staircase Escalante Monument serves as the perfect backdrop. Stay for a cult classic movie, which play nightly, and get cozy with your girls while enjoying a variety of concessions such as movie-theater popcorn, vintage candy and hotdogs.