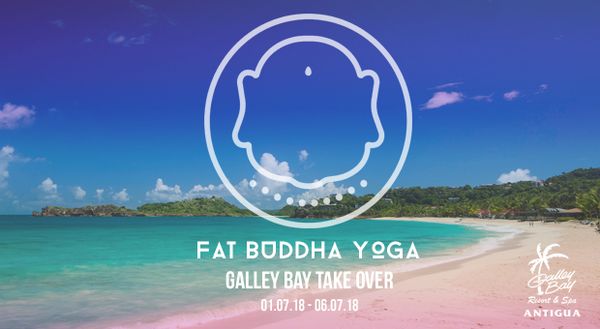 Elite Island Resorts Group, a collection of beachfront resorts in the Caribbean, has teamed up with Fat Buddha Yoga founder Jessica Skye for her first retreat in the Caribbean. The Fat Buddha Yoga luxury Caribbean resort takeover will take place at Galley Bay Resort & Spa Antigua July 1-6, bringing Fat Buddha Yoga's modern approach to the ancient art and science of yoga for the next generation of urban yogis. Further dates for 2018 and 2019 are being finalised.
For five days Jessica Skye will be taking over the resort to pop up on white sands and crystal clear waters to help guests kick back, re-charge and soak up everything the tropical island has to offer. Alongside a daily double dose of Sunrise and Sunset yoga overlooking the ocean taught by Jessica, activities included in the price of the retreat are: paddle boarding, kayaking, Caribbean FloatFIT HIIT, a catamaran tour of the island, a 60 minute massage, snorkelling, fresh and locally sourced Caribbean cuisine, rum tasting class and a pop-up silent cinema session on the beach
Founder Jessica Skye said: "The FBY ethos has always been about making yoga accessible and fun, not to mention always being the first yoga brand to pop up in a lot of the venues we use. I am very excited to be partnering with Galley Bay for our first Caribbean retreat. Antigua has so much to offer in terms of wellness, R&R and sheer fun, I feel super privileged to be their first yoga partner and to be creating an amazing experience for guests"
Galley Bay Resort and Spa is Antigua's most exotic hideaway, the perfect all-inclusive retreat. Set on a tranquil west coast of Antigua, it offers forty-acres of Tropical gardens between a bird sanctuary lagoon and a three-quarter mile beach. Activities include diving and health spa "Spa Indulge" and ocean front dining in one of the three gourmet restaurants.
Places can be booked exclusively from Caribbean Classics, places are limited and quick booking is recommended. More information here: https://www.caribbeanclassics.co.uk/galley-bay-fat-buddha-yoga