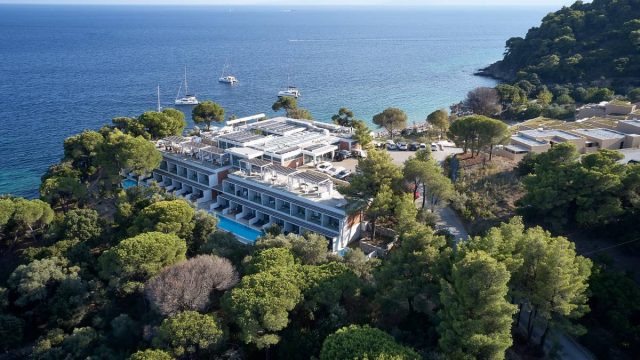 ELIVI SKIATHOS is delighted to launch a range of new eco-offerings and activities that showcase the idyllic green island in all its glory. Skiathos is the first northern Sporades island to be developed in the 1960's and is home to more than 50 beaches lapped by the sea, and its original pine forest which covers two thirds of the island. The island is ideal for those seeking a slower pace and ample seclusion over the busy crowded neighbouring blue islands of Santorini and Mykonos, as the only island in the Mediterranean Sea with a pine forest habitat.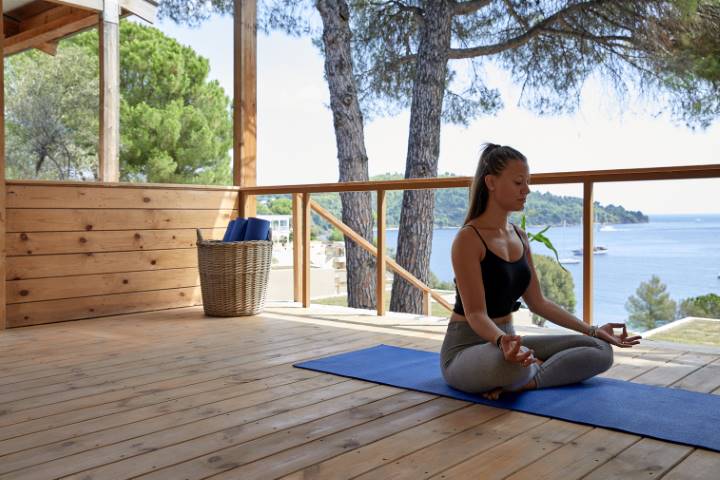 Holistic Hiking
For guests looking to immerse themselves in the wilderness of the island, ELIVI SKIATHOS offers holistic hiking or horse riding, through the nature trails that surround the hotel. Home to 1,000 different herbs, hiking through this pine-covered island offers more medicinal benefits than just a breath of fresh air. Private personal training sessions can be arranged for those eager for a more invigorating and challenging experience on off the beaten pathways around the hotel. For guests seeking peace and serenity, complimentary outdoor yoga classes surrounded by a wildlife refuge, olive groves, forest and lagoon are available.
Swim Safari
Guests have direct access to some of the most magnificent white-sand beaches in the Aegean. Guests can soak in the postcard perfect sea with exclusive ocean adventures such as guided snorkelling and scuba diving. Specialised night dives and deep dives can be arranged for those looking for a fully immersive and revitalising experience to take in marine life. There are plenty of opportunities to dip in all around the island, with boat trips or a sunset yacht cruise for those wanting to admire breath-taking views. With so much of the island home to a nature reserve, the plethora of wildlife that resides in the lagoon and wetland can be discovered; offering protection to rare species of migratory birds, including the rare black swans native only to Skiathos that are the essence of ELIVI, alongside herons and ducks.
Slow Triathlon
For guests looking to enjoy the slower pace of the island, ELIVI SKIATHOS has shared a suggested "Slow Triathlon" itinerary that encapsulates the natural beauty of the island.
Morning Nature Walk
Guests wanting to traverse at a slower pace may embrace the island's morning beauty with an easy-going stroll, meandering through any of the 25 clearly marked nature trails for early fresh air to start their day feeling vitalised.
Gentle Swim
Continuing activities at an alluringly peaceful pace, guests can truly appreciate the quietness, grace and splendour of the island amongst the lightly lapping waves with a gentle swim in shallow waters, or a guided snorkel to admire the abundance of exotic fishes.
Open Air Yoga and Relaxing Spa Treatments
Unwind with a relaxing afternoon yoga session held at the resort's new open-air gym, offering panoramic views of the Aegean Sea and a chance to reconnect mind, body and soul to the hotel's surroundings. Classes include traditional yoga and Pilates, guests can then end the evening with a rewarding and restful spa treatment to soothe muscles. 
Spread across 213 acres, ELIVI SKIATHOS is tucked away in an area of natural beauty on the southwest of the island beside a wildlife refuge and with direct access to four of the island's best beaches. The hotel opened its doors for the first time in 2018 and was designed with respect and gratitude towards the surrounding environment and perfectly adapted to the terrain. ELIVI was constructed from traditional raw materials and operates with utmost respect to local nature including using eco-friendly products and alternative renewable energy sources, while vegetation has been preserved and enriched with additional plantings enhancing the rich local flora.