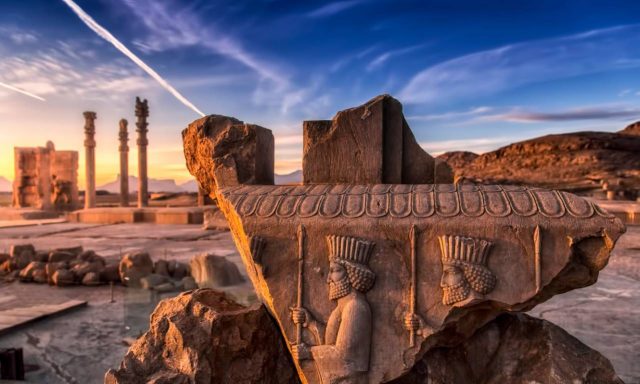 This one-of-a-kind expedition tells the incredible story of Alexander the Great's conquest of Persia. Led by renowned archaeologist Dr John Tidmarsh, travellers explore the iconic highlights of Iran, immersing themselves in the country's bazaars, food, street life and extraordinary architecture. The group is joined by leading local historians, who give exclusive access to fascinating dig sites, culminating in a world-first search for Alexander's fabled lost city of Carmania.
Arcadia Expeditions new 'End of Empire' expedition travels through the diverse and dramatic landscapes of Iran. Following in the footsteps of the legendary warrior and conqueror Alexander the Great, widely considered one of the greatest military minds the world has ever seen, this ground-breaking itinerary explores the great cities Alexander spared and those he destroyed, the sites of battle, as well as the wondrous twists and turns of his Persian adventure.
Exploring a wealth of World Heritage sites including Persepolis, Bam, Yazd and the mythical Takhti-e-Soleyman – The Throne of Solomon, the expedition also has the thrilling experience of exploring two of the largest circular cities of the ancient world – Gour and Darabgerd.
Insider access to the most unforgettable and thought-provoking local experiences have been curated exclusively by Arcadia for their guests. In the remote deserts of southern Iran, the expedition picks-up the trail of Alexander and his army and have their own 'Indiana Jones' style adventure – as the group goes in search of the lost city of Alexandria in Carmania. Visiting the sites of the four likely contenders, the group will consider the evidence they see first-hand and will make their own conclusions as to which is this legendary city.
Staying in the finest hotels Iran has to offer, including renovated caravanserais and a 300-year-old property once used by Silk Road traders, the expedition also travel to the rarely-visited Zagros Mountains to camp with Qashqai nomads.
Arcadia Expeditions Co-Founder, David Adams says that it's the exceptional people the group will meet along the way that will really bring this story to life: "Throughout our journey, we have arranged informal meetings with local historians and archaeologists and have arranged special access to dig sites and museum curators which will enrich our understanding of what we are seeing." This 26-Day expedition, limited to just 16 people, and has four departures: 7th May – 1st June 2022, 14th October – 8th November 2022, 17th May – 11th June 2023 & 7th October – 1st November 2023. The expedition is also available for private departures.
For more information, visit the Arcadia website: www.arcadiaexpeditions.com