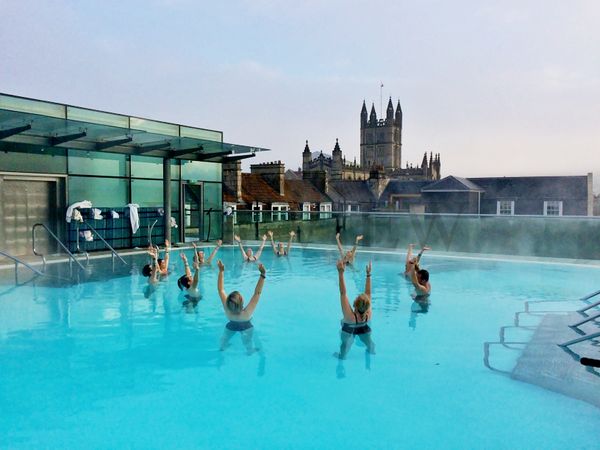 Thermae Bath Spa is offering the chance to enjoy an early morning dip in its iconic rooftop pool as part of a new festival of wellbeing.
In February, Rebalance Bath festival will bring together venues, hotels, spa therapists and restaurants for three weeks of wellbeing and feelgood activities.
On Wednesday February 8, 15 and 22, Thermae Bath Spa will open early to host classes of Aquasana – a therapy including classic yoga postures combined with gentle tai chi and invigorating karate moves – in the spa's mineral-rich waters.
The Aquasana sessions will be held before normal opening hours, so attendees will enjoy exclusive use of the rooftop pool before other guests arrive. Classes start at 8am and will be followed by a two-hour spa session.
A spokesperson for Thermae Bath Spa said: 'We are really excited to be taking part in this new festival. As one of the UNESCO 'Great Spa Town of Europe' we are delighted to continue our longstanding contribution towards the health and wellbeing of our guests.
The classes will be led by expert teachers Bex Bridgford and Lana King, both of whom are experts in their field.
The Aquasana classes at Thermae Bath Spa are £50 per session and include a two-hour Thermae Welcome (spa session plus use of towel, robe and flip flops). Places are limited.
Choose the date that works best for you and join us at 8am at Thermae Bath Spa for this rejuvenating experience.
To book, click on the link here: https://www.eventbrite.co.uk/e/aquasana-in-the-rooftop-pool-tickets-506433946567