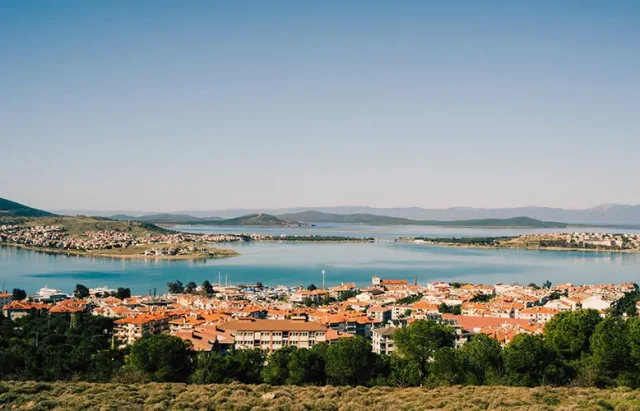 Bozcaada, Gökçeada, and Cunda are three beautiful islands in the Turkaegean region that offer a chance to experience the Aegean's riches. Guests can start their day with delicious Turkish breakfasts in stone houses, swim at lovely beaches, and end their day with enjoyable dinners at traditional taverns.
The tables are filled with Turkaegean's centuries-old recipes, with mezes served first, followed by the famous seafood of the islands. Here are some tips to help you decide which of these islands is most suitable for you.

Bozcaada: A Peaceful Haven for City Escapes
Bozcaada is a beautiful Aegean island near Çanakkale known for its clear waters, vineyards, and wines. The Bozcaada Castle is the most prominent landmark and can be easily reached by ferry. Other notable attractions include the Bozcaada Museum, Ayazma Monastery, Windmills,
and Virgin Mary Church.
During the summer, Ayazma Beach and Aquarium Bay are two of the most popular swimming spots on the island. The region also offers other outdoor activities, including windsurfing at Çayır Beach or diving in the tranquil coves to discover underwater life.
Enjoy Bozcaada's famous wines and vineyards with 3,000 years of history. Take the Bozcaada Vineyard Route to visit the wineries, try the island's four endemic grape varieties, and join the Vineyard Festival in the first weeks of September.
The World's First and Only "Cittaslow" Island: Gökçeada
Gökçeada is the world's first and only "Cittaslow" island since 2011. It boasts authentic villages, clean sea, and long beaches for activities like diving, surfing, and swimming. Aydıncık Beach is the most popular spot, with a 1200-meter-long beach and golden sand. Other pristine beaches include Gizli Liman, Laz Bay, Yıldız Bay, and Mavi Bay.
This region offers a peaceful and distinct lifestyle, known for its architecture and cuisine. Its charming villages, including Kaleköy, Zeytinli, Tepeköy, Bademli, and Dereköy, boast centuries-old trees, hills, and stone houses. The renovated stone buildings, now used as hotels, cafes,
and restaurants, are worth seeing.
A Fairy Tale in the TurkAegean: Cunda
Cunda, or Ali Bey Island, is a stunning North Aegean island that you can visit any time of year. You can reach it easily via a short bridge. The island's main attraction is the Taksiyarhis Church, which was restored in 2011 and now serves as the Ayvalık Rahmi M. Koç Museum. Other activities on Cunda include enjoying the view from Aşıklar Hill, wandering the cobblestone streets, swimming in the crystal-clear waters, and watching beautiful sunsets. Be sure to try the island's delicious mezes and herb salads, as well as olive oil-based dishes like samphire and artichoke, during your visit. Make sure to taste the local fish, papalina, as well.