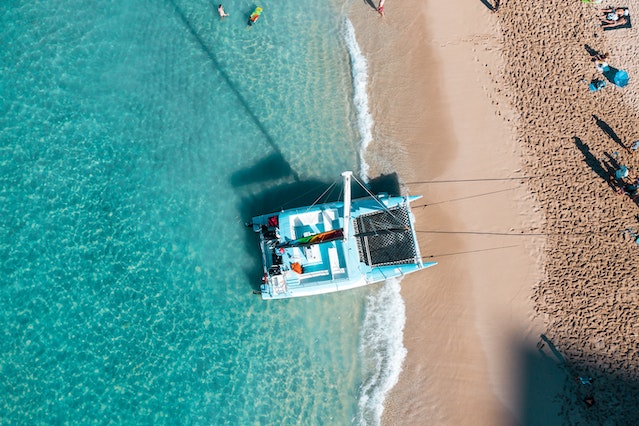 Are you looking to escape the crowds while on vacation? A private catamaran tour in Cancun is the perfect way to experience the beauty of the Caribbean without having to battle the swarm of other tourists. With a private charter, you'll have access to hidden coves that larger boats can't reach, creating a whole day devoted just for you and your group. Wherever your destination may be—Cozumel, Isla Mujeres or Contoy Island—with a dedicated crew whose sole focus is taking care of YOU, no detail will be overlooked. Here are 5 benefits of choosing a private catamaran such as the Moana Catamaran in Cancun!
Discover the beauty of Cancun from a whole new perspective
A private catamaran tour offers a whole new perspective on the beauty of Cancun! Feel the wind in your hair as you glide over the waves, enjoying the warm sun on your skin and the salty sea air on your face. Whether you're looking to relax with a loved one or have a fun day out with friends and family, a private catamaran tour is the perfect way to explore Cancun's natural wonders in style.
Sail in comfort and privacy
Imagine sailing through clear, blue waters with nothing but comfort and privacy surrounding you. No worries about being crammed with other passengers or waiting in long lines for activities. You deserve a luxurious sailing experience where you can fully unwind and savor every moment. There's no better way to do this than by embarking on a private sailing journey.
Get an up-close look at some of Cancun's most stunning locales
Cancun is known for its crystal-clear waters, white sandy beaches, and breathtaking scenery. However, some of the hidden gems of this tropical paradise are often overlooked by tourists who flock to the more popular destinations. If you're looking for an off-the-beaten-path adventure, be sure to check out some of Cancun's secluded beaches and hidden coves. These pristine locations provide an up-close look at some of the most stunning locales in the area, with their tranquil waters and quiet seclusion offering the perfect peaceful escape from the hustle and bustle of the city.
Savor delicious food prepared onboard by your own personal chef
Experience the ultimate dining experience aboard a luxurious catamaran, where you'll be treated to mouth-watering meals prepared by your very own personal chef. As you savor each bite, let the stunning views surrounding you take your breath away. Take in breathtaking sunsets or watch the world go by as you indulge in a delectable feast. From succulent seafood to juicy steaks, your chef will create a culinary journey that is customized to your tastes, creating an unforgettable experience that is as personalized as it is delicious.
Take part in fun activities such as snorkeling, fishing, kayaking, and swimming
Dive into the crystal-clear waters and explore the underwater world through snorkeling or try your hand at casting a line and reeling in your catch of the day. Glide through the gentle waters in a kayak or simply cool off and relax with a refreshing swim. There's something for everyone, and with everything included in the package, you can focus on having fun and creating unforgettable memories!
In conclusion, a private catamaran tour in Cancun is the perfect way to experience the beauty of the region. From sailing in comfort and privacy to indulging in exquisite food prepared onboard by your own personal chef, this customized tour provides guests with an unbeatable combination of luxury and convenience. Furthermore, you'll even have access to amazing activities such as snorkeling, fishing, kayaking, and swimming – all included in the tour package.