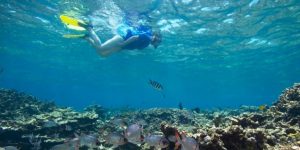 This island originally served as a busy whaling port in the early 19th century and today it's transformed into a snorkeler's paradise. Cruising in St. Anne Marine National Park is a delightful venture into the wonders of nature. In this superb snorkeling spot you'll be able to experience intricate underwater ecosystems, colourful coral gardens and sea grass meadows for as far as the eye can see. Don't forget your waterproof camera, the diverse assortment of tropical fish, manta rays and friendly Green and Hawksbill turtles will provide great photo ops.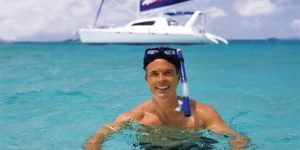 Part of Belize's World Heritage Site, South Water Caye is situated on the barrier reef on the north side of the quarter-mile-wide South Water Pass. On the east side of the caye, the barrier reef drop-off is close to the beach, providing an ideal location for some of the best snorkeling in Central America. In 1996, the United Nations World Heritage Committee gave the Belizean barrier reef the World Heritage Site title. Now formally called the Belize Barrier Reef Reserve System, this now protected caye has been free to grow wild giving snorkelers the chance to see and enjoy an undisturbed landscape. The extensive reefs, drop-offs, sand ridges, sinkholes, pinnacles, caves, and other features of the ocean floor will have you diving into what feels like the pages of a Nat Geo magazine. You'll have to see it to believe it!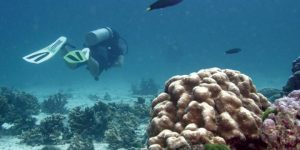 Warm blue crystal-clear water, pure sunshine, and soft white sand; sound like a dream? Well it's not, it's everyday reality on Thailand's' Koh Hong Krabi island. This cliff-studded island is for the snorkeling adventurer. With nearby caves and the scenic coral fringed bay, it's ideal for swimming and snorkeling during high tide. Swim east of the beach to a small islet where you'll find magnificent reefs teeming with sea life and colorful coral. After a day of snorkeling along the coast take a moment to float on your back, you may even catch a glimpse of the native white-bellied sea eagles or exotic Indian pied hornbills soaring above.
Puerto Rico, Cayo Diablo National Park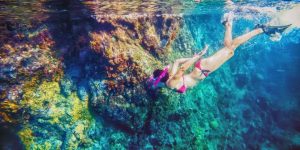 Not far from The Moorings base in Fajardo, you can capture a once in a lifetime snorkeling experience at Cayo Diablo National Park. Feast your eyes on the elegant Elkhorn and Staghorn Coral distinctive of this top-rated location where your dream to swim with sea turtles will come true. Cayo Diablo's healthy sea turtle population is the primary reason for this snorkeling destination's claim to fame. The National Park's unpolluted waters, undisturbed reefs, and uncrowded cruising grounds offer the most impeccable snorkeling conditions in this best-kept secret vacation sanctuary.
St. Lucia, Anse Chastanet Beach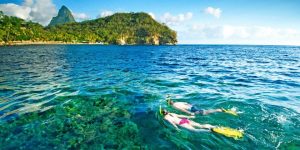 One of the jewels of the Windward Islands, St. Lucia boasts a landscape expansive in banana plantations, picturesque hamlets and beautiful harbors reminiscent of an older Caribbean. Dive into St. Lucia's stunning Anse Chastanet beach, which pairs plentiful reefs with a wide variety of marine life for one of the Caribbean's truly picture-perfect places to snorkel. The extensive reef, which ranges in depth from 5 to 150-feet deep on the far end, offers superior conditions complete with some less common sea creature sightings including octopus, peacock flounders, puffers, and sea horses. Historic sites, lush landscapes, and nearly perfect water visibility are the setting to this island's beaches that feel as if they were created specifically for snorkeling.