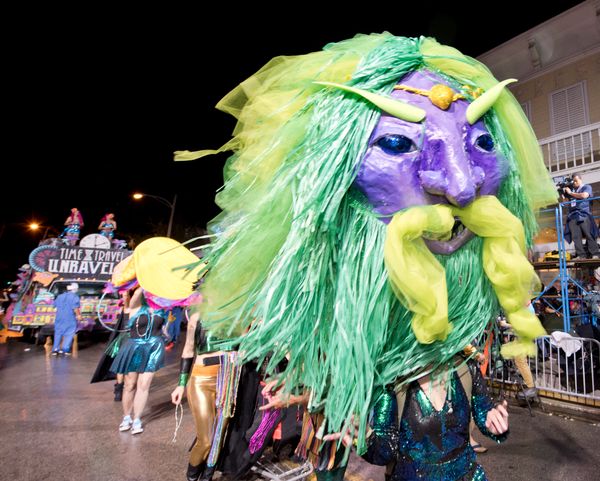 The undisputed crescendo of Key West's 40th annual Fantasy Fest is scheduled Saturday, Oct. 26, when spectators can marvel at elaborate floats and exotically costumed marching groups during the Bud Light Fantasy Fest Parade.
Themed "In Tune But … Off Key" in a salute to musical merriment of all kinds, the masking and costuming celebration takes place Friday, Oct. 18, through Sunday, Oct. 27, with a madcap medley of events for revelers.
Tens of thousands of people, many of them arrayed in outrageous costumes, are expected to throng the island's historic downtown streets to view the famed parade.
Floats and costumes are likely to reflect the festival's musical theme, inspired by everything from rock-and-rollers and disco darlings to campy musical theater, operatic antics and kids' singalong ditties.
Many float entries each year include music, moving parts and elements that tower over the audience. Creativity and artful design are rewarded with prizes as well as enthusiastic responses from Fantasy Fest crowds.
Grand marshal of the 2019 parade is Lofton "Coffee" Butler, a Key West musical icon who has entertained audiences including the Beatles and former U.S. president Harry Truman during his stellar career.
Pre-parade activities begin at noon Saturday with the open-air Duval Street Promenade, where vendors offer masking and costuming finery and accessories. Live entertainment, food and libations add to the festival frolic.
At 7 p.m. the Bud Light Fantasy Fest Parade is to "tune up" and take off from the intersection of Key West's Southard and Whitehead streets. The parade typically includes dozens of huge motorized floats, island-style bands, marching groups and street dancers garbed in lavish sequined and feathered costumes.
Backed by a "soundtrack" of spectators' cheers and applause, participants are to rock their way down Whitehead toward the Gulf of Mexico, turn onto Front Street and then proceed up Duval to the Atlantic Ocean.
Event information: fantasyfest.com