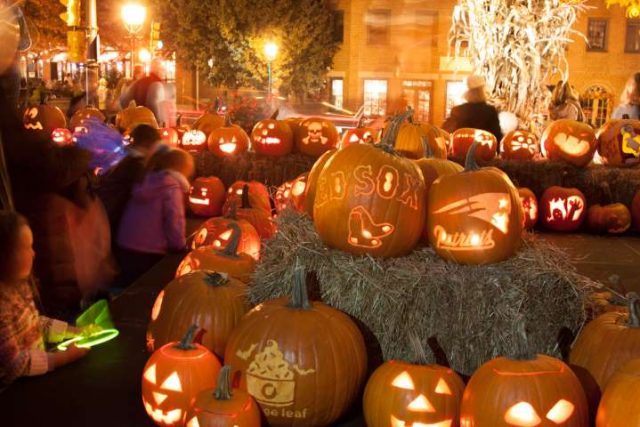 It's true, Massachusetts locals like to say 'Wicked" a lot but in October, it takes on an entirely different meaning. Known for Salem's annual Haunted Happenings, where 250,000 people converge in Salem to rejoice in all things Halloween, Massachusetts gets into the supernatural spirit with celebrations across the state and plenty of eerie places to visit.
Cape Cod
Halloween in Provincetown
From a family-friendly costume parade to more grown-up events like a 21+ haunted hotel, live shows, themed parties and the Black & Gold ball at Provincetown Town Hall—spooky good times are lurking in every corner. October 31-November 3.
Edward Gorey House
Edward Gorey, renowned illustrator of the macabre, lived in this Cape Cod cottage from 1979 until his death in 2000 and filled the house with eclectic flea market finds. The home is now a museum showcasing his most treasured items.
Ghost Hunter Tours with the Paranormal Research Society
Haunted History tours includes a 90-minute "Love You to Death" tour, which takes you back in time to lost loves and forgotten wives of the American Revolution. You can also walk with professional ghost hunters through historic Barnstable Village. Available all year.
Plymouth
Dead of Night Ghost Tours
Walk the oldest streets in America on a Twilight Lantern Ghost tour of Plymouth. On this tour you'll learn about local legends and folklore, visit a Burial Hill where tombstones from the 1600's remain and more. Happening nightly at 7pm, April – November.
Not So Spooky Halloween at Edaville's Family Theme Park
For the little ones, Edaville Family Theme Park's annual "Not So Spooky Halloween" is a great alternative to Plymouth's spookier side. Guests are encouraged to dress up in their favorite costumes and head on over for a full day of kid friendly, parent approved trick or treating at every ride. Happening October 2-25, 2020; 10am-4pm.
Martha's Vineyard
When the town's oldest building dates to 1672, you can expect a supernatural presence around every corner. Martha's Vineyard's history, along with its fair share of strange occurrences, makes it a major hub for ghost hunters.
Corbin-Norton House – Ocean Park
This house has burned down twice—first in 1894 then again in 2002—and ghost hunter extraordinaire Holly Nadler says it's no coincidence. Sisters Julie and Loulou Danzell were behind the well-documented string of 1894 Oak Bluffs arsons and their spirits suposedly still linger on the island.
The Vineyard Gazette Building
Rumor has it that this building served as an almshouse more than a century before the Gazette newspaper moved in and that a fight between two men over a lover turned deadly here. If you're hoping to connect with these spirits, the Gazette offers building tours year-round.
The Vincent House
The Island's oldest residence is owned by the Martha's Vineyard Preservation Trust. The Vincent House is furnished with artifacts from four centuries of island life, making it a fun and interactive stop on your Martha's Vineyard ghost tour — if you dare.
Western Massachusetts
Ghost Tours at The Mount
Creaking floors, slamming doors, ghostly footsteps… are these tricks of the imagination or something else? When Ghost Hunters visited The Mount, Edith Wharton's historic beloved country estate in Western Massachusetts in 2009, their findings were inconclusive. Join a ghost tour and decide for yourself! Fridays and Saturdays through October.
The Sleepy Hollow Experience at Old Sturbridge Village
Old Sturbridge Village is a living, breathing, vibrant village depicting life in New England from 1790-1840, which makes it the perfect setting for The Sleepy Hollow Experience, an immersive theatrical experience. At The Sleepy Hollow Experience guests are guided through the countryside where they will encounter Ichabod Crane, Katrina Van Tassel, Brom Bones and quite possibly the Headless Horseman. Happening September 27-November 3.
Greater Boston
Ghosts and Gravestones Tours of Boston
Come hear Boston's real history – the stories you won't hear before the sun goes down. What do you get when you combine a cursed privateer, a pyromaniac circus ringleader, a demon spat out of the pits of Hades, a homicidal opera diva and a deranged nanny? An experience unlike anything else in Boston! Happening throughout October.