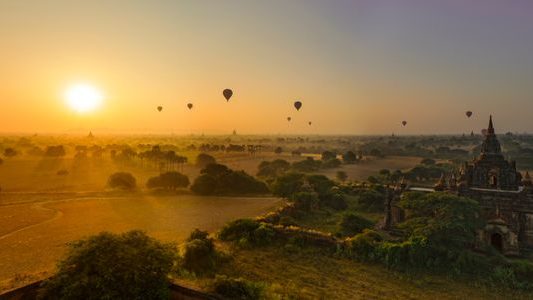 With the news announced last week that UNESCO's World Heritage Committee has named the ancient temple city of Bagan in Myanmar as one of 29 new cultural and natural sites inscribed into its World Heritage List, there has never been a better time to follow in the footsteps of intrepid adventurers and discover what makes this ancient temple city so magical.  The Strand name has been synonymous with luxury hospitality in Myanmar for over a century and The Strand Cruise is uniquely positioned to offer a true insight into the sights and sounds, myths and legends, and tastes of Bagan.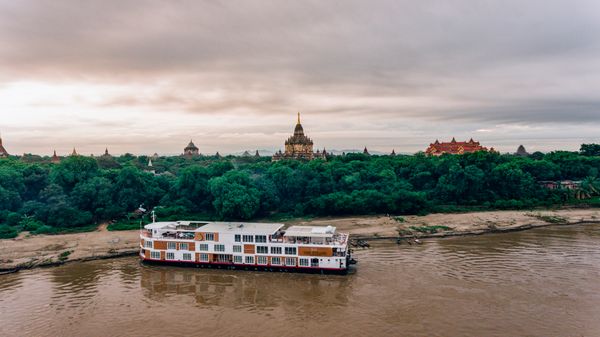 One of the best ways to explore many of Myanmar's former kingdoms is by sailing the Ayeyarwady River, a golden thread through the country along which the ancient capitals of Bagan, Ava, Mingun and Mandalay are strung like jewels. The Strand Cruise is an intimate 25-cabin luxury river cruise ship that recreates the style and soul of its namesake sister property, The Strand Yangon, afloat. The ship sails the Ayeyarwady River on three- and four-night itineraries that begin in or end in Bagan. Itineraries are fully a la carte, with passengers allocated a guide and driver so that they can follow a recommended shore excursion itinerary including the highlights of each port, or follow their own path to discover sites they may have read about.
In Bagan, The Strand Cruise's itinerary begins with breakfast in the tranquil gardens of one of Myanmar's oldest lacquer ware workshops, where this ancient craft is practiced using techniques first discovered in the region in the 11th century. Following breakfast, passengers begin to explore the sheer magnificence and architectural splendour of some of Bagan's 2,500 temples stupas, pagodas and monasteries, many dating from the 10th century. Highlights include the Ananda Temple and the gilded Shwezigon Pagoda, an original construction built by King Anawrahta, founder of the Bagan Empire.
Following lunch on board the sundeck of The Strand Cruise, moored nearby, passengers set forth to explore more of Bagan, including the Sulamani Temple, regarded as one of the most refined within the heritage site, reflected in its direct translation as 'crowning jewel'; and the renowned Gubyaukgyi Temple, built in 1113, famed for its murals lining the main hall.
Passengers return to the ship for a sundowner or to try the famed Strand Sour cocktail, created decades ago at the Sarkies Bar at The Strand Yangon and favoured by many writers and raconteurs of the 20th century. The evening continues with a traditional cultural show on board given by visiting artists, singers and puppeteers depicting myths and tales of old Bagan, followed by a gastronomic dinner featuring classic Myanmar and Asian dishes.
Executive Chef Daeng loves the market in Bagan and while the ship is moored, ensures he takes on board the best local ingredients for dinner, including fresh vegetables and spices for Laphet Thoke, Myanmar's most famous salad of pickled tea leaves, beans, peanuts, fried garlic and dried shrimp; Kahyan Thee Thoke, a wonderfully intense roasted eggplant salad with crispy garlic, fresh coriander, peanuts and sesame seeds with a garlic, fish sauce and lime juice dressing; and Mohingha, Myanmar's national dish of fish soup made with rice noodles and topped with crispy fritters and a boiled egg.
The following morning, passengers have the option to rise early and see the sun emerge over the horizon to bathe Bagan in a golden glow from a hot air balloon floating above thousands of ancient stupas. Following a magical 24 hours exploring Bagan, The Strand Cruise finally sets sail upriver, passing landscapes and village life along the river banks reminiscent of the days Rudyard Kipling and other intrepid explorers visited this untouched landscape.
Myanmar (or Burma as it was known at the time) was one of the first countries in South East Asia to open up to international tourism in the early 20th century. As the new century dawned, travellers and explorers began arriving in Yangon by steam ship and later by air, drawn to Myanmar for it's incredibly rich and well preserved heritage, its fascinating and diverse culture, and to experience for themselves the grand vistas of Bagan that they had heard tale of from explorers before them.
This first influx of weary travellers would head straight for The Strand Yangon in search of a cool drink and a large, airy suite. Established in 1901 as Burma's finest hostelry, this beautiful heritage hotel is still the perfect place to start experiencing Myanmar's cultural past. Classic but never old-fashioned, a visit to The Strand remains a 'must do' for visitors to Yangon, who walk in the footsteps of famous guests such as George Orwell, Noël Coward and Rudyard Kipling by taking afternoon tea at The Strand Café or swapping tales of adventure over a Strand Sour cocktail in the Sarkies Bar. If these walls could talk, they would tell tales of the explorers, adventurers and raconteurs who have passed through the Strand's revolving doors, as well as the highs and lows of the city itself.
The Strand's contribution to Yangon's historical and cultural heritage was recognised earlier this year when it become the first hotel to receive a commemorative blue plaque from the Yangon Heritage Trust, which is now on display under the entrance portico. The plaque states that The Strand Yangon is the oldest hotel in the city, often referred to affectionately as Yangon's 'grande dame', having played host to royalty, writers, raconteurs and weary travellers alike for more than a century.
Yet despite its recognised place in Myanmar's history, The Strand Yangon has constantly evolved. In 2016 the hotel underwent a restoration project that preserved the heritage at its heart while creating a more relaxed and glamorous setting for modern-day travellers. Local artisans restored original antiques and architectural detailing; the latest technology installed; and the hotel's décor given contemporary twist. A recent and very welcome addition to the Strand is an outdoor swimming pool, encircled with shady pool cabanas, as well as an al fresco dining terrace, therapy rooms, gym and private garden with cooling palms.