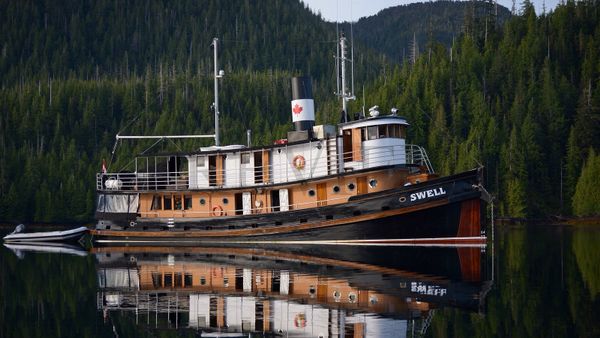 Millions of people travel to see Alaska's nature each year, but few spend any overnight time in the wilderness. For those with a hankering to wake up to birdsong and the smell of the forest, there's a 10-day inside passage cruise for you: aboard the 107-year-old coastal tugboat Swell.
Operated by veteran expedition company Maple Leaf Adventures, these trips for 12 guests at a time feature:
up-close experiences of whales and brown bears,
walks through the rainforest,
zodiacing among icebergs,
visit to natural hot springs
as well as beautiful anchorages each night.
Plus, the run of a grand, wooden tugboat with her friendly crew!
Engaging Locals
The shore trips are led by engaging naturalists, the ship's chef knows you dietary needs when preparing fresh gourmet fare each day, and the crew are all local, coastal people with stories to share.
Classic Tugboat
Swell is a fully restored, 88-foot tugboat. She hassix private cabins with ensuitebaths, a cozy salon, ample deck lounges, hot tub and an open wheelhouse. Shore boats, kayaks and hydrophone for listening to whales are some of her exploration equipment.
Slow Travel
The trips offer a slow-travel way to experience the grandeur of the Alaskan wilderness with all senses: the sound of crackling ice bergs; the scent of conifers; the feel of beach sand on your feet; the taste of berries you picked; the sight of water glistening on a whale's back.
Maple Leaf has operated these trips in Alaska since 1989, but expanded their season this year, and added an engaging tour day in historic Ketchikan or Sitka, with local residents, to each trip.
For more information please visit MapleLeafAdventures.com