Nova Scotia isn't your typical holiday destination and where you stay when you're here doesn't have to be your typical accommodation either. From spending the night in your very own caboose to guesthouses on a cliffside location with spectacular views of the sea, glamping in yurts nestled within the pockets of an oceanside vineyard and spending the night in North America's first certified Starlight Tourist Destination, Nova Scotia is home to many exciting and unusual places to stay.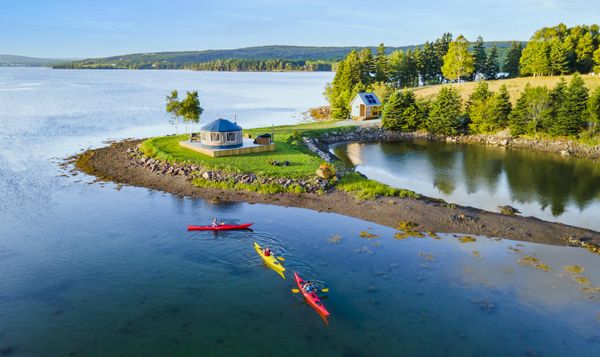 Authentic Seacoast – Yurts in the Vineyard: Idyllically located along a stunning peninsula on Chedabucto Bay, and nestled within the pockets of an oceanside vineyard, you'll find 10 one-of-a-kind yurts calling your name! Each yurt comes fully-furnished and equipped with an abundance of amenities to provide a more-than-comfortable stay. All yurts have a private deck & chairs, private Weber BBQ and propane tank, private fire pit, picnic table, kitchen supply kit, free Wifi, and 24/7 access to guest services buildings. Inside, each yurt is outfitted with a bed and all necessary bedding (ranging from twin, double, or queen), a desk, chairs, chest, bookcase, bedside tables and skylight built for stargazing. A seaside sauna is open to all guests. Next door to the community of yurts is Authentic Seacoast's state-of-the-art distillery & brewery, available for tastings and tours during your stay.
Deep Sky Observatory: Located only 30km from Yarmouth in North America's first certified Starlight Tourist Destination. Spend the night in comfort in a queen size bed under the stars in a heated Sky Bubble: a 16 ft wide inflated tent with an 11 ft clear vinyl dome providing incredible views of the night sky within the Dark Sky Preservation area. Guests can join the Nocturnal Sky Theatre Experience (approximately 2.5 hours): outside, under the beauty of the Milky Way, sit back with a warm blanket in an anti-gravity chair and let the experts be your guide to the universe. Learn to navigate the night sky using points of reference such as Polaris and the constellations. See live views of the night sky, objects that the observatory telescope sees using an outdoor projector. End the evening with a view of the celestial wonders through our outdoor telescope.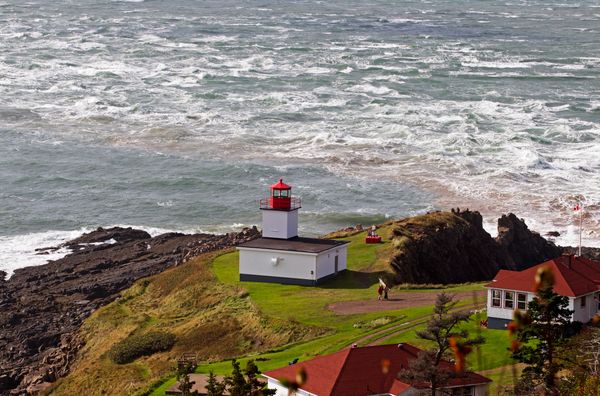 Lightkeeper's Kitchen & Guest House: on a cliffside location this original guesthouse, located just a few steps from the Lighthouse, is the converted Lightkeeper's residence offering simple and comfortable accommodations. A common room with breakfast bar, books, and games is availble. Unique dining at on-site restaurant with unparalled views of the Bay of Fundy where you can watch the tides come and go while you enjoy lunch and supper. Freshly prepared food and a menu selection that shys away from the obvious. Activities nearby include hiking trails, beach walks, wildlife viewing, rockhounding.
Ketch Floating Cottage: Fall asleep to the sounds and motion of gentle river waves in this fully equipped Cottage. Located in Pleasantville, Ketch Cottage is a unique floating house experience with modern décor and amenities. This fully-equipped 400 sq ft floating home features a loft bedroom, 1 double sofa bed, kitchen, bathroom with a shower and electric marine toilet, A/C, TV and WIFI. Outside, you can BBQ under the covered porch or relax on the attached 380 square foot deck.
The LaHave River runs from the heart of Bridgewater to the mouth of the Atlantic Ocean (roughly 15 kms). From Bridgewater, travel down the west side of the river 5 kms to find the cottage. From there you are 15 minutes from Fort Point Museum, artisans, distilleries, wineries, and the popular LaHave Bakery. From the Bakery, hop on the cable ferry toward the East side where you will find yourself closer to Oven's Provincial Park, Lunenburg (a UNESCO World Heritage Site), and the charm of the Lunenburg's surrounding areas. On either side of the river, you're on Nova Scotia's Lighthouse Route where you'll find Nova Scotia's most popular and sandy beaches. Drive 20 minutes along the river's east side to find Hirtle's Beach, a sandy and surfing haven, and Gaff Point, the best hiking adventure in the area. In Bridgewater you'll find the Centennial trail, an 8 km long hiking / biking trail running through the town. If staying closer to home is more your speed, enjoy the fire pit, kayaks, stand up paddle boards or sit on the cottage's deck and watch the river activities, fish or just soak up the sun.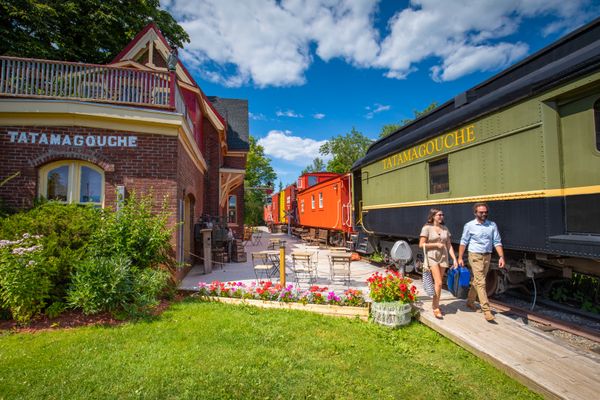 Train Station Inn: Located in Tatamagouche on the Northumberland Shore, the Train Station Inn circa 1887 offers a unique country inn experience where you can spend the night in your very own caboose that's been renovated into deluxe accommodations reflecting the age of the railway car. This turn of the century train station houses an extensive gift shop that sits along the old railway bed, which is now the beautiful Trans Canada Trail, perfect for cycling, walking, exploring & hiking.