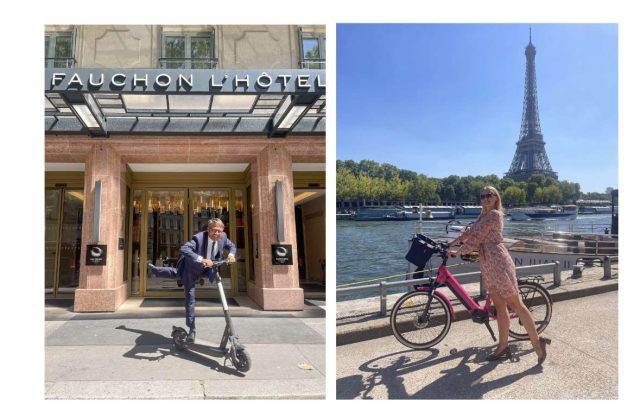 For an energizing escapade in Paris, guests may choose to rent an electric scooter (in black with the FAUCHON logo in pink) or a FAUCHON pink electric bicycle. It is so easy to then go on an adventure in the City of Light and ride along the most beautiful boulevards for an experience full of sensations! To make the experience a gourmet one, FAUCHON is happy to deliver a pre-ordered Aperitive Box or picnic to a location of the guest's choosing to enjoy a tasteful break.
Scooters and bicycles available for rent daily. Rates for the scooters and bicycles are less when rented via Fauchon L'Hotel Paris than if guests were to rent them on their own elsewhere in Paris.
Fauchon L'Hotel Paris, a member of The Leading Hotels of the World, opened in September of 2018 as a domaine for "discerning hedonists" who enjoy the pursuit of pleasure and sensual self-indulgence. The 54-room boutique hotel is located in one of the most beautiful Haussmanian buildings in the glamorous 8th Arrondissement (at 4 Boulevard Malesherbes) and features distinctive "Fauchon" decor and contemporary French art. It is perhaps most noted for its iconic "Gourmet Bar" which holds a wide variety of Fauchon product including champagne, sweets, and savory treats which are all complimentary. The property features The Grand Café Fauchon with inside and outside dining, the Jardin Des Thés, The Beauty Spa, Fitness Center, and a variety of original Gourmet Moments. Fauchon ​ L'Hotel Paris is a member of the Global Hotel Alliance, the world's largest alliance of independent hotels, and offers the FAUCHON DISCOVERY loyalty programme. For additional information, visit https://www.hotel-fauchon-paris.fr.