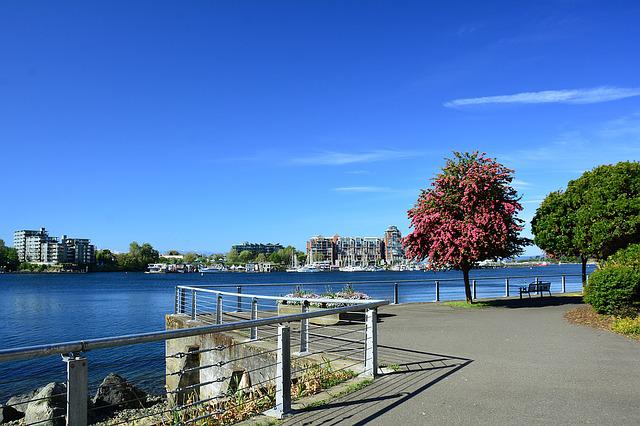 After a three-year hiatus, Explore Songhees announces its full summer season lineup starting on June 21, 2022.
The season will kick off June 21, 2022 with a National Indigenous People's Day celebration followed by the launch of Songhees Tours' season on June 23 featuring both new and returning Indigenous cultural experiences.
The celebration on June 21 will begin at 3:30pm with a traditional Canoe Protocol and welcome at "Protocol Corner", followed by a procession along the causeway to Ship Point where cultural performances will take place until 6:00pm with traditional Bannock, cold drinks and orange shirts for sale at the Explore Songhees kiosk.
Beginning on June 23, Songhees Tours will offer a collection of Indigenous cultural experiences based at its Ship Point kiosk location in Victoria's Inner Harbour.
The popular 7 Signs of Lekwungen walking tour will be back for the Summer and into Fall. This tour follows a trail of cultural sites, each marked by a spindle whorl sculpture by Songhees artist Butch Dick. Guides will share stories describing how each site is significant to the Lekwungen People. (Available weekly Thursday-Sunday).
Returning for the first time since 2018, Songhees canoe tours will offer a cultural and sightseeing opportunity in the Inner Harbour onboard the Salish Sea Wolf. Guests can participate in paddling while learning about the Lekwungen Peoples' deep ties to the Inner Harbour and immerse in stories that highlight important cultural areas like Protocol Corner and Pelaces (Place of Cradle). (Available weekly Thursday-Sunday).
New this year will be a "Lekwungen Reality Tour". This walking tour hosted by knowledge keeper Mark Albany delves into the history and impacts of colonial settlement to the Lekwungen People and their lands, while encouraging individual reflection as Canada grapples with its past and its journey towards reconciliation. (Tour dates to be announced July 1st).
The First Peoples Artist Row will also be back on the south side of the Inner Harbour causeway after a three-year hiatus. Be sure to visit Indigenous artists to view and purchase unique art and jewelry.
Meanwhile at its semi-permanent base at 1502 Admirals Road, the Songhees Food Truck will continue to serve up Indigenous-inspired cuisine including new summer dishes and crowd favourites such as traditional and creative variations of Bannock and the famous Salmon burger.
At the Songhees' cultural hub, The Wellness Centre, Songhees Events and Catering is once again offering full-service catered events with many meeting and event spaces available to accommodate up to 600 people.
"We are excited to be able to share our tradition of hospitality on Lekwungen Territory again this season," says Cecelia Dick, Cultural Tourism Manager for the Songhees Nation. "With the city of Victoria built up around us today it is hard for visitors to see evidence of our history and traditional land use. We look forward to sharing the stories that bring to life our culture past and present."
To find more information or book a tour visitors can visit www.exploresonghees.com