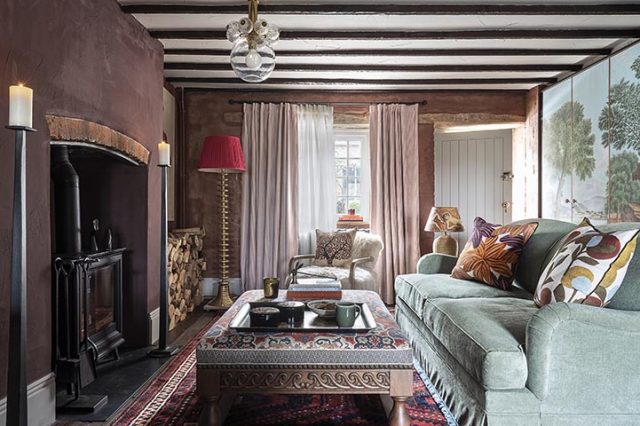 Bergman Design House, the award-winning studio founded by Marie Soliman and Albin Berglund, is delighted to present The Lund Collection, the Cotswolds' chicest bolthole. The one-bedroom residence, which opened in Spring 2022, is perfectly positioned between Chipping Norton and Great Tew and offers the ultimate January escape for couples, friends and solo travelers alike.
"There's nowhere better to reset, relax and set those New Year intentions than in our beautiful British bolthole" said Albin Berglund, the Swedish-born co-founder of Bergman Design House. "The name 'Lund Collection' stems from my surname and means 'green pastures' in Swedish – which couldn't be more apt for describing this countryside oasis. Marie and I wanted to channel the Swedish concept of 'Hygge' with a warming, nature-inspired colour palette that brings the outside in, soft and tactile textures and of course, an open roaring fire. Here, guests will swap the sounds of city traffic for tweeting birds and tranquil nature, and feel the weight of the world lift from their shoulders as they cross the cottage threshold."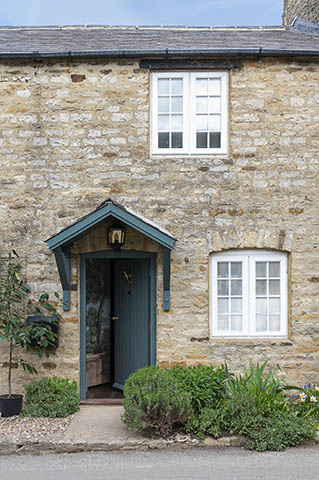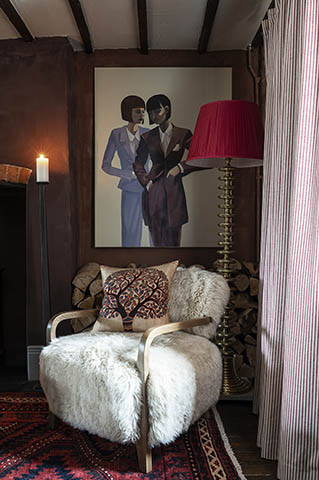 Disconnect to Reconnect at The Lund Collection
The Lund Collection is the ultimate base for a New Year's reset, offering a variety of relaxing and mindful activities which have been personally curated by Marie and Albin and can be organized for guests during their stay. Walks in nature, organic farm tours and tastings and bird-watching are just some of the treats available, while co-founders Marie and Albin are always on hand to provide a personal touch. Guests can even opt for a total digital detox, with all tech and Wi-Fi removed from the property ahead of their arrival, and a lockable box in which to safely store their phones during the stay!
"One of my favorite elements of The Lund Collection, which is the first residence to be designed, owned and operated by Bergman Design House, is the personal service we offer, meaning that no two stays are ever the same" explained Marie Soliman. "We provide personal recommendations to all of our guests – whether that's a special romantic lunch at mine and Albin's favorite local gastro pub, The Wild Rabbit, a day of retail therapy and indulgence at Bicester Village with your best friend, or soaking up some culture solo at Blenheim Palace, there's so much to explore around The Lund."
For those wishing to rustle up their own winter feast and bake a berry crumble or two, Broadway Market and Daylesford Farm are just moments away and provide the freshest, organic produce from local farmers. Ramblers in search of the most scenic spots to observe frost-covered forests and the season's first snowdrops will be in heaven, with a variety of rewarding walking routes surrounding the cottage, including the nearby grounds of the beautiful Sudeley Castle and gardens, a favorite of Albin and Marie.
The Lund Collection is exquisitely decorated by the husband-and-wife design duo and features a carefully-curated collection of original artwork and vintage treasures alongside new bespoke furniture from the studio's Black Berg Collection. From 17th century Chinese ceramics and an 18th century marriage armoire turned show stopping drinks cabinet to a modern and luxurious deep-soaking bathtub, design lovers will marvel at the wonders on display.
A veritable treasure trove of original artwork, the cottage features works from artists including Amir Fallah, Damien Elwes, Christabel Forbes, Cece Philips and John Swannel, alongside valuable antiques sourced from around the world.

Design Details
Inspired by the beauty of the Cotswolds, the property features a colour palette that reflects all four seasons, from the vibrant green of Summer to the russet-oranges of Autumn. In combination with the work of some of the most distinguished furniture and textile artisans in the UK, including Timothy Oulton, Upholstory, Robert Kime, Tori Murphy and de Le Cuona, the result is nothing short of spectacular.
The Lund Collection is Bergman Design House's foray into a new line of luxury individual accommodations in the UK, providing the utmost privacy while offering the ultimate guest experience. Featuring a fully stocked bar, hand-curated welcome hamper and a state-of-the-art Swedish Moccamaster coffee machine, guests will arrive, immediately relax and feel at home.
Creating and designing the property has been a passion project for Marie and Albin, and they hope it will be a sanctuary for guests seeking zen and an escape in the countryside. "We fell in love with this cottage and the absolutely stunning countryside. We are so thrilled to share it with our guests. It is intended to be a sanctuary for all who visit – we want our guests to come here and truly switch off, connect with nature and feel at home," said Marie.