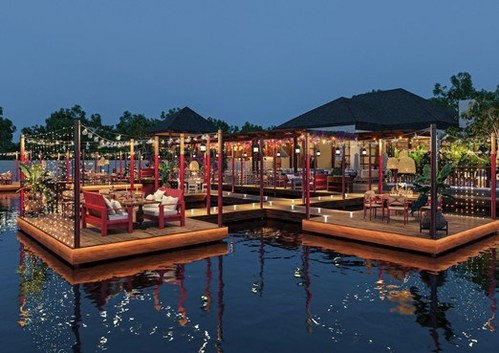 Fairmont Mayakoba is pleased to announce the completion of the property's two newest restaurants: La Laguna and Bassano. Both concepts are part of Fairmont Mayakoba's multi-million dollar renovation, which is expected to be fully complete by the end of the year.
La Laguna, Fairmont Mayakoba's ultimate destination for Mexican cuisine, combines traditional and contemporary, which is also reflected in this lively restaurant's design. The restaurant's neutral atmosphere mixed with understated yet stunning art, colorful fabrics, and a magnificent bar, makes for the most breathtaking setting inspired by Mexican culture. La Laguna features an open concept kitchen, an al fresco terrace, and a lively lounge. The space is complete with a terrace and private pavilion, and over the water decks overlooking the Mayakoba water canals, for guests to enjoy authentic recipes bursting with flavor and craft cocktails. La Laguna's doors will be open for breakfast, and dinner. The Shrimp Manchamateles, signature dish, pays homage to Mayakoba's roots; A traditional Mexican speciality, it is rich in flavor and finished with citrus notes. La Laguna is located in the heart of the property.
Bassano, a stylish Italian eatery, brings an element of comfort to Mayakoba. Open for lunch and dinner, Bassano focuses on the simplest of ingredients – egg, flour, and water – while delivering rich flavor in every dish.  The restaurant's standout menu items include homemade pizzas, their signature buccatini cacio e pepe, and exquisite wines. Complete with a beautifully designed outdoor pizza bar and oven, Bassano is a true standout on property and the hospitality and ingredient-driven menu keep guests coming back for more. Bassano is located in front of Las Olas Pool.