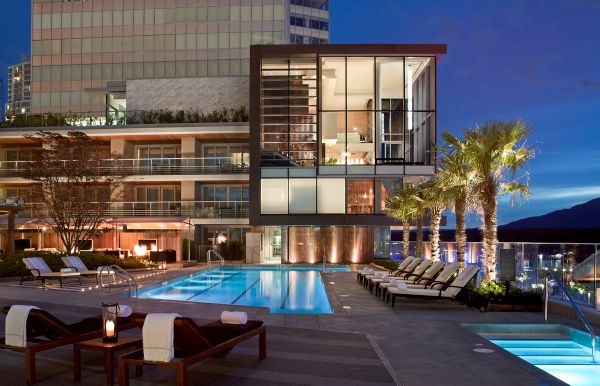 Fairmont Pacific Rim has been awarded with the coveted CAA/AAA Five Diamond Rating 2018, the highest level of recognition by CAA/AAA. This marks the first year that the hotel has received its fifth diamond, and is the only city-centre Fairmont hotel in North America to hold this esteemed honour.
CAA/AAA ranks more than 27,000 hotels worldwide and fewer than half of one percent are awarded this level of achievement. Among the elite group of hotels and resorts, only five are located in Canada. The Five Diamond is awarded to hotels and resorts that exude a level of ultimate luxury, demonstrating sophisticated comfort with extraordinary attributes, personalized service and an impeccable standard of excellence.
"We are honoured to be recognized among the top hotels globally," comments Jens Moesker, General Manager, Fairmont Pacific Rim and Regional Vice President, Pacific Northwest. "This award reflects the superior services and amenities the hotel offers guests and is a true testament to our colleagues continued commitment to service excellence."
Fairmont Pacific Rim was recognized for its innovative architecture, design, and artistic elements, as well as notable service offerings including the exclusive Fairmont Gold experience, luxurious accommodations, award-winning restaurants including The Lobby Lounge and RawBar, the newest addition of Botanist, and Willow Stream Spa.
"It's exciting to have one of Canada's top hotels located in B.C. and BCAA congratulates Fairmont Pacific Rim for achieving the prestigious CAA/AAA Five Diamond Rating," says Shom Sen, BCAA President and CEO. "Five Diamond properties feature extraordinary physical attributes, but what impresses our organization the most is the focus on providing an outstanding guest experience each and every time which is what makes Fairmont Pacific Rim exceptional."