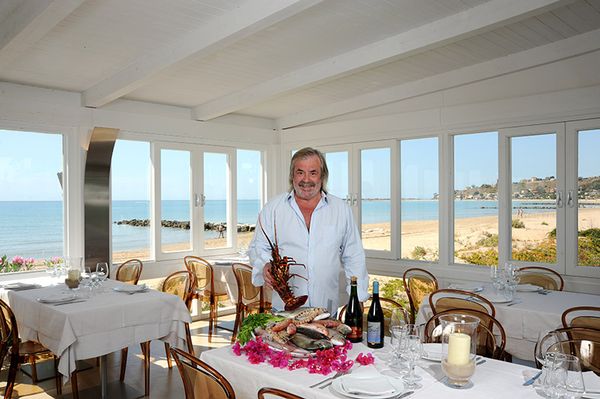 We Sicilians love good quality food and wine. When we are not eating, we may well be talking about a delicious meal we have just prepared, enjoyed in the past or looking forward to eating. Our food and wine, sourced directly from our fertile land and rich sea, is prepared according to our traditions which have been passed down and reinvented through the generations.
Our typically Sicilian recipes reflect our multi-cultural heritage, integrating culinary traditions and ingredients brought from other parts of the world such as the Middle East, Spain and Africa.
'Pasta con le sarde' is one of our favourite traditional pasta dishes which has an Arab influence, combining pasta with sardines, wild fennel, raisins, saffron and pine nuts. Ricotta and caciocavallo are two of our typical cheeses produced from the milk of sheep which graze on our mountains. Swordfish, tuna, sardines and clams are just some of the seafood we enjoy fresh from the sea. Vegetables such as aubergine feature heavily in our recipes as do raisins, capers, herbs, seeds and garlic. Fava, lentils and chickpeas are also common, as are pistachios from Mount Etna. Citrus fruits, such as the blood orange and lemon, are plentiful and our vineyards produce some of the best wine in Italy.
We are only too happy to recommend our favourite restaurants and private chefs to our villa guests in Sicily. Here are three of the best restaurants and our private chef which we love for their creative take on Sicilian cuisine:
For excellent seafood and a spectacular setting, Da Vittorio is the place to go. Over the last 50 years, this beachside restaurant has built a reputation as one of western Sicily's best fresh seafood restaurants. Views over the beach to the sea from your table will only add to the enjoyment of sampling the catch of the day.
Cortile Pepe is discreetly situated in the heart of the historic centre of Cefalu, a stone's throw from the sea on Corso Ruggero. An intimate dining space with a choice of tables inside and in a private courtyard outside, it is the perfect setting for a memorable meal. The owner is a local, Toti Fiduccia. His menu changes according to the season and each delicious dish is carefully crafted using good quality, locally sourced ingredients, complemented by local Sicilian wine of course.
Since it opened in 2014, La Manna has gained a reputation for its creative take on traditional Sicilian culinary traditions. Sticking to local ingredients, the chefs create tempting original dishes which are designed to delight. The setting is stylish yet understated, in the former ground floor wine cellar of the Palazzo Nicolaci.
If you choose to stay in one of Massimo's villas near Cefalu, instead of going to a restaurant, Massimo's team can arrange for a chef come to you. Nino Quartana is one of our most popular chefs who will cook up a storm in your villa using fresh, locally sourced ingredients, often using herbs, fruit and vegetables from his own garden in the slopes above Cefalu. Nino's dishes are authentic Sicilian but his ability to create original combinations with local ingredients makes him unique.
For more about our villas in Cefalu, Noto and Selinunte, go to our website: www.massimovillas.com