FAUCHON MEETS KYOTO: this is an exceptional marriage of the iconic French FAUCHON hospitality brand with the traditional design and cultural elements of Japan, achieved by Spin Design Studio of Japan. The property is a masterful blend of FAUCHON style featuring magenta, black, and gold with a nod to its Japanese location. There are black painted bamboo accents on the walls, Sakura petals incorporated in many design elements including on the lobby ceiling lights as well as fabrics in the guest rooms and suites, and Washi paper (used in Origami)on the wall above the headboards in the guest rooms. Another design element is the bedside lighting, which resembles the French mille-feuille pastry.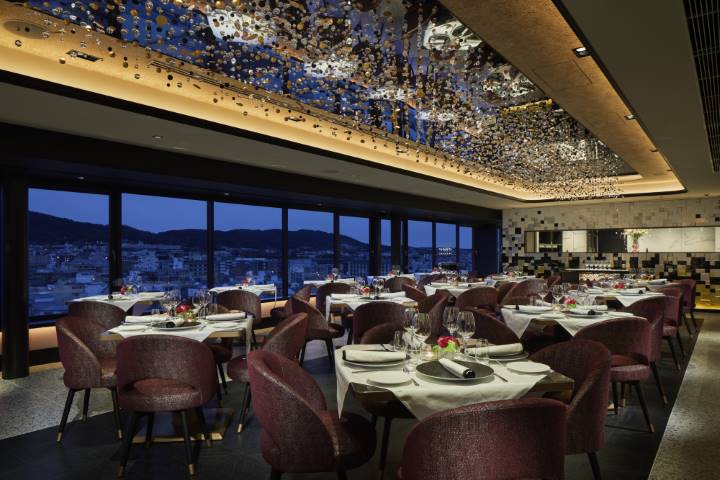 ALL ELEMENTS OF THE FAUCHON BRAND UNDER ONE ROOF: Nowhere else in the world can you find a five-star luxury FAUCHON hotel featuring the renowned Gourmet Bar in each room and suite, Le Grand Café FAUCHON, the Fauchon Salon de Thé, a FAUCHON Patisserie and Boutique at street level, Le Spa FAUCHON, and for the first time a FAUCHON Bar
UNIQUE EXPERIENCES TO THIS HOTEL: Guests who travel to Kyoto can experience the following:
CUISINE: FAUCHON chefs have worked to incorporate Japanese flavors and culinary elements into FAUCHON's iconic French dishes and patisserie to provide a modern twist on French and Japanese cuisine.
JAPANESE TEA CEREMONY: Incorporating traditional Japanese elements with FAUCHON touches including a pink tea pot and macarons along with a special tea blend, "One Night In Kyoto" (green tea with fruity notes of cherry, pear, and tangerine) created especially for the hotel.
JAPANESE BEER: FAUCHON has partnered with Tango Beer of Japan to recreate "La Delicieuse," a special beer which was served back in the 1940s.
JAPANESE PASTRY: FAUCHON is also partnering with a Japanese bakery partner, Izutsu to create a special Yatsuhashi pastry, which is a traditional Japanese sweet that will be offered only in the hotel and can be enjoyed at tea time.
FAUCHON SPA RITUEL: utilizing special products developed exclusively for the hotel by KOS PARIS.
FAUCHON'S MARCARON OF THE DAY: FAUCHON will offer a complimentary macaron of the day available throughout the hotel for guests to enjoy.
PLAYLIST: There will be a specially curated playlist available at the hotel to set the tone for the overall experience.