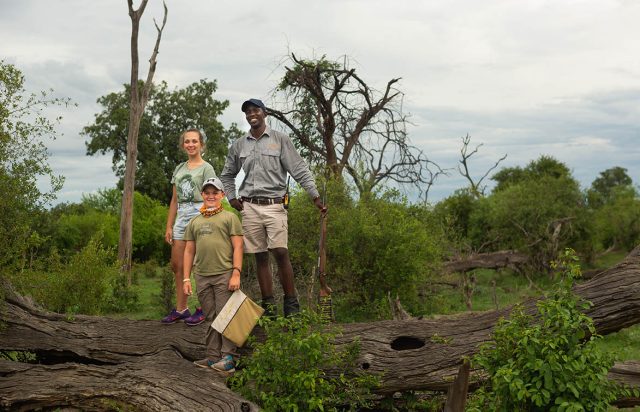 Great Plains, the tourism conservation organisation founded by National Geographic filmmakers and explorers-in-residence Dereck and Beverly Joubert, is delighted to present its most fabulous family safari offering, the Young Explorers Programme at Tembo Plains Camp, Zimbabwe. From child-friendly treatments at the Bush Spa to guided expeditions in search of wildlife big and small, the explorers of tomorrow will be treated to a family holiday of a lifetime with Great Plains. 
 
"The Young Explorers Programme at Great Plains is very dear to my heart", said Great Plains CEO and co-founder Dereck Joubert. "We can all remember the liberating freedom, as kids, when we could run about outside all day long, making stuff from sticks, catching tadpoles, and climbing trees. And where better to recreate (and elevate!) that magic than at our majestic Tembo Plains Camp, against a backdrop of the Zambezi, joined by elephants, hippos, giraffes and more? As children, we explore, we discover, we get lost in our adventures, but we always return wiser and more enlightened. Safaris with kids are much the same, and we hope to ignite what will become a lifelong passion for wildlife, conservation and – above all – adventure!"
Family Fun at Tembo Plains

Suitable for families with children aged six and up, Tembo Plains Camp is tucked away into a thick riverine forest on the edge of the Zambezi River, in the private 128,000-hectare Sapi Private Reserve, east of Zimbabwe's Mana Pools National Park.
 
An exquisite two-bedroom family unit has been designed and decorated by Dereck Joubert and Beverly Joubert. "I really wanted to build something that was partly tented but paid architectural reference to the Zimbabwean ruins in stone. It is a playful design which is ideal for families," commented Joubert. Sleeping two adults and two children in two tented bedrooms with a shared lounge, dining area and pool, provides luxurious accommodation for little adventurers to recharge their batteries after a day spent exploring the bush.
 
Activities on offer as part of Great Plains' Young Explorer Programme include guided bush walks to find the smaller local creatures and learn all about plants, bugs and more while seeking out tracks and decoding the daily behaviour and routines of wild animals. Active adventurers will adore the opportunity to canoe down the Zambezi – spotting wildlife as they go – or indulge in a spot of bush cricket on the sandbanks of the river.
 
Back at camp, a world of entertainment awaits, from Young Explorers massages, manis and pedis at the Bush Spa, and traditional bracelet making to movie nights and cooking-in-the-bush lessons. When it comes to dining, even the tiniest of palates will be tantalised with an array of specially tailored menus featuring little ones' favourites, and of course plenty of snacks, mocktails and other refreshments throughout the day!
The Great Plains Young Explorers Programme

The Great Plains Young Explorers Programme aims to educate and inspire the next generation of Conservation Ambassadors. The programme encourages children to become their most adventurous selves by stepping away from traditional everyday life, so they return home with an entirely new perspective as Great Plains Conservation Ambassador graduates. Upon arrival at camp, children will receive a Great Plains Young Explorers pack, including a safari cap, a neck buff, wild stickers, an activity book bursting with games, diary entries and more. The specially created activity book is filled with exciting information and games, animal tracks, a safari journal, and facts on flora, fauna and the night sky constellations of the southern hemisphere. Young guests are paired with an exceptionally trained guide who will host, teach and care for them with their families throughout their stay.
 
"We aim to develop new naturalists, to encourage those that have already started on this journey and to provide a safe place for that outdoor experience that is unavailable to so many today. At the same time, for every family we host, we set aside some money to host local children in our Conservation Camps, so this naturalist journey is shared locally. The bonds that are re-established on safari, in nature, go far beyond those we have at home. These regenerative moments make a lifetime of new family memories together, and Great Plains would like to facilitate these memories for you," said Dereck Joubert.
Mpala Jena Camp

For wildlife-loving families wishing to extend their Zimbabwe adventure, Great Plains' Mpala Jena Camp offers the perfect pitstop for soaking up the iconic Victoria Falls, one of the seven natural wonders of the world. An intimate safari camp positioned along the beautiful tree-lined banks of the mighty Zambezi River, Mpala Jena is set within the 138,000-acre Zambezi National Park, which has a healthy and ever-increasing number of wildlife species, with higher concentrations of buffalo and elephants from June through to October. The Zambezi National Park, within easy driving access from Victoria Falls, has become an absolute gem of a reserve with some of the highest lions per density of any other Zimbabwean park. A magnet for wildlife, there are guaranteed sightings of massive crocodiles and hippos which make their presence seen and heard throughout the day and night.