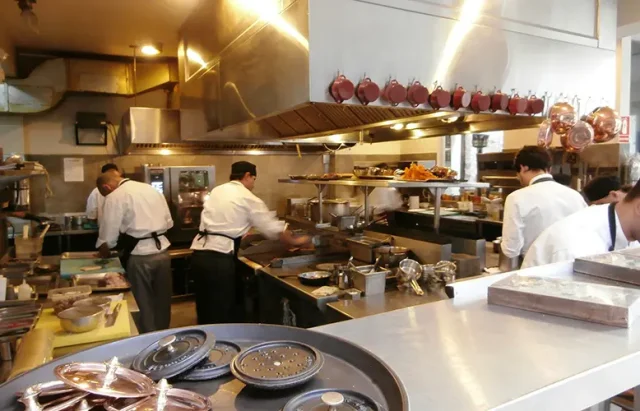 Over 80% of people most look forward to trying local foods and cuisines while traveling, according to a 2023 Global Travel Trends Report. 
In fact, nearly half (47%) of millennials and Gen Zs have planned an entire trip around visiting a specific restaurant.
And with the world's top restaurants for 2023 recently announced by The 50 Best, many avid epicureans will be itching for their next gastronomic getaway. 
Interestingly, the list reveals that traditional gastronomic meccas like Paris, Rome, and New York are increasingly sharing the spotlight with emerging foodie destinations such as Lima and Lisbon.
Julia Carter, founder of Craft Travel, says: "While cities like Paris and New York have enjoyed long-held renown for their exceptional food scenes, many other new and exciting culinary destinations are stepping into the limelight and are equally deserving of attention. Less famed and documented, these under-the-radar gems can be slightly more challenging to discover. However, doing so promises a gastronomic adventure like no other, a journey through food scenes yet to be fully explored."
To show epicureans how to discover emerging culinary destinations in all of their glory, experts at Craft Travel have shared tips for exploring the world's top up-and-coming foodie cities. 
The luxury travel company curates bespoke itineraries for those looking to explore unique corners of the world.
1.Sample Turmeric River Snails at the Best Restaurant in the World in Lima
Home to the best restaurant in the world and 5 of the top 100, Lima comes in top as the hottest up-and-coming foodie destination to watch out for in 2023. Stay in utmost comfort, in a stunning restored Belle Epoque mansion from 1914 at Hotel B. 
Tucked away in the historic Barranco district, the Relais and Chateaux accommodation lies but a five-minute drive from the best restaurant in the world, Central. Despite earning glittering reviews, the restaurant does not have a Michelin star as the inspectors do not cover Peru.
The spectacular eatery serves exquisite Spanish-Peruvian food that tells the stories of the landscapes, cultures and traditions of Lima using over 180 ingredients, many foraged from the vast jungle, desert and mountains throughout Peru.
Previous dishes on the menu include river snails with freshwater fish, turmeric, red latex from the bark of the tree and avocado paired with huacatay, kiwicha and an ancient local superfood known as macre.
The following day, accompany esteemed local chef, Penelope Alzamora, through the vibrant local markets, where she will carefully pick the freshest seasonal produce for tonight's dinner.
Once the ingredients have been gathered, she will welcome you to her home where she will host an exclusive cooking class that will teach you how to master the country's most exquisite local recipes.
Wanting to discover the foodie paradise of Peru beyond its capital? Venture to the southeastern city of Cusco for a local food tour, a visit to Machu Picchu and a private BBQ atop an Inca wall featuring local meats such as alpaca, accompanied by fresh, leafy salads.
2.Uncover Specialized Sea Kelp Cooking in Cape Town
Cape Town's glorious blend of beauty and cultures reverberates through its sensational food scene. To uncover the gastronomic paradise for yourself, stay in the chic boutique hotel known as Ellerman House.
The glamorous accommodation lies at the foot of Lion's Head, overlooking the Atlantic Ocean and a short 15-minute drive from one of the hottest up-and-coming restaurants in the city.
The Belly of the Beast is an intimate and exclusive establishment, with a 30-person dining room hosting single-seating lunch and dinner. The tasting dishes are crafted entirely using locally farmed ingredients from sustainable producers. 
There are no menu options or set number of courses but you can expect the likes of bobotie spring rolls and beef tartare with ponzu gelée, pickled shallots and horseradish cream.
After ticking off The Belly off the Beast, veer even further off the beaten path to visit The Kelp Shack. This unique father and-daughter-run eatery that, as the name suggests, is run out of a beachy private shack-turned-restaurant- in the coastal enclave of Kommetjie, has a fixed-course menu that incorporates one of the most nutrient-dense plants in the world into every dish: sea kelp.
The restaurant is undergoing refurbishment and is set to reopen in September. However, those visiting Cape Town before then can book a pop-up event and enjoy the Kelp Shack experience at a venue of your choice.
During your stay, be sure to pay a visit to Ellerman House's very own exceptional restaurant. The chic establishment serves up exquisite contemporary South African cuisine and often hosts chef collaboration dinner experiences in the world-class wine cellar. 
And for travelers seeking satiate late-night cravings, Ellerman House's famous 24-hour "pantry" is always open to provide a variety of delicious homemade snacks that are just as impressive as any fancy restaurant. One of our favorite perks at Ellerman House? The pantry is fully complimentary to hotel guests!
Should you wish to explore the country's remarkable food scene beyond the Mother City, head just an hour away to the Cape Winelands for a culinary adventure uncovering the best of South Africa.
You can take the Franschhoek Wine Tram through the enchanting landscape, hopping on and off for tastings, cellar tours and strolls by the vines. While some of the estates along the tram line are less than remarkable, a little bit of planning will ensure you hit some of Franschhoek's greatest wine farms, many of which have equally notable restaurants.
Champagne enthusiasts shouldn't miss a stop at the enchanting Le Lude, ideally combined with lunch at their flagship restaurant, L'Orangerie. For those seeking all things "farm" in a farm-to-table experience, Babel is the perfect lunch spot after disembarking the tram at the famed Babylonstoren.
3.Discover the Colombian Culinary Renaissance in Bogota
Bogota, the vibrant capital of Colombia, is experiencing a culinary revolution. With the signing of a significant peace treaty in 2016, new areas became accessible, opening up a wealth of previously untapped ingredients and expanding the city's culinary possibilities.
Previously reliant on imports, Bogota's local chefs have now rediscovered and wholeheartedly embraced the extraordinary range of produce available in the area. This culinary renaissance has catapulted Colombian cuisine to a whole new level.
El Chato is one of the best restaurants in Bogota and Latin America as a whole. The stylish contemporary bistro is owned by the talented Colombia-born, Álvaro Clavijo, who previously spent 10 years living abroad and cooking professionally in Paris, New York and Copenhagen.
The menu is dedicated to redefining local flavors and recreating traditional recipes using seasonal ingredients. Picture yucca arepa, chicken hearts with candied native potato and Caribbean cream mussels with coconut rice.
You simply cannot visit Bogota without delving into the city's famous street food. Wander to the mountain of Monserrate to sample a sugar-rimmed canelazo and a traditional meat-filled empanada. Additionally, you'll be treated to the best view over the vibrant streets of Bogota.
When it comes to accommodation, The Four Seasons Casa Medina is our favorite. The timeless establishment traces back to 1946 and is situated in the heart of Bogota, close to all of the city's finest restaurants
After exploring the capital, you may wish to journey to Barichara to visit coffee plantations in the middle of tropical forests and attend a traditional cooking class held by local residents.
4.Let a Professional Chef Guide You Through The Markets of Rio de Janeiro
When it comes to Brazil culinary fame, bustling São Paulo has long been regarded as the country's premier foodie metropolis. But sun-filled Rio de Janeiro is now giving its neighbor to the south a run for its money.
The cuisine in Rio is a mosaic of European, African and Indigenous traditions and ingredients. For an outsider, the sheer array of unique dishes on offer can seem confusing and overwhelming. 
Save yourself the trouble by booking a culinary session with a professional chef. They will collect you from your hotel in the morning to take you to a buzzing street market where they will show you how to select the best and freshest ingredients for today's recipe.
Then, the chef will take you to their home where they will prepare a delicious 3-course meal in their very own kitchen. Not only will you be treated to exceptional food, but be taught all about the food culture and traditional cooking techniques in the city.
The following day, pay a visit to Lasai, one of the top 60 restaurants in the world. An understated eatery, the renowned establishment is located in a restored colonial townhouse and prides itself on delivering an exceptional farm-to-table dining experience.
The tasting menu exclusively features locally-sourced produce. You can expect to sample unique dishes such as palm heart ceviche and chayote (a squash-like plant) and cauliflower with orchard-harvested pickles.
To uncover the true essence of Rio de Janeiro's food scene like a native, take a guided food tour. A local expert will lead you through the city, inviting you to sample all of the best street food, traditional Amazonian dishes and locally-crafted beers, all the while sharing fascinating insights into life in the city. 
Come evening, make your way to Copacabana Palace to rest for the night. The glamorous 5-star hotel is famed for its stunning private beach and legendary former guests; Walt Disney, Mick Jagger and Justin Bieber, to name a few.
The hotel's culinary offerings are no less impressive, with its restaurant recognized as one of the most formal and historic in the city. Picture a grand red-carpeted dining room with high ceilings, chandeliers and plates decorated with beef carpaccio and smoked tuna with caviar.
5.Lisbon
While traditionally often overlooked in favor of Madrid and Paris, Lisbon has recently emerged as one of the top foodie cities in Europe. For your first meal, head to Belcanto, one of the top 25 restaurants in the world.
Gaze up at grand vaulted ceilings and sparkling chandeliers as you enter, before averting your eyes to the menu where you will find a showcase of Portuguese cuisine at its finest. Dishes include shore prawn with velvety pine nut cream and veal loin accompanied by an artichoke millefeuille and drizzled with a luxurious truffle sauce.
For something with an authentic local feel, head to Cervejaria Ramiro, home to quite possibly the freshest seafood in the city. This low-key establishment opened its doors in 1956 and is famed for its exquisite fish and crustacean dishes, including rock lobster, spider crab and scarlet shrimp.
Stay in Palacio Principe Real during your visit, a decadent palace situated in the heart of the city's trendy Príncipe Real neighborhood. The couple-run hotel is a picture of elegance, with ancient stone walls, wooden shutters and ornate cornicing.
Guests can enjoy exquisite, fresh meals at the on-site restaurant which has a primarily plant-based menu that has been carefully crafted using locally sourced ingredients and the owners' organic olive oil.
The recipes are creative, quirky and completely free of processed sugar. Dishes include celeriac puree with roasted baby carrots, fennel and spicy chickpeas, and black rice accompanied by crispy tofu, mango, avocado and mixed vegetables.
After investigating Lisbon's foodie scene, take a short drive south to the cultural region of Antelejo where you will find the breathtaking wine estate of Dona Maria. Here you can explore the 18th-century marble tanks in the cellar before dining by candlelight in the palace. On the menu, you'll find creative dishes such as tart made from chestnut-flower sausage, pears cooked in wine, quince marmalade and chard.