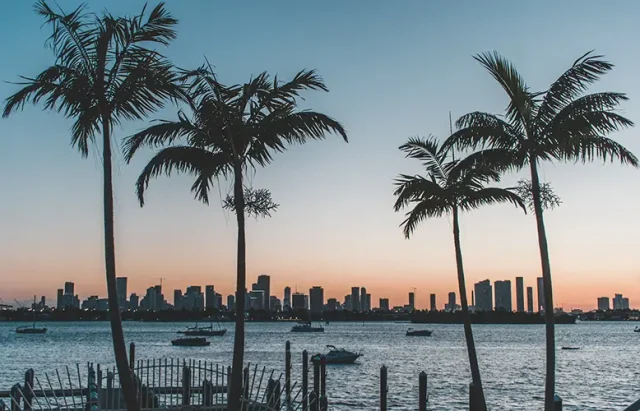 Often dubbed the "Magic City," Miami wows travelers with its vibrant blend of culture, captivating architecture, stunning beaches, friendly people, and dynamic nightlife. Situated in the southeastern corner of Florida, this coastal metropolis houses diverse and interesting influences that make it a captivating destination for those seeking a memorable and one-of-a-kind experience.
If you are planning to travel to Miami, you may be wondering when is the best time to visit this alluring city. Continue to read and we will provide you with insights that will help you make an informed decision as to when you should be traveling to this magical destination.
What You Should Know about Miami's Weather Seasons
Before you book your flight to Miami, reserve a hotel room, and reach out to Budget Car Rental at Miami Airport, it is important to decide first when are you going to fly out to Miami. Understanding its climate and weather conditions can help you identify the best time to enjoy the city's captivating beauty and charm.
With its year-round tropical climate, Miami boasts an inviting atmosphere that lures visitors from all parts of the globe. Its pristine white-sand beaches that stretch along the Atlantic coastline offer a haven for relaxation, water sports, and sun-soaked leisure. Let us explore the different seasons in Miami and what each looks like in the Magic City.
Winter: Miami's winter season is from December to February. This is the peak tourist season in the city due to its pleasant weather, busy streets, and holiday ambiance. It's a great time to escape colder climates and enjoy the beaches, art festivals, and outdoor events. Keep in mind, however, that this is also the most crowded and expensive time to visit.
Spring: Spring is from March to May, with also enjoyable weather. It's a great time for beach activities, water sports, and exploring the city. You should keep in mind that spring break crowds come in during March and April.
Summer: Considered the off-peak season in Miami, summer runs from June to August. This is due to its hot and humid weather, with temperatures often exceeding 90°F. While this is not the most comfortable time to visit, you might find good deals on accommodations. Just be prepared for afternoon rain showers and the possibility of hurricanes.
Fall: Finally, there's fall that runs from September to November. Fall can be a nice time to visit Miami, as the weather starts to cool down a bit and the tourist crowds begin to thin out. However, there's still a risk of hurricanes during this time, especially in September and October.
So, When is the Best Time to Visit Miami?
Now that we've learned what each season looks like in Miami, the next question to ask is, "When is the best time to visit Miami?"
If you are after pleasant, comfortable weather with fewer crowds, then the best time to visit Miami is during the winter and spring months. On the other hand, if you're looking for more budget-friendly options and don't mind the heat, summer, and fall can also offer unique experiences. Keep in mind, however, the possibility of hurricanes during the late summer and early fall months, and make sure to check the weather forecast and any travel advisories before planning your trip.
In the end, it is still up to you to decide the most ideal time to fly out and explore Miami. After all, no matter the season, the city offers endless fun and adventures for tourists and travelers from all over the world, and any time will be an exciting time for a Miami getaway!
BONUS! Travel Tips to Keep in Mind on Your Next Miami Trip
Make the most out of your Miami trip by following these tips for a better, smoother, and more memorable travel.
1. Don't forget your travel essentials—flight tickets, passport, camera, phone, batteries and chargers, and, of course, sunscreen!
2. Stay hydrated and drink plenty of water. Miami's tropical climate can be hot and humid, especially during the summer months.
3. Plan for rain as Miami experiences occasional rain showers, even outside the rainy season. Be sure to bring a small umbrella or a rain jacket just in case.
4. Opt for a car rental in Miami for a more convenient and comfortable ride, especially if you plan to visit a lot of tourist destinations.
5. Finally, don't miss the opportunity to try Miami's diverse culinary scene. From Cuban sandwiches to fresh seafood, the city offers a range of delicious options.
Miami is a captivating destination that offers endless opportunities for fun, adventures, cultural exploration, and nature discovery. While some specific months and seasons make traveling to Miami more enjoyable, at the end of the day, the best time to visit the city is when you are physically and financially ready and when you are traveling with the people who truly matter.