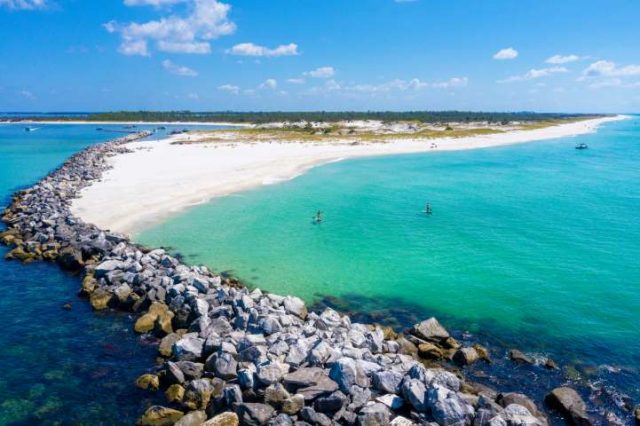 The Sunshine State takes an "Outdoor Everything" approach to winter, offering a never-ending supply of new and unique experiences that take full advantage of the mild temperatures enjoyed this time of year.
From air boat rides and dolphin discoveries, to hiking, biking and paddling galore, winter in Florida is all about getting outside and taking it all in. Here is just a snapshot of how you can spend winter this year:
Riding horseback along the sandy shores of a vacation locale is a bucket-list item for many travellers, and Amelia Island – a laid-back destination on Florida's northwest coast – delivers. With its kilometre-upon-kilometres of rolling dunes and pristine seashore, be prepared for some truly Insta-worthy moments. Local outfitter The Kelly Seahorse Ranch is one of the premier beach horseback riding outfits in the region, and offers one-hour guided beach rides for anyone 13 years of age and older.
For a more high-octane experience, the newly opened (Spring 2019) FLG X Adventure Course in Brooksville, just outside of Tampa, offers a thrilling trek through Florida's forest from above the ground! Test your abilities on a series of tree-top obstacle courses ranging from mild to wild, using ropes, bridges and a variety of ziplines. This adventure park offers something for almost any age, including a 'Little Ninja' course that replicates the tree-top courses safely on the ground.
Winter camping takes on a whole new meaning in Florida, especially at Westgate River Ranch in Lake Wales, which is located approximately an hour south of Orlando. Here, guests can enjoy upscale outdoor accommodations – or "glamping" – at the State's largest dude ranch. Quickly growing into the ultimate outdoor adventure, the experience features accommodations in three-walled cabins that come outfitted with ceiling fans, electricity and air conditioning… but no Wi-Fi or TV. Instead, guests enjoy outdoor activities such as horseback riding, nature hikes, hayrides, campfires, mini-golf, and more, along with a rodeo show every Saturday night.
Paddling is, unsurprisingly, an extremely popular activity throughout the entire State, and this holds true through the winter months as well. In St. Augustine, explore salt marshes accessible by boat, paddle board or kayak that give way to foot trails that bisect the region's beautiful maritime hammocks and the St. Johns River Basin. St. Augustine Eco Tours and Kayak St. Augustine are just a couple of the local outfitters that offer guided tours along the area's pristine waterways.
On the Gulf coast, the Bradenton Area boasts exquisite nature preserves, mangrove tunnels and hidden creeks that visitors can explore on guided or self-guided eco kayak tours. Top locations include Robinson Nature Preserve, Emerson Point Preserve, and the gentle waters in and around Anna Maria Island. Happy Paddler Kayak Tours & Ecoventures is among one of the many companies that offer tour options.
In northwest Florida, Lagoon Pontoon in Panama City Beach is one of the companies that takes visitors to picturesque Shell Island, an approximately 11-kilometre-long undeveloped barrier island that runs between the Gulf of Mexico and the St. Andrew Bay. Bask on the unspoiled white sands, snorkel in the clear waters, spot wild dolphins as they play next to your boat… it is Florida at its best.
For mountain biking enthusiasts, enjoy 700+ miles of snow-free, in-town trails in Tallahassee. Offering varying terrain (the Tallahassee Mountain Bike Association's motto is "Not all of Florida is Flat"), trail connectivity and an extensive tree canopy, the riding experience here is unmatched anywhere else in the State.
Fishing, of course, is another popular pastime, and best of all, no cutting through ice required! Down in Islamorada, in the Florida Keys, the winter brings with it the opportunity to catch Sailfish, Barracuda, Grouper and Yellowtail Snapper, among others, making this a great time of year for anglers.
The Sunshine State offers visitors access to unique, outdoor experiences all year round. To plan a winter getaway, visit www.VISITFLORIDA.com.