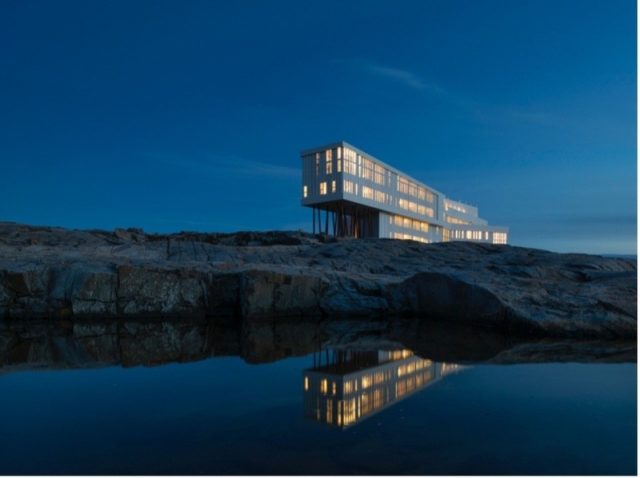 Fogo Island Inn is delighted to welcome back guests from Canada following a temporary 16-month closure as a result of COVID-19 and the closure of the Newfoundland and Labrador border. And as international borders open up, the Inn looks forward to welcoming back guests from abroad, starting with Americans this month.
Fogo Island Inn is encouraged to see a new kind of tourism emerging from this long pause – one that is more community-based, nature-focused and carbon light. This concept is nothing new to Fogo Island Inn. Since opening eight years ago, Fogo Island Inn has been honouring place and community in everything it does through the work of its parent charity Shorefast. More and more discerning travellers want their trips to be purposeful and regenerative – the type that leaves a positive impact on people and place – and it is an experience Fogo Island Inn is uniquely positioned to offer.
Fogo Island Inn offers a holistic immersion into community development and cultural preservation. Through the structure and charitable mandate of Shorefast, the community of Fogo Island is the beneficial owner of the Fogo Island Inn. There is no private gain – all operating surpluses from the Inn are reinvested in Shorefast's initiatives for the exclusive benefit of strengthening the cultural heritage, supporting ecological sustainability, and investing in the economic well-being of Fogo Island. To that end, the hotel's pricing is reflective of a complete hospitality experience, including all meals, a half-day Island Orientation with a Community Host, and most excursions.
To mark its reopening, Fogo Island Inn is pleased to share updates, reimagined programming, and upcoming retreats that support its regenerative tourism model:
Lightened carbon footprint: Fogo Island Inn has introduced a carbon offset program for guests, through CarbonZero, to help mitigate the impact of their travel and support a Newfoundland-based environmental program.
Reimagined programming: Discovering Fogo Island with Community Hosts and participating in experiential activities built around Fogo Island's nature, culture, and arts is at the heart of the guest experience. Fogo Island Inn has made changes to expand its offerings while adapting to COVID-19 health and safety protocols to ensure optimal safety for guests and staff alike. Notably, they are providing more one-on-one activities, suited to every season, in nature and wide-open spaces. And they are favouring walking, cycling, and boating when possible, over transportation by car.
Upcoming retreats: The Secrets of Sleep: A Life-Changing Retreat from September 29 – October 3, 2021
Quality sleep is vital for the body and mind to reset, and to give the unconscious mind an opportunity to process the day's events. Fogo Island Inn invites guests to bring their focus inward and join the Inn for a three-day, four-night restorative learning retreat at Fogo Island Inn, led by Dr. Colleen Carney, Director of the Sleep and Depression Laboratory at Ryerson University, Toronto.

Be Still, Be Well: A New Kind of Wellness Retreat from November 4 – 8, 2021
Lulled by the hypnotic soundtrack of crashing ocean waves and enchanted by the inherently artistic landscape, guests can find stability between sea and sky as they embark on a guided program of mindfulness, vinyasa flow, and restorative yoga led by certified instructor Jennifer Charles of Wild Cove Wellness. With a flexible itinerary that invites plenty of opportunities for movement, stillness, and reflection, guests' time here will challenge, ground, and restore.
Private stays: As COVID-19 restrictions relax, planning family reunions has become a priority for many people. Finding a destination where loved ones of all ages can make special memories together in a safe setting is key. With 29 rooms, Fogo Island Inn's property lends itself well to private stays. Guests can relax with their loved ones for an intimate gathering tailored specifically to their family's needs.
Orange Lodge: Decades ago, at the Orange Lodge in Joe Batt's Arm, dances, weddings, and live performances brought the community together. Today, the revitalized heritage building has been renovated into an open and welcoming community-owned asset that acts as a hub to showcase the collaborative work of Fogo Island makers and international designers. The newly renovated Orange Lodge's multi-use space offers a showroom and retail shop for Fogo Island Workshops (formerly The Woodshop on Fogo Island). The space will display handcrafted wooden furniture, textiles, and small objects, including a more streamlined second furniture collection featuring a 4-piece dining set launching this fall. More details to come.
For additional information about Fogo Island Inn or to book a stay, please visit www.fogoislandinn.ca.