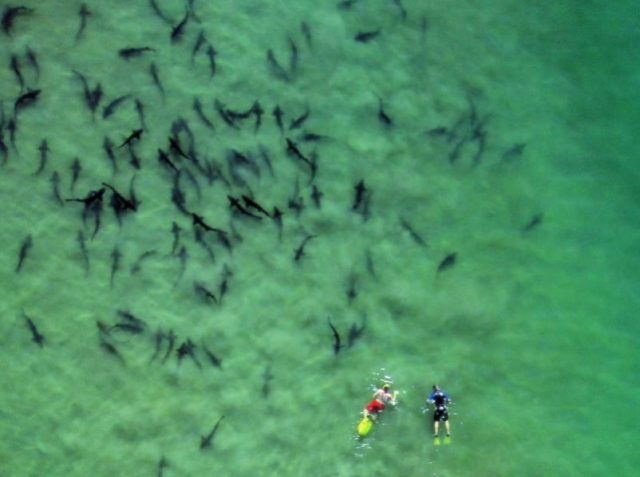 The annual migration of the gray whale is one of nature's most extraordinary events. Each winter, San Diego residents and visitors alike experience this spectacular natural phenomenon and become awestruck by every unexpected spout and thrilling breach above the water's surface by these majestic sea creatures.
The wondrous journey by gray whales along the coastline is just one of the unique natural phenomena that regularly occur in the nation's eighth largest city. The following are five extraordinary happenings sure to amaze any visitor to San Diego.
Whale Migrations: Each year, thousands of gray whales make their way along the San Diego coastline from the chilly Alaskan seas to the warm water lagoons of Baja California, Mexico, to birth and rear their young. The incredible journey traditionally occurs from mid-December through April and is truly a majestic sight to spot these peaceful giants of the sea. Blue whales – the largest animals on earth with lengths of up to 100 feet and weighing upwards of 200 tons – have also been frequently spotted off the San Diego coast in recent years during summer and autumn months. Several local companies offer a variety of seasonal whale watching outings, ranging from large boat excursions to intimate kayak adventures that depart daily from San Diego Bay, Mission Bay and local beaches.
Swimming with Sharks: Between July and September, the world's largest annual aggregation of leopard sharks gathers just off the coast of La Jolla. At first, the dramatic sight of these beautiful spotted creatures, which average four to five feet in length, swimming through the sandy shallows of La Jolla Shores can spark panic; however, leopard sharks are quite timid, docile and completely harmless. There are several ways for visitors to enjoy leopard shark encounters including kayaking, snorkeling and just swimming or wading alongside them. The Birch Aquarium at Scripps, La Jolla's prominent oceanographic research facility and museum, hosts two-hour Leopard Shark Snorkeling Adventures during July through September. There are also a number of La Jolla outfitters like Hike Bike Kayak and Everyday California which offer leopard shark snorkeling tours during varied months of the year.
Grunion Runs: Grunions are small, slim silver fish that ride the ocean waves to spawn on shore. After laying and fertilizing their eggs on sand, they return to ocean waters. Thousands of grunions can be spotted during the mating ritual which occurs on full moon and new moon cycles during spring and summer months. Popular San Diego beaches to experience this unique occurrence are Ocean Beach, Mission Beach, La Jolla Shores, Coronado Beach and Silver Strand State Beach.
San Diego Fairy Shrimp: One of the most biologically rich and diverse counties in the continental U.S., San Diego shelters approximately 200 imperiled plants and animals including the endangered San Diego fairy shrimp. San Diego fairy shrimps are tiny translucent crustaceans that live only in vernal pools. They hatch and mature within 7-14 days after vernal pools fill with rainwater and disappear after about a month. Some of the nearly 2,600 vernal pools in San Diego, many set in scenic preserves, are accessible to the public including the 3,500-acre Ramona Grasslands Preserve in San Diego's rural East County.
Bioluminescence: The "bloom" of bioluminescent light in ocean waters is a rare occurrence in San Diego; however, during spring and summer months, the bright bioluminescent glow can be created by a massive expanse of dinoflagellates, a type of algae that moves through the ocean. The organisms have a glowing color making the water appear red in daylight (hence the term red tide); at night, the organism glows as a natural defense mechanism, becoming visible in breaking waves or when approached by other swimming organisms like fish eating the algae. The ideal time to view a spectacular "bloom" is a couple of hours after sunset on a beach with no lights, like Sunset Cliffs, Torrey Pines State Beach and Solana Beach in San Diego's North County.
Find your smile in San Diego. For more information on San Diego's offerings, including exciting vacation packages and valuable coupons for attractions, restaurants and more, visit the San Diego Tourism Authority's website at www.sandiego.org.