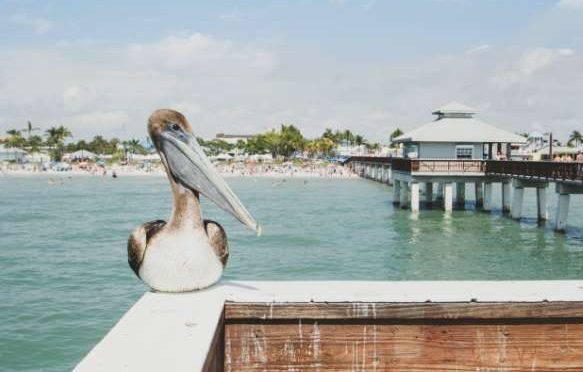 by: Debbie Steeper
Fort Myers and Sanibel Island are located on the southwest Gulf Coast of Florida. This area is known for its nature preserves, white sandy beaches, shelling, bird watching, beautiful palm trees and some of the best fishing. The charming downtown river district in Fort Myers is paved with 500,000 restored bricks that were once covered in asphalt. It is a charming city with swaying palm trees, street side café styled bistros, fine dining, restored architecture, iron sculptures that dot the landscape, a busy harbor and historic homes. While you are here, take a guided tour and learn about the city's history and heritage. A must visit are the Edison Ford estates which have 20 acres of botanical gardens, restored homes with original furnishings, an inventions museum, Ford vehicles, (including a camperized pickup), and a lab for rubber research that ran from 1928-1936. Thomas Edison purchased thirteen acres along the Caloosahatchee River for his winter estate in 1855. He imported 200 palm trees and planted them along the once dirt road leading from his property to downtown. This beautiful gift gave the city the nickname "The City of Palms". Some of those trees are now 75 feet tall. His close friend Henry Ford purchased the adjoining property. Both estates now belong to the city of Fort Myers and are historic landmarks. One 90-year-old Banyan tree that was planted by Edison is said to encompass one acre. It was given to him by Harvey Firestone, as they, along with Henry Ford experimented with different trees for rubber sources.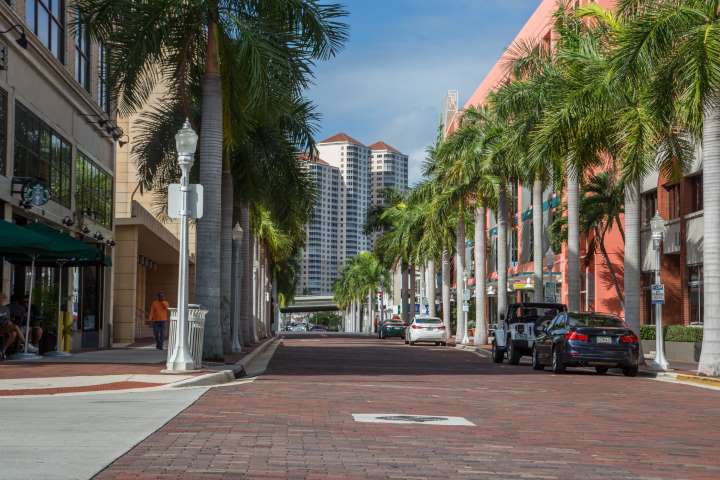 My stay started at Hotel Indigo; a boutique hotel located in the River District in downtown Fort Myers. The large room featured wall-to-wall windows where I could enjoy the amazing view. To my delight there was a popcorn machine in the lobby and wonderful comfy chairs to relax in after my evening stroll around the city.
Next was Sanibel Island Inn, a luxurious resort with large contemporary suites, private cottages, a swimming pool and white sandy beaches as far as you can see – truly a shell hunter's dream. I loved to get up early and stroll along the beach and watch the feeding antics of the many varied birds along the shore, including White Ibis,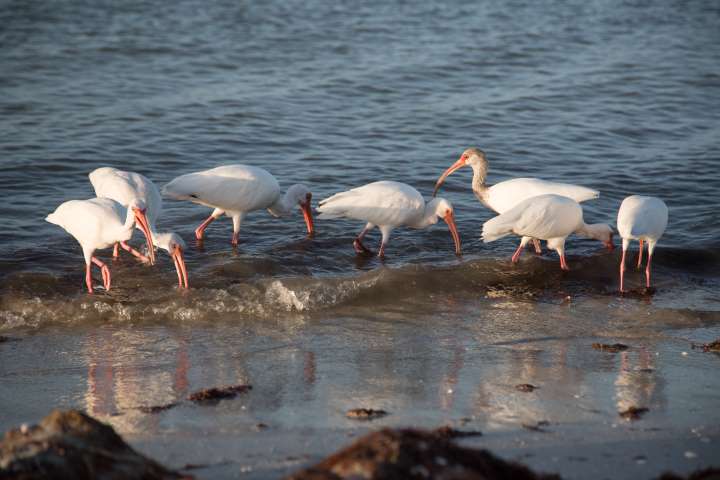 Gulls, Snowy Egret, Sandpipers and Pelicans. I thoroughly enjoyed all my meals from breakfast at a local favorite, Bennett's Fresh Roast and Donut Shop (delicious bacon maple donuts), Seed and Bean for fresh roasted coffee, hemp protein shakes and cannabis infused beer (but not for breakfast) but not for breakfast1 Lunch at Bubble Room, a kitschy and colorful place where we had the most amazing homemade fried potato chips loaded with cheese and bacon…seriously delicious; which was followed by a huge slice of decadent orange cake. Pinchers on the Marina is where I tasted my first Keylime Pie; and dinner at Doc Fords which was in full swing from the music festival.
Saving Wildlife
We stopped by CROW (Clinic for the Rehabilitation of Wildlife). It is a publicly funded non-profit organization that cares for injured native wildlife. They have full time veterinarians and is a teaching hospital with internships for veterinary graduates. They also rely on many volunteers. The morning we arrived they had already taken 14 calls for injured wildlife, including a bird with an injured wing that came in during our visit and two separate calls for baby raccoons that had been abandoned.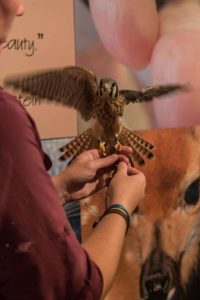 In 2019, they took care of nearly 4000 patients. While most of the wildlife is kept out of view to minimize trauma, there are a few resident birds that are not able to return to the wild, including an owl that came in missing a wing which is now a permanent resident. We also peeked in one room that contained three recuperating turtles with damaged, but repaired shells, happily munching on lettuce leaves.
It was fun walking through Butterfly Estates as the butterflies flitted around us. It's a non-profit organization and educational facility that hand raise native species of butterflies. They raise them from chrysalis and eventually release them, so they don't worry if they escape through a door when someone enters. They are involved in research projects that help the native butterfly species flourish.
While in Fort Myers make sure you stop at Norman Love Confections. We sampled and then sampled some more of their delicious specialty chocolates. It has been named the best chocolate company in the US 6 times, and I would agree. They not only offer a wide variety of interesting flavor combinations of chocolates, but also desserts and pastries. I especially loved the mango and the chocolate gelato.
J.N. Ding Darling National Wildlife Preserve is located on Sanibel Island on an estuary. It was created to preserve the wildlife habitat of Sanibel Island and contains thousands of plant species and animals. This is a refuge that you drive through, pulling over when you please, to search out the over 245 species of birds and wildlife. In fact, it is the number one birding spot in America. There is a high platform overlooking a pond, built for that purpose.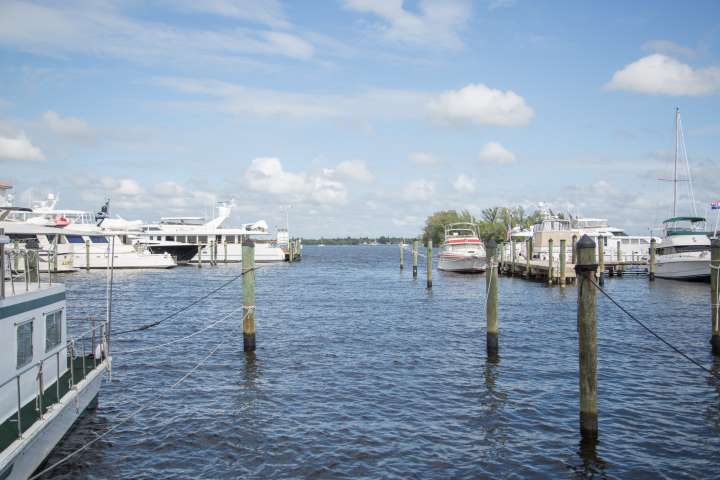 Six Mile Cypress Slough (sloo) Preserve in Fort Myers is 3,500 acre wetland ecosystem. It is a not-for-profit advocacy that is committed to preserving, protecting and educating the public. There are boardwalks to enjoy the plants and wildlife, and keeps visitors from trampling plants or disturbing ecosystems. I was fascinated with the Cypress trees with knees…these are the woody projections that grow vertically above the tree roots and poke above the water, like knobbly knees. We were told the snakes should be under and not on the boardwalk, but I kept a sharp lookout for any that may have decided to sun on the walkway.