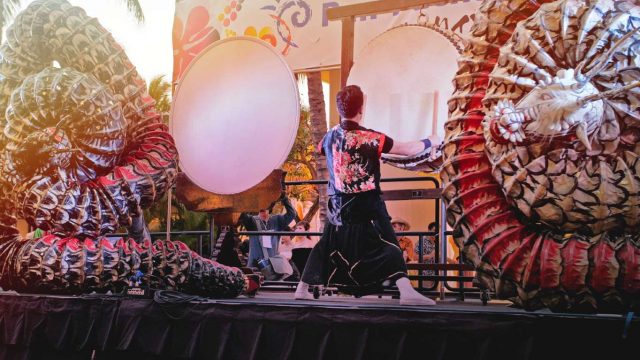 The 41st Annual Pan-Pacific Festival, a celebration of cultural traditions of Hawai'i and the Pacific Rim, is scheduled to run from June 12 through 14 in Waikīkī. An annual, vibrant celebration spanning across four incredible decades, the festival is an embodiment of the diverse cultures that make our island home Hawai'i.
Christine Kubota, Advisory Committee Chair, says, "The Pan-Pacific Festival brings people together from all over the world for an amazing three-days of performances, 'ono food and family-friendly arts and crafts. There's such a great feeling of camaraderie and aloha shared among each group that's participating. We hope to see you all join us this year!"

What: 41st Annual Pan-Pacific Festival
Where: Various locations throughout Honolulu
When: Friday, June 12 through Sunday, June 14, 2020
Cost: All events are free and open to the public
Information: For more information, visit www.pan-pacific-festival.com
Details: Schedule subject to change. Check website or Facebook in late May for updates and final schedule.

The three-day festival kicks off with the lively Pan-Pacific Ho'olaule'a (block party) in world-famous Waikīkī where you can walk down Kalākaua Ave. and truly experience an array of cultures. Hear and feel the powerful sounds of the taiko drums and catch award-winning Hawaiian musicians performing on stage. Feast on hot dishes like yakitori (grilled chicken skewers) and barbequed garlic shrimp. Sip on refreshingly cool lemonade and enjoy frosty ice cream. Peruse handmade local jewelry and wooden koa crafts and dance among colorful red and orange glimpses of yukata (Japanese summer garment or kimono).
The Pan-Pacific Ho'olaue'a is followed by a jam-packed schedule of performances! The annual Pan-Pacific Hula Festival has dedicated hula hālau(hula studio) from Japan taking the grassy stage at Waikīkī Beach, joined by local hālau, Hālau 'O Nāpuala'ikauika'iu. The festival concludes with a colorful costumed parade of bands, dizzying whirls of Chinese dragons, dance groups and cultural entertainers from across the globe – all convening along Kalākaua Avenue. Join us for our 41st anniversary on June 12 through 14. For more information, see schedule below or visit our website at Pan-Pacific-Festival.com
"Support provided by Hawai'i Tourism through the Community Enrichment Program"