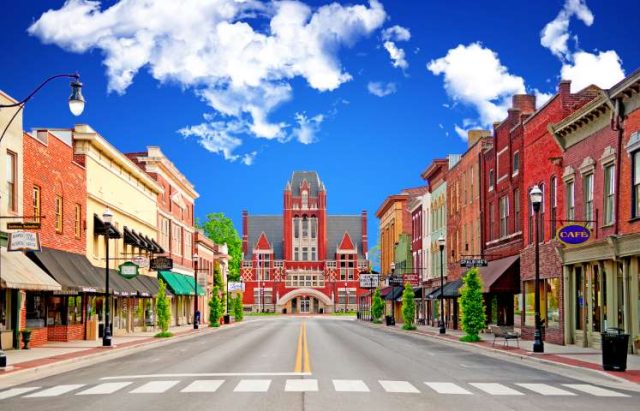 Nostalgic getaways have emerged as a key travel trend for 2023 in a Booking.com survey. Amid global instability and the desire for escapism, 88% of respondents want to relive the pre-digital travel era, and 24% want to chase experiences that evoke emotive memories of days gone by, such as school group trips and family vacations taken as a child.
Here are a few destinations with properties that align well with this trend and will make travelers feel the joy of a nostalgic getaway:
Bardstown, Kentucky
Why This Destination is on Trend: Bardstown's historic downtown has been highly accoladed. Rand McNally and USA Today called it the "Most Beautiful Small Town in America," while Travel + Leisure bestowed the title of "America's Most Beautiful Town Square." Its streets are lined with non-chain boutiques, restaurants, bars, and galleries that celebrate hometown USA and make you feel like you have stepped back into a different time. 
Retro Accommodations: The new Bardstown Motor Lodge just opened January 10th, offering retro motel-style accommodation with a contemporary setting. Guests can enjoy breezy outdoor spaces with welcoming fire pits, a swimming pool (and Swim Club), poolside bar, and rec room with board games and foosball.
Why This Destination is on Trend: Albuquerque is home to the longest urban stretch of Route 66, the iconic "Mother Road" that brought together existing local and state roads from Chicago through St. Louis to Los Angeles, spanning more than 2,400 miles and eight states. An ode to Route 66's golden age, there are a number of historic and revitalized hotels and restaurants that feature retro neon signage that encourage visitors to take a long drive through the heart of town. The new Route 66 Visitor's Center also adds exciting stop for road trippers and neon sign enthusiasts.
Retro Accommodations: The El Vado Motel and sister property the Monterey Motel are retro Route 66 motels located in Albuquerque. The El Vado Motel first opened in 1937 and was one of New Mexico's first Route 66 motor courts and reopened to the public in 2018 following a major restoration. Today, the reimagined space contains 22 retro guestrooms, an onsite taproom and a changing group of local food and retail pods (Buen Provencho onsite is one of my favorite restaurants in the city). The Monterey Motel (which includes the MOMO Lounge), underwent a similar restoration and reopened its doors in August 2021. Both properties feature a strong retro, mid-century modern vibe. 
Why This Destination is on Trend: Lake Geneva is a waterside city that's the perfect place to relax on the beach, venture together on a hike, shop in one-of-a-kind boutiques and experience rich culture. From a simple picnic to an adventurous lake day, there are plenty of memory-makers at this destination — and there is fun for everyone. The destination has over 5,000 acres of crystal lakeshore, with lake life activities never ending. From jet skis and speed boats to pontoons and kayaks, there is so much to try. With a plethora of hiking and biking areas, the Geneva Lake Shore path is the most well-known path here, taking you on a 21-mile journey with views of the pristine waters. Ziplining is another adventure that gives you a high-speed, adrenaline-fueled further glimpse of the scenery you can't get anywhere else. Other hidden beauties featuring nature include Lake Geneva's natural parks, petting zoos and horseback riding areas. 
Retro Accommodations: The spirit of Lake Geneva is alive and well at the Maxwell Mansion. The renovated historic mansion, carriage house and stables display carefully-curated vintage décor alongside modern extras like whirlpool tubs and chromatherapy lighting. Play croquet or bocce ball on the lawn. Then head to the property's libation destinations: The Apothecary Bar, where barkeeps dressed in period clothing serve swanky cocktails and The Speakeasy, an underground, clandestine bar that requires a password. The covert word is only shared with hotel guests and Facebook followers.
Why This Destination is on Trend: America's fourth-largest city, Houston is a cosmopolitan destination, filled with world-class dining, arts, hotels, shopping, and nightlife. Home to historic neighborhoods, award-winning restaurants, and world-class accommodations, there is always something to do in this city where Southern hospitality meets urban chic. Houston is arguably one of the most diverse cities in the world thanks to its immense immigrant population – in fact, one in four Houstonians is from another county.
Retro Accommodations: Houston's Heights House Hotel features plenty of retro fun with all of the modern amenities of a boutique hotel, including pet-friendly accommodations. The property showcases vintage murals throughout, and offers a spacious pool with cabana, in addition to a throwback bar and lounge, Space Cowboy, featuring classic cocktails.